In the test, WWE 2K22 turns out to be a kind of reconciliation with the fans: After the catastrophic predecessor WWE 2K20, the current part is not just a successor, but a restart. In any case, the developers at Visual Concepts, together with Publisher 2K, are laying a rock-solid basis for future improvements. You will also have fun with WWE 2K22, but there is always hope for further development.
You don't have to beat around the bush: WWE 2019K2, which was released in October 20, was a technical and playful failure. So they stopped with a direct successor to give the previously good wrestling series a new look. The motto: "It hits different" - also understood as "It is different". The developers Visual Concepts and Publisher 2K promised a lot in advance, they stirred up the marketing pot properly - and ultimately managed to get the restart off the ground well. Instead of being ridiculed like the predecessor, the makers are rightly getting a lot of praise. WWE 2K22 is good, entertaining, but it also has weaknesses.
WWE 2K22 review: It's different
With WWE 2K22, a new wrestling game has been launched that is technically and playfully much better than the previous low point of the series. The additional development time and the overhauled framework are actually reflected in the game: WWE 2K22 looks excellent in parts. The most legendary of legendary wrestlers, in particular, cut an impressive figure visually - from facial features to wrestler's body, some athletes look almost photorealistic. For example The Rock, Shawn Michaels, John Cena, Big E or Kofi Kingston – anyone who has rank and name in the WWE world can be seen there.
The developers have also made some improvements in terms of stability. The animations are mostly smooth and trigger immediately after the commands, floating athletes or serious graphic errors are a thing of the past. There are still bugs and glitches: sometimes the positioning of the wrestling moves isn't quite right, here and there the fighters push themselves a meter through the ring as if they had hit an invisible wall beforehand, and some wrestling greats in the animation of the hair sometimes you can't help but laugh. The servers ran without any problems and we didn't record any crashes either, but they are supposed to exist, even if not very often. All in all, it's not that Visual Concepts couldn't fix it with a few patches.
The gameplay has also been significantly streamlined. It's beginner-friendly and finally trimmed a bit more for action. Wrestling thrives on its breathtaking moves, fast attacks, wild fight - all of which can now also be found in WWE 2K22. The developers rely on a compromise between simulation and arcade.
WWE 2K22 is more action-heavy, wants to be far less serious sports simulation. This is good for the gameplay. The pace has been increased, endurance aspects have been removed and at the same time the mini-games have been thinned out. Swampy button smashing now only occurs in a few situations: to escape a pinfall, for example, or to sustain a submission hold. But you always notice how efficient the moves are at the current time of the fight, so that there is no longer any excessive pressure.
Particularly striking: You no longer need a boring tutorial to get started in the wrestling business. Pick up the gamepad and go, that's the motto. You can still use tactics: opposing moves have to be countered with the right timed button press, if you anticipate attacks, you can attack your opponent properly.
WWE 2K22 is at times more of a beat 'em up than a wrestling sim, but that's a good thing. There are still challenges, however, because the approximately 150 athletes have unique moves that need to be internalized. And: If you really want to implement real wrestling action in the ring, you have to familiarize yourself with the move sets. Sure, you can send your opponent down with a small repertoire of attacks, but it gets nicer and more entertaining when you unleash cool combos and unleash the breathtaking fireworks of action that WWE is known for. Submission holds, high-flyer action, stupid brawls with objects, many things are possible.
Overall, a level of challenge remains for veterans of the series, but it's noticeably lower than its predecessors.
Story Mode in WWE 2K22: Wrestling Comedy
At the heart of WWE 2K22 is the career mode, where players create their own star and then compete for glory and titles. In the Performance Center, the fun begins as an absolute nobody, after all with the personal aspiration to become a real WWE superstar. The path is at least as bumpy as the facial animations. There are often moments here that make you smile. The dialogues are sometimes so silly that you have to doubt the authors. Other sequences, on the other hand, are well done - for example, when WWE superstars become part of the story again and again, get involved in fights or start a big feud.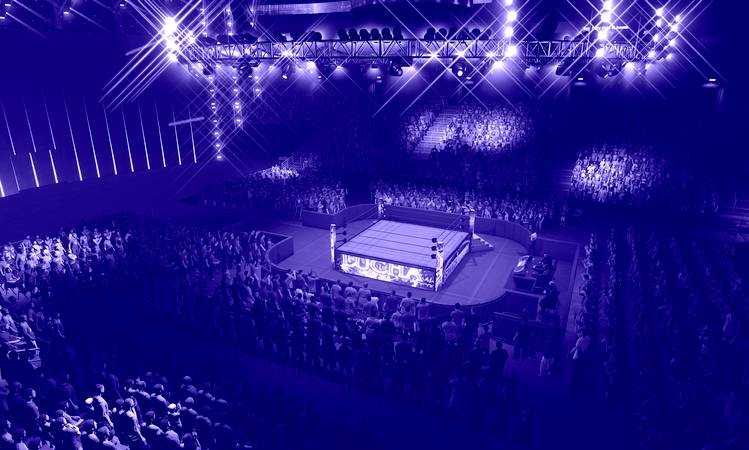 Don't expect too much from the story: It's about the classic path from underdog to champion. Nothing more and nothing less, but the way there is quite entertaining, because the player is repeatedly asked to make decisions: Who are you playing against? Which match would you like? Do you want to be the good guy or a wrestling ass. It's mainly fun because this time there are many customization options, you can customize your character down to the last detail and change it again and again - and because the athlete also improves step by step in terms of sport - by awarding points.
If the career starts too shallow for you, you can alternatively use a fairly comprehensive package than other game modes. Simply play a quick match in exhibition mode, play a tournament or act as general manager, there are hardly any playful wishes left unfulfilled. In particular, the return of "My GM", which has been on hiatus since 2007, is a great addition. Basically, it is a kind of "sport manager light". It's about holding the hand over the franchise, negotiating contracts and looking after athletes and events. It's fun and keeps you entertained.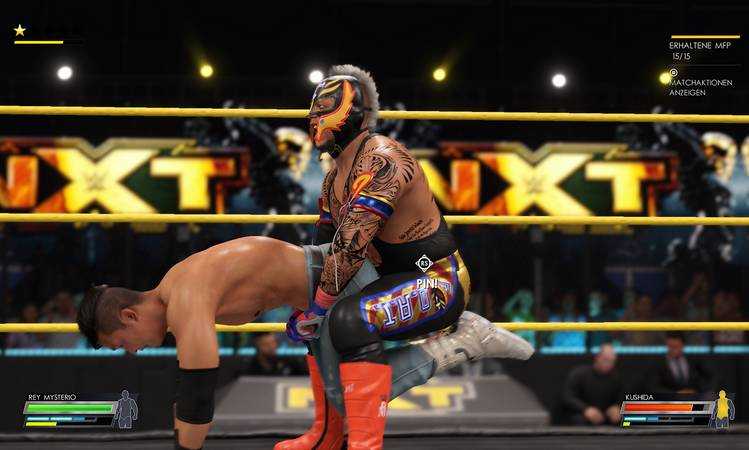 In addition, other pillars of WWE 2K22 are the mode "My Faction" or "Showcase". Similar to FIFA Ultimate Team or Madden's card pack mode, faction mode is about building an ever-growing team and pitting it against other players in the ring. Microtransactions are part of it, you don't have to use them, but they are advertised in a sometimes annoying way.
The "Showcase" mode, on the other hand, is well known, but very successful. The focus is on cover star Rey Mysterio and his two-decade wrestling career. For fans of the franchise, this is a nice treat that lets you experience the history of the superstar. This is particularly exciting because gameplay scenes and real wrestling sequences are mixed up again and again.
Infobox
Number of players: single player/multiplayer
Age: from 16 years (USK)
Difficulty: medium
Long-term motivation: medium
Genre: sports game
Subgenre: wrestling game
Developer: Visual Concepts
Publisher: 2K
Official Website: Link
Year of publication: 2022
Platforms (Test system): PC, Playstation 4, Playstation 5, Xbox One, Xbox Series X|S
Language: German
Costs: from 59.99 euros
Conclusion
WWE 2K is a successful new edition of an almost historic sports game series. The developers from Visual Concepts have made improvements in many places and in some cases raised the gaming experience to a new level. Above all, the compromise between simulation approaches and arcade-heavy gameplay is convincing. Beginners quickly find access to the game, professionals are given enough leeway to develop their own style of play and fighting or to implement that of the superstars in the ring as faithfully as possible. However, the gameplay is not quite as complex as in the predecessors.
It's always fun, which is also due to the fact that the developers have polished the game technically, graphically and playfully. Above all, the optics and the sound are terrific in many moments. At times, however, WWE 2K22 seems involuntarily funny when the fighters moan too intrusively in the fight. After all: the legends of the WWE franchise look extremely realistic on next-gen consoles (Xbox Series X as a test system). When the legends from the XNUMX's or XNUMX's celebrate their entry into the ring with their entrance music, the hearts of long-time fans jump. In any case, the presentation is right, so that you like to start the game at regular intervals: There is more than enough to do with all the game modes and the additional editor.
WWE 2K22 is fun and varied, easy to learn and difficult to master (okay, a toned down "hard"), technically strong again, and quite extensive. Nevertheless, the developers make one or the other blunder that sometimes breaks through the overall good flow of the game. WWE 2K22 can be described as a successful overall package, in which not everything works perfectly, but it is at least a worthy WWE title.
After the disaster of the predecessor, developers and publishers can build on it - and continue to work on improvements: in the short term for WWE 2K22 and in the long term for the game series. In view of the restart that has been delivered, fans no longer have to be afraid of the next part.
---
* = affiliate link. If you purchase via one of the links, we receive a portion of the purchase price as a commission. There are no additional costs for you, but you can support our portal by doing so. Last updated on September 30.11.2023, XNUMX / Affiliate links / Images from the Amazon Product Advertising API. Images from Amazon PA API.