The newest game in the Tiny Epic franchise, Tiny Epic Galaxies: Blast Off, is now available. The board game could be pre-ordered at Gamelyn Games in August. It is a newly designed, simpler and faster version of the game Tiny Epic Galaxies, which is available in German under the title Winziges Weltall from Schwerkraft Verlag.
---
The Tiny Epic series by author Scott Almes started in 2014 with Tiny Epic Kingdoms. The principle of the series is interesting games in a small box. Since then, nine basic games and some expansions have been created. Thematically, the series is widely spread. Space, dinosaurs, westerns and mechs are represented. The youngest representative of the Tiny Epic Pirates series was successfully financed by over 20.000 supporters in June.
Faster family version of the mini board game
The dice game Tiny Epic Galaxies was released in 2015. One to four players try to expand their sphere of influence as different galactic empires and to build a spaceship fleet. Depending on the result of the die, your own empire can be upgraded, resources generated or flown to other planets. In 2017, the expansion Beyond the Black was released, which adds individual pilots and special spaceships to the game.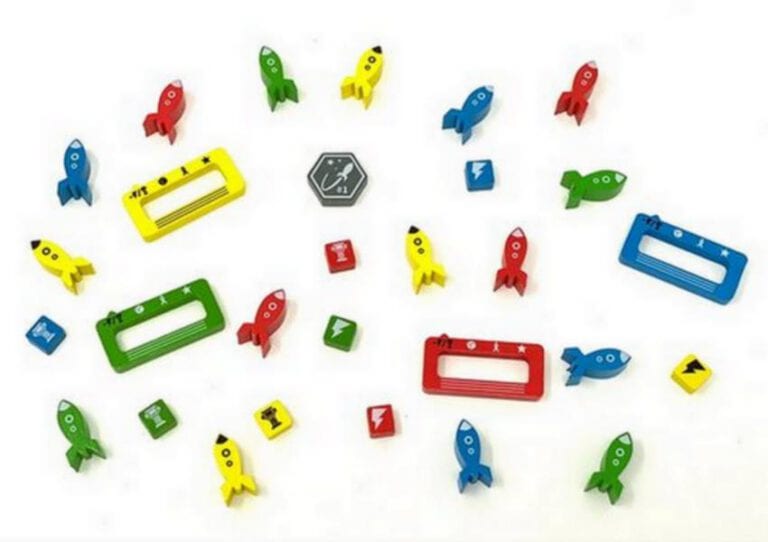 A variant of the base game was released last year with Ultra Tiny Epic Galaxies. For Blast Off not only the rules have been adjusted. The design of the game has also changed. The game is intended to be for the whole family and to be played faster than the first "Tiny Epic Galaxies" version. Blast Off is for two to four players. Gamelyn Games plans to release a solo mode as a download.
In addition to Tiny Universe, Tiny Walking Corpses and Tiny World Empires from the series at Gravity have also appeared in German. The other Tiny Epic games are not yet available in German. Whether Tiny Epic Galaxies: Blast Off will be localized by gravity has not yet been confirmed.
---