Two Point Hospital is pure nostalgia. Not because SEGA's hospital simulation is so old, but because it brings back a feeling that arose around two decades ago. It was in the late XNUMXs that Bullfrog and Electronic Arts launched Theme Hospital, the ideal ancestor of Two Point Hospital. Back then, it made for hundreds of entertaining hours in front of the screen - and the concept still works incredibly well today. In our review of Two Point Hospital for Nintendo Switch, we reveal why SEGA's hospital sim is so good.
---
Anyone who has ever worked in hospital administration knows that managing a clinic is a real mammoth task. That's the case in reality - and in video games too. Curing patients is difficult, and making them satisfied is almost impossible.
Nevertheless, that is exactly the player's task in the hospital simulation Two Point Hospital, with which SEGA is reliving the nostalgic feeling of the "Theme" series. The relationships are not accidental: the makers from back then have recycled their basic ideas under a new name - but no less entertaining. Two Point Hospital is not a loveless copy of a Theme Hospital - on the contrary.
Two Point Hospital: hours of fun
As serious as the background topic may be, Two Point Hospital regularly causes laughter in the otherwise stressful everyday hospital life: here a brisk saying from the information counter, there a funny animation and the Two Point radio station also contributes to the humorous atmosphere. What stands out positively is the almost error-free release version of the clinic simulation. Such a well-functioning quality management would be desirable for every video game - and for a hospital anyway.
With Two Point Hospital it is like it is with many construction simulations: the entry is shallow, then comes the point where it is only a matter of optimizing. SEGA's quasi-new edition is a prime example of a gradual build-up of the complexity curve. The simulation takes the player by the hand to introduce him to the tasks of a hospital manager. Great: Even newcomers to the genre are not overwhelmed, but have time to get used to the concept without having to constantly start a new game.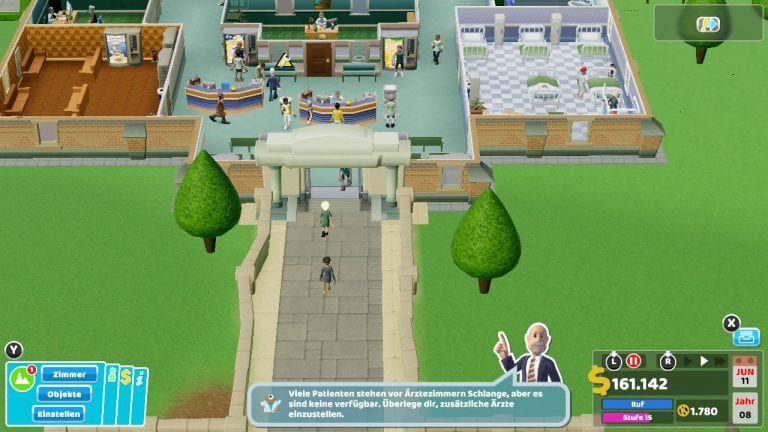 We tested Two Point Hospital for Nintendo Switch. In a direct comparison to the PC version, it is noticeable that the graphics of the switch version do not match the display quality of the PC version, but they are anything but ugly. The bustling charm of Two Point Hospital is also retained on the Nintendo Switch and overall the game even looks pretty. The advantages of the variant for the hybrid console predominate: Take the hospital simulation with you wherever you go, that's simply terrific.
Technically, the console socket does not have to line up behind. The game runs smoothly and almost without stuttering even in larger hospitals. Only the loading times sometimes felt a bit too long. But because there are hardly any breaks for staff in everyday hospital life, the waiting time is okay.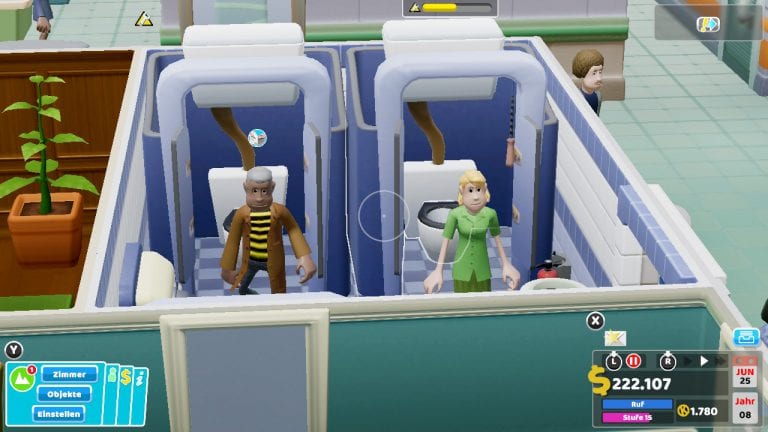 Two Point Hospital captivates gamers to the console for many hours - and there is always something to do. From the break area to the operating theater, rooms have to be built and equipped by hand. The focus is always on the needs of the patient. In the beginning it is easy, there is little choice and few tasks. Later on, Two Point Hospital becomes significantly more complex and - this is a small drawback - due to the interface, sometimes a bit confusing.
What works well, however, is the control of the console version. On the Nintendo Switch, gamers have to do without mouse control, but rooms can still be created and set up at the push of a button. The developers at Two Point Hospital master this critical factor with flying colors. However, even with this simulation, building beautifully is only part of the overall task. It is important to take care of staff - from the carer to the caretaker - while keeping an eye on the skills of the employees. Whatever you have to do, the game gently introduces you to the individual tasks.
Two Point Hospital: Genre professionals are definitely challenged
Cuddly graphics, doodle music and lots of jokes: this has to be a development game only for beginners, maximum semi-experienced players. Wrong, Two Point Hospital is aimed at genre professionals who would otherwise rather search through Excel spreadsheets than put flower pots in the corners of the room. The clear entry is almost deceptive.
If in the first few hours it seems as if you have activated cheats - financial resources seem to be infinite there - the level of difficulty increases noticeably in the later levels. So strong that the management of the hospital is a real headache. Then it is important to build with brains: rooms have to be cleverly arranged, patient routes have to be observed and safety has to be ensured. The impending catastrophe hovers like a sword of Damocles over an expensive treatment room - and if an emergency, such as a fire, actually occurs, it can quickly mean ruin. Two Point Hospital starts easily but is far from easy.
And yet Two Point Hospital exudes that nostalgic charm that fans of the classic Theme Hospitel know. The changes are there, but never so intrusive that Two Point Hospital is actually perceived as a completely different game. If you don't know Theme Hospital, you don't have to worry about it anyway and you will be well entertained.
Media to Two Point Hospital
[foogallery id="9463″]
Infobox
Number of players: Solo mode
Age: USK from 0 years
Playing time: 30+ hours of play
Difficulty: medium
Long-term motivation: high
Publisher: SEGA
Developer: Two Point Studios; Red Kite Games
Year of publication: 2018 (PC); 2020 (consoles)
Platforms: PC, Xbox One, Playstation 4, Nintendo Switch
Language: German
Costs: from 39,99 euros
Summary
Two Point Hospital for Nintendo Switch In the test, it turned out to be one of those building simulations that you can hardly ignore if you even remotely like the genre. Anyone who likes busy building games will find this clinic sim a must-have title.
Two Point Hospital entertains for countless hours. Broken down to the purchase price, the game for Nintendo Switch is great value for money. Even better: the motivation will also be there in the long term because SEGA is already launching the first DLCs on the market. "Off the Grid" was recently released for PC, but implementation for consoles is also likely.
"Schönbauer" find their job at Two Point Hospital just as much as optimization fanatics. The latter are even enormously challenged at higher levels, because then every little movement is important to ensure that everyday hospital life runs smoothly. Time and again, new ideas ensure that players lay hands on the Joy-Cons.
In addition, there is the almost nostalgic humor, which, thanks to today's technical possibilities, comes across much better than in the late nineties. The game is more or less "modern nostalgia" and captivates with everything that Theme Hospital was made up of back then - without being reduced to it.
Two Point Hospital for Nintendo Switch hat uns spielerisch und technisch überzeugt, die Grafik ist erkennbar schwächer als bei der PC-Fassung, allerdings trotzdem hübsch. Der Konsolen-Port ist zudem einwandfrei umgesetzt. Lob an die Entwickler.