For Fantasy Flight Games, the new gaming year begins with a bang that is likely to be significantly louder than the explosion of the Death Star: Star Wars Unlimited will officially go on sale worldwide on March 8, 2024. However, the creators behind the new trading card game are already planning the content and strategies for many years to come.
At the Essen game fair, fans in Germany can for the first time get their hands on Star Wars Unlimited, the new trading card game from Fantasy Flight Games, which will be launched locally in this country via Asmodee and Blackfire. The trading card game officially goes on sale on March 8th, and a week before that there will be a pre-release campaign including a matching card box in local specialist shops. So let's get started Star Wars Unlimited in the new year already on March 1st.
Star Wars Unlimited: Anything is possible
At an evening launch event, Fantasy Flight left no doubt that Star Wars Unlimited could indeed be the next big thing in the trading card genre. The meticulous planning of the team behind the new Star Wars TCG suggests that they don't want to let chance decide the success of the game for the period of publication and beyond. The creators approach the matter ambitiously, they are literally reaching for the stars.
Because information about Star Wars Unlimited comes to light in waves, some things have long been known: you can buy a prerelease box for around 30 euros, a two-player starter set for around 35 euros and individual boosters with 16 cards each for around five euros.
What will be included? This is also known. The pre-release box contains six boosters, two promo cards and rules including tokens as well as a deck box. The starter set for two players offers two pre-made decks with 50 cards each and the other game material as well as two deck boxes. According to Fantasy Flight Games, there are also "exclusive cards that are not included in booster packs". The booster packs each contain 16 cards in a specific composition: in addition to the common and uncommon cards, at least one rare or legendary card, a leader, a base and a foil card are included. There is also a chance that cards with special hyperspace artwork can be found in the pack. If you're really lucky, you'll pull a showcase out of the foil. These are rare and visually striking versions of the leader cards.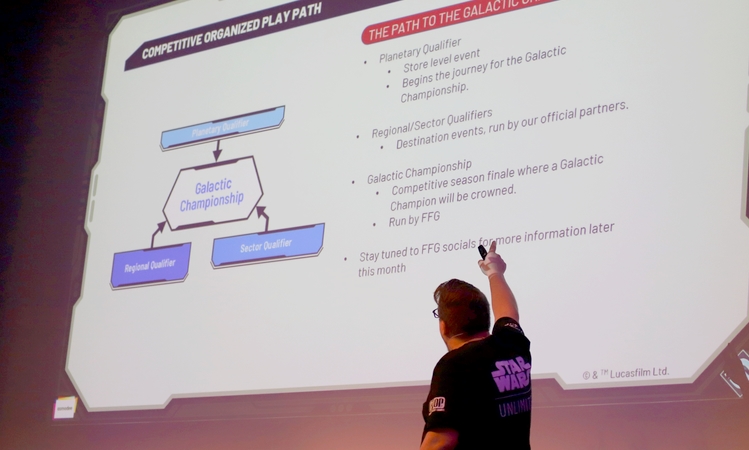 Exciting and definitely new information Rarity of cards in Star Wars Unlimited: The uncommon cards have a chance to have a higher value. In theory, there is a chance that a booster could contain a total of three legendary cards. The small detail is a bonus, especially for collectors, as it at least slightly increases the probability of getting coveted cards - but there are no official figures on the upgrade chance.
Jim Cartwright, head of product at Fantasy Flight Games, is passionate about the game. A Star Wars fan in a leading role for a Star Wars TCG is not a bad thing for fundamental reasons. Star Wars Unlimited has been declared an "evergreen" by the design team; they are not only working towards the release, but also on the new content. Fantasy Flight Games currently has a roadmap for the next five years. Assuming a good start among the players, the title should establish itself as a long-running hit and bestseller. According to Cartwright, the team is specifically working on the design for Set 7, which is due out in the third year; In addition, initial conceptual work is underway up to Set 9. According to Jim Cartwright, the largest team in the history of FFG games is working on Star Wars Unlimited.
The basic publishing strategy: Don't rush things. Fantasy Flight Games makes it clear that they would rather add content later than do too much too soon - and possibly do it wrong. Apparently some correct conclusions have been drawn from the Star Wars Destiny disaster.
What should ultimately also come: a mode in which more than two players can be active.
Building the community as the first step
When it comes to public relations and marketing, the advertising drum is certainly being drummed up. According to product boss Jim Cartwright, the community is the central element for Star Wars Unlimited. Attempts are now being made to get fans excited about the game at an early stage. Last but not least, this happens with a view to the organized play concept: "C3-OP".
An ambitious plan is also being pursued for the tournament events organized locally in the stores Star Wars Unlimited. According to Fantasy Flight Games, everything starts with the pre-release promotions a week before the start of sales, and then weekly game promotions will continue for 16 weeks. The highlight will then be the so-called "Store Showdowns" in selected stores. These events are held one month after the release of a new set. The only exception: the showdowns debut once after two months as part of the game's initial release - the aim is to first give fans an opportunity to engage intensively with the game.
According to the on-site events, there will be specially created products: weekly play kits and showdown kits. The game kits last for eight weeks and contain 64 3-card boosters with random content, but two normal OP cards and one rare OP card. Every third weekly booster contains a rare foil card. The Showdown sets will include game stores to promote gaming tournaments. According to Fantasy Flight Games, it is "the first step of competitive gaming within the organized play structure." According to the published post-release concept, the first showdown of 2024 will take place in the Star Wars month of May.
Ultimately, the game is also played on a global level, there are local qualifying tournaments, various regional events and the "Galactic Championship", which Fantasy Flight Games will organize itself.
This concept repeats itself with every new set released. The first three are already known: The game starts with Spark of Rebellion, then there will be two more releases in 2024, two of which are known by name but not by content: Shadows of the Galaxy and Twilight of the Republic. Three more sets will also come onto the market in 2025, but not even the titles are known. The marketing department keeps this specific information under wraps. According to Jim Cartwright, no details can be revealed, but more information is to come.
What he did reveal: "Nothing is off the table" – loosely translated: Everything is possible. Cartwright was referring to the content, which means it can be freely stolen from any Star Wars segment. This makes possible, among other things, cards and characters based on the new series, for example.
How good will Star Wars Unlimited be?
Such a flood of information is nice - if cult football coach Adi Preißler had been a board player, he would have said: "All theory in life is gray - but the decisive thing is on the table." That means: Whether Star Wars Unlimited will be the big hit that the makers are currently promising will largely depend on how well the trading card game is received by fans.
First of all, after an extensive gaming session, it is clear that Star Wars Unlimited does not reinvent the wheel in the TCG genre either. But it doesn't have to be, because trading card games always offer the potential for great fun with the familiar basic functions. With Star Wars Unlimited there is now a popular license and some excellent illustrations, which can already be seen from the few publicly viewable cards. Designer Danny Schaefer made it clear that they had used the genre and put together many elements to create a new game. Accordingly, Star Wars Unlimited feels similar to Disney Lorcana, Magic the Gathering or Pokémon, but it is certainly interspersed with its own, sometimes clever, ideas on a detailed level.
What is particularly worth mentioning is the trick of always being able to draw two cards at the start of a turn. One of them can be used as a resource, but you don't have to do that, so you can take two cards into your hand instead. This results in two decision-making situations at the start of the turn, which simultaneously decide how the current round can develop tactically in the short term and how the game can possibly develop in the medium term in terms of resources. This could have a huge impact on deck strategies, especially in the area of ​​cheap aggro decks. The two-card trick is a small detail with a potentially big impact.
Because trading card games are dominated by probabilities, especially when building decks, it can be said that the probability of drawing a particular card into your hand at the right time is significantly increased - namely doubled. This, in conjunction with a good resource strategy, expands the tactical possibilities compared to other trading card games. This is combined with the powerful leader card, where commitments must be fulfilled in order for the player to actively come into play as a unit.
An example: Luke Skywalker can enter the game as a ground unit and ready to attack if a player has laid out six resources. The Jedi strikes only moderately, but distributes shield tokens during his attack to protect other units. This can change game situations, but you have to plan your resource strategy, adjust it if necessary and, in a bad case, forgo good cards in your hand - or bring Skywalker into the game later.
Another unique selling point are the separate "lanes" (playing areas) for ground troops and for air combat. This not only feels good tactically, but also quite thematically. In any case, there are no strange mass fights that sometimes make you frown in other trading card games - especially Magic. This trick also has an effect, of course, because you have to keep an eye on the combat areas when building the deck, so you have to create a balance. And: Even though the lanes are separate, there are mutual influences.
Otherwise, Star Wars Unlimited plays pretty relaxed because players are only allowed to carry out one action per turn, i.e. play a card or attack. The goal is always to destroy the enemy base by causing 30 points of damage. However, damage can be repaired depending on the deck strategy - this is also a detail that needs to be taken into account during construction. Basically, battles take place on several levels: ground units against each other, spaceships against each other, tactical actions of units together with a leadership strategy, battles of all units against the base. The part is similar to the Commander principle in Magic, when it comes to resources, Disney Lorcana comes to mind and behind the basic mechanics you can see all other modern trading card games. The trick with the base can certainly be understood as a homage to the failed Star Wars trading card game from Decipher at the end of the nineties. This idea about base expansion can be developed accordingly, but it is still unclear to what extent the designers want or could make changes at this point, because ultimately it remains a question of balancing, especially for sealed formats.
However, you don't get bogged down in the process. What may sound complicated is actually extremely simple. Fantasy Flight Games rightly refers to the well-known and often advertised principle: "Easy to learn, hard to master".
A game lasts around 45 minutes. Moderate, considering the slightly slower turn-based game structure. The fact that it feels tough at times is solely due to the lack of playing practice. As you gain more experience, Star Wars Unlimited will probably pick up the pace significantly. Finally, a round ends when both players pass - because they want to, have taken the initiative marker, or simply can no longer carry out any actions. This can be weighted differently depending on the player strategy. Only after "mutual agreement" do we move on to the next round, the drawing of cards.
What is striking is that Star Wars Unlimited essentially relies on completely different tactical planning than comparable trading card games. On the one hand, this is due to the turn-based process, which is limited to one action per turn, but on the other hand, it is also due to the lack of immediate effects to influence the battlefield. In addition, there is sometimes a significantly longer waiting time for characters to be used compared to other trading card games. And the lack of the ability to assign defenders individually also noticeably changes the gameplay. Instead, it's about forward planning when occupying the battlefield while also dealing with changing attack scenarios and the associated timing skills. The fact that you can't simply prevent an attack on your own base is not an obvious shortcoming of Star Wars Unlimited, but rather just an incentive to rethink the established deck strategies of previous trading card games. The action comes to the table not quickly, but steadily in Star Wars Unlimited.
The assessments are currently based solely on the demo deck, for which 30 cards are known each. So is there the possibility of gross mistakes? Basically yes. Is that likely? Based on conversations with those who have already seen and played with all the cards from the first set, probably not. In fact, Star Wars Unlimited could be a big deal.
However, success sometimes also depends on the market strategies of the competition. While Wizards of the Coast releases a lot, but little that is really new with Magic the Gathering, so their publishing concepts are predictable, things are different at Ravensburger with Disney Lorcana. The great start and the publication of the reprint at the start of the year and the second set in just a few weeks could draw a lot of money out of the genre. Ultimately, the question remains whether both card games with their popular licenses can exist on the market at the same time.
| Preview | Products | Rating | Price | |
| --- | --- | --- | --- | --- |
| | Gamegenic Dungeon 1100 Card, Midnight Gray * | | 46,89 EUR | Buy |
| | Gamegenic Watchtower 100-Card Convertible Deck Box, Red * | | 34,88 EUR | Buy |
| | Gamegenic , Lair 600+ Red, Card Holder GGS20088ML * | | 54,99 EUR | Buy |
| | Gamegenic Prime Standard Card Game Sleeves 66x91mm (250... * | | | Buy |
* = affiliate link. If you purchase via one of the links, we receive a portion of the purchase price as a commission. There are no additional costs for you, but you can support our portal by doing so. Last updated on September 30.11.2023, XNUMX / Affiliate links / Images from the Amazon Product Advertising API. Images from Amazon PA API.