With the release of Star Wars: Jedi Fallen Order, the wait for fans was over. Respawn Entertainment and Electronic Arts have finally managed to get a real solo game out of the strong license - including a completely new background story. It seemed impossible that Star Wars: Jedi Fallen Order could be a failure. In the following test for Star Wars: Fallen Order, we will reveal whether the action role-playing game is actually the big hit that players have been hoping for for months.
---
An independent background story, new locations, a focus on lightsaber fights, role-playing elements, different levels of difficulty and a lot of Star Wars: the conditions for a great solo game were good. Star Wars: Fallen Order is actually proving to be an excellent action adventure.
Fallen Order offers direct action
The game starts like many Star Wars stories start: a young lad works on an inhospitable planet, subjugated by the empire - until the moments roll over and the main character reveals himself as a Jedi. Initially inexperienced in using the Force, but still armed with a lightsaber, Padawan Cal Kestis sets out to do nothing less than save the galaxy.
What is immediately noticeable is the focus on the straightforward solo player experience and a playful focus, which was last seen in a Star Wars game in this form with Jedi Knight. No additional content, no season pass, no attached multiplayer content: Fallen Order is a single player in its purest form. There are skins, but more as secrets to be discovered in the game and not as shop content.
The action adventure entertains around 20 to 25 hours, where players can choose from a total of four levels of difficulty - from story mode to Jedi grandmasters. Particularly nice: Players can change the level of difficulty at any time, for example if individual passages cannot be mastered.
At this point it is strongly recommended to play Star Wars: Jedi Fallen Order in the highest possible difficulty level. The content does not change, but the challenge is far greater - and with it the satisfaction when you can successfully master a crisp passage.
At maximum difficulty, the game demands everything in the gripping lightsaber fights: coordination, reaction, but also the ability to suffer. Especially on the high levels of difficulty, the opponents not only long, the time for a successful counter attack is also significantly reduced. Star Wars: Jedi Fallen Order is not primarily about beautifully choreographed, but about efficient combat tactics. The offensive and defensive combat animations look good, but in the end, as a "Jedi Grandmaster" all that counts is survival - and that's not that easy. Nevertheless, the fights always remain fair: they are sometimes extremely difficult, but never impossible to master.
The story: Little more than a cold, spiritual café?
Admittedly, the key data of the story of Star Wars: Fallen Order causes disillusionment at first. A young Jedi in the middle of an intergalactic war, who initially lives undiscovered underground, but then stands up for the rebellion to save the galaxy? That has happened often and in all forms. The background story of Fallen Order is nevertheless the absolute star of the video game: All the characters are finely interwoven with the overall storyline, characters and sequences are found everywhere, Fallen Order is linked to the overall storyline of Star Wars. The story of the game is new and independent, but not unique.
The central characters all carry their own blows of fate with them. As a player, you will experience this in the course of the game. The story unfolds step by step, after the preliminary conclusion of a planet there is a kind of cliffhanger that motivates you to continue playing. Anyone who's once immersed in the story of Fallen Order would like to know what happens next.
Respawn Entertainment shows a good knack for storytelling. Everything seems to be interlinked somehow, the story is constantly being pushed and new, sometimes surprising twists are added again and again. The story of Jedi hero Cal Kestis is particularly touching. Nevertheless, some dialogues are irrelevant, repeat topics and unnecessarily stretch the playing time. Such measures would not have been necessary, because even with a playing time of three hours less, Star Wars: Fallen Order would be a solo player hit. Nevertheless, you like to listen to the characters attentively - also because the setting is a direct hit. The German dubbing of the second sister is an exception. The hoarse tonality fits perfectly with Cal Kesti's opponent, but the sometimes strange accentuations in some cutscenes shake the otherwise perfect atmosphere.
The story about the protagonist, on the other hand, is flawless: As a player, you feel the inner turmoil of the young padawan, you can understand the tightrope walk between hope and despair - and you get excited especially from the point in time when Cal Kestis meets his loyal companion BD-1.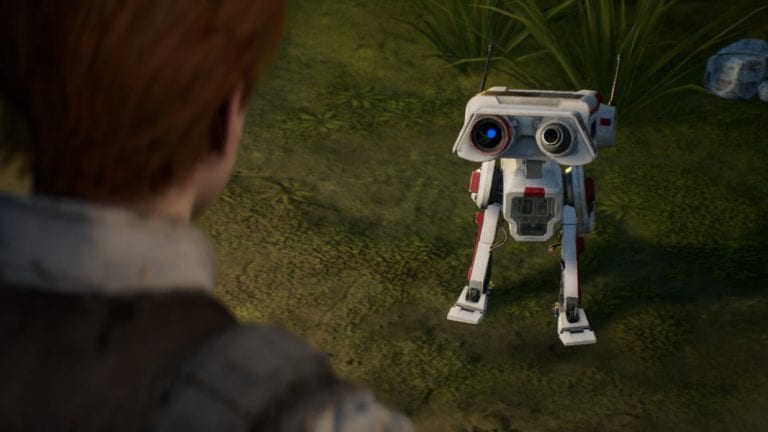 With the cute droid, the creators have created one of the video game highlights of the last decade. BD-1 is not a kitschy sheet metal accessory that jokes with the hero - the droid is an essential part of the adventure. He helps everywhere, hacks boxes, droids and terminals, scans the environment, manages the 3D holo map and also contributes a lot of great story moments to Star Wars: Jedi Fallen Order. From the first encounter, the background story gains significantly in depth and is subsequently not stingy with emotional moments. The two protagonists are interdependent on almost every planet. In addition, the droid gives the action something that is rarely really felt in video games: an actual feeling of friendship.
Overall, the story is not perfect, but it is definitely exciting and mostly also narrative impressive. Occasional negligence can be overlooked in view of the predominantly great moments. Respawn Entertainment has packed the entire range of Star Wars into the game: from trivial talk to breathtaking aha moments.
Hop Jedi, Hop!
The story is embedded in a great atmosphere that looks so much like Star Wars and feels so much like Star Wars than ever before. From a purely technical point of view, optically more could have been gotten out of Fallen Order. The graphics are excellent, but not outstanding. This is compensated for by the well-designed worlds in which players do not fight their way straight from one side to the other, but have to overcome heights and take winding detours to get to their goal.
The jumping and climbing inserts are very reminiscent of Tomb Raider. This is not a shortcoming, but rather a clever trick from Respawn Entertainment due to the quality of the last Lara Croft adventures. Still, Star Wars: Jedi drop orders more directly - also thanks to the fact that there are no more passive Quicktime events. Although there is occasional button smashing in Cal Kestis' adventures, it is seldom and mostly well embedded in the flow of the game. The Croft game series is not the only template that you can recognize in Star Wars: Jedi Fallen Order. Bonds to Dark Souls, Uncharted, but above all Metroid can always be felt.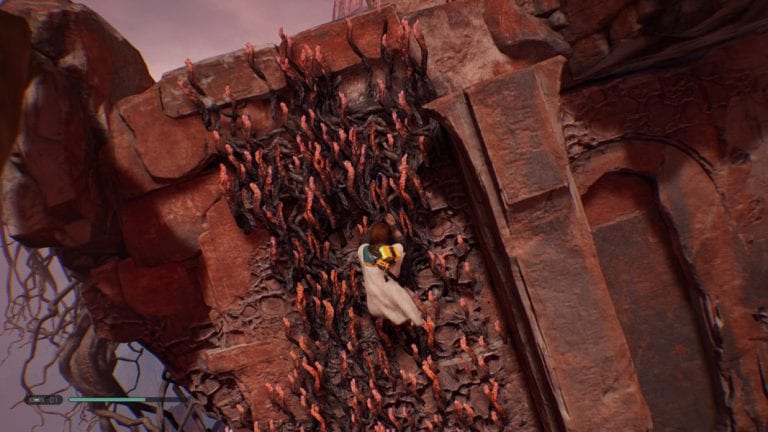 There is a lot to discover in the semi-open game world. In addition to cosmetic items, the echoes hidden everywhere are particularly interesting because they drive the story. Of course, BD-1 helps with all of the actions, scanning plants and defeated enemies or even giving tips if the player doesn't know what to do with a puzzle. In Star Wars: Fallen Order has many anecdotes and borrowings from the gigantic Star Wars universe. Unfortunately, the planets in particular, i.e. the locations, remain relatively pale: Respawn Entertainment should, perhaps should, have offered more here. This also applies to the narrative outside of the great cutscenes. A text-heavy, not even particularly extensive database offers additional information. Real fans would have wished for more at this point.
The power is strong
Force is also a constant companion of many characters in Star Wars: Jedi Fallen Order. Cal Kestis also becomes more powerful the further he progresses in the game. The feeling of superiority - as with Foce: Unleashed - does not materialize. This is good for the central lightsaber fights, but rather bad for the feeling of power itself. With each new skill the young Jedi learns, new avenues in the game become accessible. So you travel back and forth between the places because some passages can only be reached with special acrobatics. On the other hand, it is great how the Jedi achieves his powers, because that is also firmly anchored in the story and excellently staged.
Because the power is suitable for exploring the game world, the lightsaber remains the central weapon in the game. The trick works: Lightsaber duels in Star Wars games have never been as immediate and demanding as the battles in Star Wars: Fallen Order. You can feel how powerful the Jedi can use his weapon, but still remain vulnerable. Swinging the lightsaber is no guarantee of profit: it always depends on good timing and the triggering of the right blows, especially in high difficulty levels.
The opponents each have their own attack patterns that you have to study in order to be able to cause maximum damage. Each opponent has its own weaknesses that need to be exploited. Some are shaken by a power surge, others take more lightsaber damage. In the end, it depends on the tactics of the player, whether a fight ends victoriously or whether you have to eat dust as a Jedi. This is especially exciting when there are mixed groups of opponents. If the Jedi dies, he leaves some experience points with the opponent who carried out the fatal blow. It is therefore worth attacking the opponent again and compensating for the penalty. In the end, however, the negative consequences of death are too small to really have a detrimental effect. Especially from Dark Souls, players are used to a completely different caliber.
Nevertheless, experience points are valuable. Those who have gained enough experience through their game actions rise in the level and then receive skill points that can be allocated to different power skills. Players are not allowed to choose completely freely: the story progress limits the selection. In this way, Cal Kestis also learns new striking techniques or combinations, but most of the time you put your points in vile passive bonuses. Then there is more life or more power, but it is not really noticeable.
In the end, however, it becomes more complex than you initially think: With a large pool of power and a decent range of manipulative skills, passages become accessible in which different skills have to be sensibly combined. These moments are great and show the attention to detail Respawn Entertainment has put into the gameplay.
An open game world with dead ends
The game world of Star Wars: Jedi Fallen Order is so open that you regularly find yourself in dead ends. The 3D holo map is an important companion that shows which areas are accessible with the currently available skills. Yet again and again one encounters insurmountable obstacles on the planet. The result: you have to walk back all the way. Most of the time there are abbreviations that can be freely activated, but the walking distances are long - sometimes unbearably long. Those who follow the story well don't notice much of it. If you really want to complete the game, you have to show tolerance for frustration.
Star Wars: Fallen Order ist eine Mixtur aus einigen der besten Spielelemente der letzten Jahre. Respawn Entertainment macht wenig falsch und sehr viel richtig. Perfekt ist Fallen Order dennoch nicht, dafür fehlt am Ende die große Innovation. Trotzdem schafft dieser Titel etwas, das Spieler bei Star Wars-Spielen vermisst haben: re entfaltet eine narrative Sogwirkung, der man sich kaum entziehen kann. Man will wissen, wie es mit Cal Kestis und BD-1 weitergeht, man will die Nebencharaktere kennenlernen, man will wissen, wie das Spiel endet. Nach knapp 20 Stunden flimmern die finalen Credits über den Bildschirm- was bleibt, ist dann das gute Gefühl, endlich mal wieder ein echtes Solospiel mit Star Wars-Flair gespielt zu haben.
Infobox
Number of players: Solo mode
Age: USK from 16 years
Playing time: 20 hours of play
Difficulty: easy to high
Long-term motivation: low
Publisher: Electronic Arts
Developer: Respawn Entertainment
Year of publication: 2019
Platforms: PC, Xbox One, Playstation 4
Language: German
Cost: 59,99 Euro
Summary
Anyone who loves Star Wars and likes solo games will die Star Wars: Order hardly falls around. Respawn Entertainment and Electronic Arts have actually gotten everything fans could want out of the license: a great story, wonderful character drawings, a lively, atmospheric world - and lots of action.
This game is pure Star Wars. You can hardly describe it without spoilers, so you should just get involved in the action adventure. The small and large fragments of the story are touching, arouse emotions, make players laugh on the gamepad - and maybe even cry. And the little BD-1 adds a little crown to all the narrative bells and whistles.
You can tell how good Star Wars: Fallen Order is because the joy of achievements and successes is a constant companion of the player. Technically speaking, the title works flawlessly. You almost get the feeling that Fallen Order would work well even without Disney's powerful license. For around 60 euros there is comparatively little playing time, but plenty of Star Wars and intense entertainment.
Even the greatest Jedi master is not free from weaknesses. It's similar with Star Wars: Fallen Order. The game is entertaining, atmospheric, and well done technically. Nevertheless, it makes avoidable blunders and in the end does not achieve an outstanding result in any discipline. Still: Fallen Order is a no-frills action adventure that knows how to get you moving. It doesn't have to do more as a solo player title - as a Star Wars game anyway.