SPIEL'21 will take place from October 14th to 17th - noticeably different from what some visitors might be used to, but always on site in Essen. For a long time it was unclear whether and in what form the international game days would take place this year due to the pandemic situation. The anticipation is now all the greater for the world's largest trade fair for board games, which can also be experienced by all those who do not make their way to Essen: the new online part from last year is there again.
The fears of a surge in the corona numbers around SPIEL'21 have so far not come true: The pandemic is not over, but the situation is much more relaxed than it was a few months ago. The virus has not made it easy for the event organizers: like a sword of Damocles, tightened rules hovered over the trade fair and event planning.
The ongoing vaccination campaign, including the surprising announcement by the Federal Minister of Health that apparently more people have been vaccinated than previously assumed, ensure that trade fair events on the scale of SPIEL in Essen can take place again after a long period of waiver. The makers of Gamescom had previously canceled and relocated the gaming fair to the Internet - it was also unclear in the summer whether Friedhelm Merz Verlag would be able to host the International Game Days as an on-site event. Then came the redeeming message in July: It is possible to organize in the Essen exhibition halls.
SPIEL'21 under Corona conditions
Not all publishers are there, among other things Asmodee announced early on that they would not be taking part this year. The possible health risks for "employees, partners and players" were too incalculable, it was said. One thing is clear: SPIEL'21 will be a special, perhaps unique trade fair in the history of International Match Days - in many respects. Because some actors who are traditionally part of the "inventory of the trade fair" are missing. Because the fair will be full, but not as full as usual. Because the tickets are personalized. Because corona immunization or a negative test must be proven. Because masks are mandatory. Because the entry controls will be stricter. Because Cajon backpacks no longer give you black eyes, but trolleys still give you bloody heels.
And also because the feelings in connection with a major event suddenly seem so strange. Spending time with hundreds or even thousands of people in one room - albeit a huge one? One could get scared after the long period of restricted contact. You can actually feel it: There are fans who are foregoing a visit to the trade fair this year because they are unsure of what was not a problem at all before the corona pandemic. It takes courage to visit SPIEL'21 - that, too, is somehow new. Stroll through the halls completely carefree and sit down at the gaming tables, possibly with strangers too? You wish the visitors so, but you also know at the same time: A queasy feeling will be felt despite all the joy.
SPIEL'21 is a fair of great emotions: reunion, meeting people, enjoying the time, cultivating contacts, rediscovering common ground - also the Youtubers, bloggers, podcasters of the scene, for whom visiting the fair is a highlight in normal years, but somehow but everyday life suggests that the year 2021 will be completely different.
"Even if this SPIEL will be different, I am glad that it is taking place, with the Corona measures that cannot be neglected, which is very important. I hope we all do our part to make it a great event." – Dimitrios Barbas - Boardgame Greek
Some of the reasons for visiting the trade fair are different than in previous years. Sure, we play a lot and for a long time, but this year - more than ever - it's about other things: "The board games are a minor matter for us this year," writes Simon from the YouTube channel "BrettMan" (to the canal). "First and foremost, we are really looking forward to entering the sacred exhibition halls again. Trade fair feeling without a PC, zoom meetings and internet problems". The explainable bears would definitely be hungry, says Simon. He looks forward to playing dozens of unknown games - without studying the rules! "Sit down, listen, get started…. oh, I missed it."
Monti from "Board game live" (to the canal) celebrates its own premiere at the Corona debut of SPIEL'21: As he revealed, this is his first time at the International Match Days - "So what triggers me the most is whether the aura will really be felt". Monti is also looking forward to meeting the publishers' contact persons, such as Uwe Bursik from Skellig, live. And then there is the anticipation of "just getting out and experiencing something" – understandable, little went for long enough, at times nothing at all. Monti would like to take "games and impressions" with him.
"Experiencing SPIEL again after two years and walking through the aisles and letting everything sink in," is how the "Board game Greek" (to the canal) his expectations of the International Match Days 2021. That is what "we are all looking forward to. Finally a physical fair again where we can have new games explained to us and play a game with friends or complete strangers from all over the world." Dimitrios Barbas would also like to make new acquaintances: "There are many nice ones in the board game bubble of social media People on the go, such as private individuals, bloggers, YouTubers, podcasters or publishers' representatives." Many will be at SPIEL and this is the "best opportunity to exchange ideas, to say hello or to have one or two nice conversations."
And then there are the games. The board game Greek features, among other things, The Red Cathedral (KOSMOS), Maracaibo – The Distance (DLP Games) – "The base game is one of my favorite games and now with the expansion double layer boards are added, among other things" – and Die Glasstraße (Tierra del Fuego) are high on the list. The latter board game is a reprint, first published in 2013, "a game by Uwe Rosenberg that I haven't played yet," says Dimitrios. He appreciates Rosenberg. And: Galaxy Trucker from Czech Games Edition/Heidelbär Games, a revised game with new graphics, which "should be really good". At SPIEL'21, the Greek who plays board games can see for himself how right his assessment is.
"Just playing with cool people, best time." - Christoph - Better Board Games
At least now it's clear: SPIEL'21 is also about games – not just about emotions. But also about the mood: "Most of all I'm looking forward to the atmosphere and being able to enjoy it with so many other board game enthusiasts, but also to be able to shape it," says the "Board game panther" (to the canal). He is one of the still young channels of the scene. On YouTube, Chris reviews board games and presents his favorite titles. He has been providing content for around a year, so he started when the corona virus paralyzed the event landscape. For Chris it is therefore clear: "I hope to be able to have a chat or two with like-minded people and to finally be able to meet some Youtube/blog/Instagram colleagues live". And if one or the other board game pearl makes it into his trunk, "I'm all the happier".
The duo has been in business for longerBetter board games" (to the canal). Christoph and Thomas have long been established in the scene – they regularly provide the program, including at SPIEL'21: "We do a board game boot camp with Thomas, Dennis and Flo all week and play the new products right away. Just playing with cool people, great time," says Christoph happily. He's already riding the Age of Empire 4 hype wave and is therefore looking forward to the board game Clash of Culture. He was "really in the mood for an epic civilization game". He is also very happy to finally see everyone again - friends, colleagues, authors as well as supporters and viewers of the channel.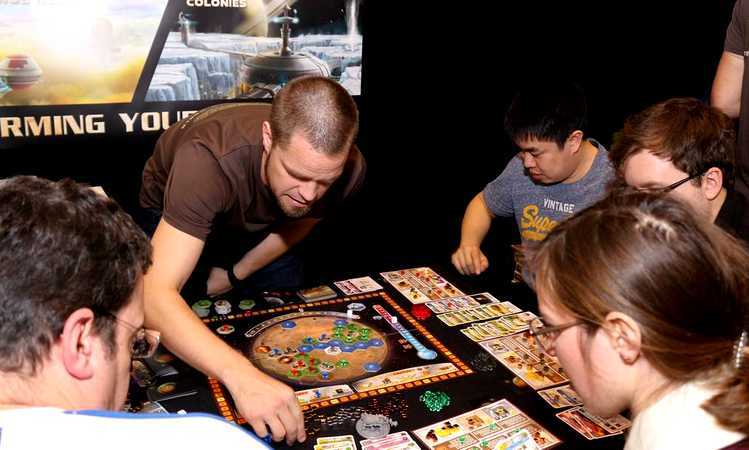 Expressly not an influencer is by the way Hilko from "It's your turn" (to the canal) – he is not there, but is happy anyway. However, at the 2022 fair. Hilko is a specialist when it comes to games from foreign publishers. He has his sights set on South America and Asia, among others. This is also his recommendation for SPIEL'21: "Scout! This wonderful Japanese card game by Kei Kajino is now re-released by Oink Games, bringing it to a wider audience for the first time. I like to describe it as a mixture of crass checkered and fuchikato," describes Hilko. He sometimes discovers gems that others overlook in the mass of board game titles. "In view of the comparatively few publishers from Asia who can come this time, I am pleased that with Majlis Shabab a publisher from Qatar is represented at the fair for the first time," explains Hilko. When I talked to the publisher's owner, I found out that there are still a lot of games in the Arab world that nobody here knows about." From this information, Hilko has made a task for himself: he would like to do more research in this direction.
For The games dinosaurs (to the canal) the SPIEL'21 in Essen should be an exciting time - the experienced influencers know the scene, the fair and also many of the new board games. Nevertheless, the two YouTubers are looking forward to "all the pearls from small and unknown publishers". This proves how much the International Matchdays are a highlight for the veterans of the scene: "When the adrenaline pumps through your veins to the fullest and you enter the hallowed halls full of anticipation," is how the 'Dinos' Melanie and Angelo describe theirs Anticipation of the Essen trade fair.
Typically Ruhrpottschnauze (Eternal Two Slit: Dortmund!), On the other hand, it sounds from Kaddy and Sebastian von Game frit (to the canal) those three things that are most looking forward to – unabridged and in the original sound: "Waaaaas? Only three? Oh man! Now it's getting tricky ... Let's take the horny chocolate bars that we always eat in the underground car park? No no no, too flat. Are we going to see again the many people we have grown too fond of? No! Too stuffy! Let's take a couple of game titles that turn out to be cucumber salad with sausage water after all? No, too unexpected. Hmmm, what then? Maybe the new olfactory experience we're going to have with Snout Nose Pillows this year? Oh man, we don't know. Or is it the hottest soft ice cream, which is so awesomely soiled with all sorts of odds and ends - no, certainly not, they are definitely not there, like they have been for 3 years. Or, how about this: The loud din in front of the hall, which is so indescribably beautiful and specific? No, no, now we know, it will be running through the halls, just because Verlag Holterdiepolter is touting a red zip bag??? Oh, I have no idea... Maybe we'll just leave it at that, that the fair is back, both digitally and in real. Wooooooo…."
French fries barrier!
Speaking of fries, Robert is also looking forward to it Board game guru (to the canal) – by the way, not to be confused with the board game guru: "I'm looking forward to exploring the halls, finding some new games you haven't heard of yet and of course currywurst fries red and white". – French fries barrier is what they say here. "My last trade fair was in Bremen in spring 2020," adds Robert. He was "on withdrawal". His medicine: "Finally play again until the doctor comes."
French fries barrier as French fries barrier should know potgamer Benny (to the canal). He is particularly looking forward to the "air at the trade fair". Of course, with fewer visitors in the halls at the same time, it should also be significantly better than in the years before the pandemic – the masks also swallow part of the stench, so they don't just help against Corona. In any case, Bennis knows that SPIEL'21 "doesn't quite match what you experience otherwise" due to the mask requirement. "But the feeling of being able to stroll through the halls, to see people playing, to be able to enjoy social interaction and that with people from other countries and cultures, that's what the fair has always been about for me and it will be the best feeling this time too I definitely won't let them take me."
"Potti" is also looking forward to seeing you again: "To have at least a hint of feeling close to people. Being able to talk about anything. Things that are beautiful and also things that move you." In the end, of course, his "little escape from everyday life" consists of games. With all the anticipation for SPIEL'21, Benni makes no secret of what others might think: "Of course, many things will have a queasy and unusual aftertaste, at least for me. Many people, also from different nations, the masks, etc., will at least have an effect on me, but I'm really looking forward to it and will enjoy it to the fullest as much as possible."
The Board game teddy (to the canal) is initially happy about the obvious, namely that "the fair will take place at all". "Because for me, after all the hardships of late, this is another step back to normality. And that feels good." Through his Yotube hobby, he got to know some people from the board game scene who can now finally meet in person. "This includes my subscribers, other Youtubers as well as employees of publishing houses. You only know the majority of these people from written contact."
In Board game guard (to the canal) is in the middle of planning. The two Youtubers Pam and Micha are also looking forward to a portion of "normality". In addition to all the gimmicks, they especially want to see friends and meet new friends and "see other Youtubers and bloggers live (and not just via Zoom) and get to know one or the other publisher better. "For us, a day at the fair is a holiday and we celebrate 'life' here."
The planning has probably already been completed in the board game podcast - there is no other way to explain their comprehensive answer to us. But maybe it's more the exuberant joy, because for Björn it's the first SPIEL in Essen: "The suitcases are already packed, the trip to Essen is imminent. For many FINALLY AGAIN, for me just FINALLY. My first SPIEL not only as a "Content Creator" but overall. It took far too long, far too often other things got in the way." Understandably, SPIEL'21 is a particularly "special experience" for him. That's why the full package is available straight away: "We're in Essen from Wednesday to Sunday. Five days in a shared accommodation only with my "fellow podcasters". It's just our hobby. As a father of toddler twins, this will be a great change, which my wife makes possible for me and for which I am of course very grateful." Björn would also like to see everyone he only knows on the internet live in Essen: "This coming together of the many people from our hobby is what makes the fair particularly attractive for me and I'm happy about everyone I can chat with face to face at the fair. "
Basti from the board game podcast on his crew, the company of others and many games - above all Messina 1347 by Raúl Fernández Aparicio and Vladimír Suchý, a board game that was played during the plague epidemic. Bad omen? Hopefully not. Also for Mario vom Board game podcast (to the canal) SPIEL'21 will be his first. The "special atmosphere", as his fellow podcaster Stefan describes it, will also be absorbed by Mario – through the mask! – and play novelties and meet friends and "familiar faces". Stefan sees it that way too.
The bloggers, podcasters and Youtubers are looking forward to a lot in Essen - but they all agree on one thing: Finally meeting the community again.
Games in five halls
This year SPIEL'1 will take place in halls 2, 3, 5, 6 and 21, as well as in the well-known room in the Galeria of Messe Essen. Wider corridors and disinfection stations are two of the obvious hygiene measures, in addition to proof of immunization, negative testing and the requirement to wear a mask. And: The halls are supplied with 100 percent fresh air, it says in the Guide to SPIEl'21, which can be found on the website of the organizer. Further detailed information is available online at: www.spiel-messe.com.
In the meantime, however, the recording of contacts via the Luca app at the stands can be dispensed with, as the organizing Friedhelm Merz Verlag recently announced. Something else has changed, however: As of October 11th, there will no longer be any free citizen tests in North Rhine-Westphalia. If you need proof, you have to dig into your pocket and pay for the test. The costs for this are determined by the test stations and thus by the market - consumer organizations assume costs between 18 and 40 euros, some test providers also carry out rapid tests for around 14 euros.
The test capacities on site are limited, the organizers recommend that you have yourself tested before your arrival. Anyone who would like to have the smear taken at the trade fair must also make an appointment for this. There goes online at: app.no-q.info. The test center is located between the entrance to parking lot P6 and the passage to Hall 1A. It will be accessible from the outside. In the vicinity of the exhibition halls there are further test stations in the direction of Rüttenscheid and the main train station.
Otherwise, not much has changed: There are tons of new board games and tables at the stands to try them out. Around 600 exhibitors from 42 nations will be there this year, as confirmed by Dominique Metzler from Friedhelm Merz Verlag, journalist Frank Zirpins and the chairman of the Spieleverlage association, Hermann Hutter, at the SPIEL'21 press conference. Last year there were 400 exhibitors from 41 nations at the purely digital trade fair - so there is a clear plus for on-site operations. Anyone who feared that the trade fair would become far less international can now breathe a sigh of relief. The publishers and authors are presenting around 1.000 new products - in 2019, the year before the pandemic. however, it was a whopping 1.500. For a restart after a long period of unclear situation, however, the difference is not a flaw. On the contrary. There have always been more than enough games in Essen.
The industry is also doing well, Hermann Hutter makes it clear. At around 14 percent, the increase is full and in double digits, but it also falls less than in the previous year. At that time, the industry grew by almost 21 percent with the "corona effect". Surprising: Hutter explains that the target group has been expanded, especially among adults. Previously, it was traditionally more children and young people who showed increased interest in games and puzzles.
Everything is prepared for the first SPIEL in Essen of its kind. Hopefully it will be the last fair under Corona conditions. However, that again depends on everyone.
---
* = affiliate link. If you purchase via one of the links, we receive a portion of the purchase price as a commission. There are no additional costs for you, but you can support our portal by doing so. Last updated on September 23.09.2023, XNUMX / Affiliate links / Images from the Amazon Product Advertising API. Images from Amazon PA API.