The Christmas season is approaching and for Pictures there is now a suitable Christmas extension. Pictures is from Daniela and Christian Stoehr and won the prize in 2020 game of the year to win. The game from PD publisher convinced with a creative game idea. To Pictures XL photos and Picture Orange is now with Pictures XMAS the third expansion appeared.
Pictures XMAS is an expansion and requires the base game to play. While Pictures was for 3-5 people, the expansion lets you play it for XNUMX people. Next to 55 new photo cards and a Score pad (for up to 6 people), you get 2 new Christmas material sets.
Christmas set 1 Contains a Christmas bag with 1 Christmas bauble, 2 figures, chain, 1 cotton ball, 1 cinnamon stick, 1 stone and 3 wooden parts (star, house, tile). Also a screen.
Whoever plays with this set puts any number of objects into the bag - without seeing what is in the bag. All other items are placed behind the screen. Then the bag is passed around and each person can try to feel what is in the bag.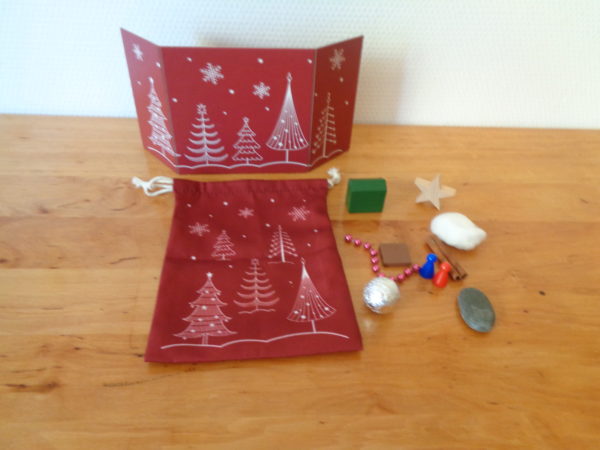 Christmas set 2 includes a two-piece plate puzzle and 24 decorative pieces. Any number of these decorative pieces can be placed on the plate (only on the plate). To make it a bit more challenging, you can agree on a selection of decoration parts that can be used before the game.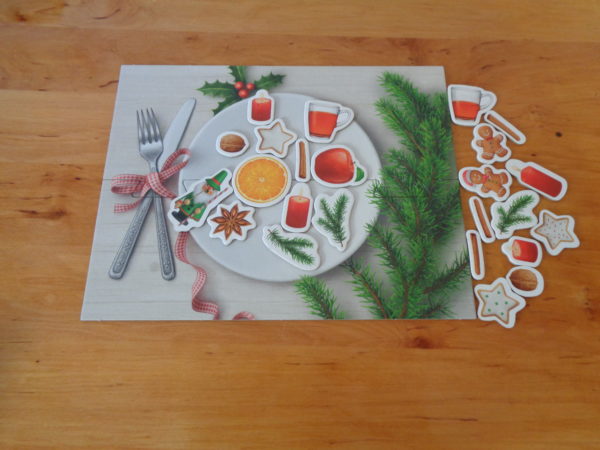 Game with 6 people: You play with 6 material sets over 6 rounds. After 3 rounds all photos are swapped and all photo selection tiles are put back into the bag.
What is Pictures anyway?
If you don't know Pictures yet, here are the most important rules. Before the game, you choose material sets that you want to play with and lay out 16 photo cards. Each person is now assigned a photo and tries to represent it with the material. Everyone does it at the same time. When everyone is finished, it is a matter of assigning the "structures" of the others to a photo. Whoever succeeds in doing this gets a point. After each round, the material sets are passed on clockwise and a new photo is drawn.
Here's an example. The person recreated a picture with the stones and sticks. Each person gives a hidden tip and at the end it is published which picture it really was. Here it was picture A1.
The Pictures World
As already indicated, there are two more Pictures expansions.
Picture XL photos is more of a material variant. The expansion contains 182 photos of the original game and 8 photos related to the theme and the game. All photos are 60% larger than the original game, making it easier to play for the elderly, the young or those with disabilities.
Picture Orange is similar to X-MAS an expansion that allows six players to play. Here, too, you get 55 new photo cards and two new material sets:
Material set 1: includes 16 acrylic bricks and 1 double-sided picture frame. Any number of stones are placed within the frame. Alternatively, you can also play in such a way that all stones must be used, but you can also turn them onto the white back.
Material set 2: 2 pieces of felt and 5 clothespins. You can either use the material freely or you have to attach the clips to the felt or other clips.
Conclusion
Pictures XMAS is with the material and the name - not surprisingly - a thematic extension. This suits the current season and brings exciting variety into the game. The Christmas bag in particular is a tricky task, because you first have to feel what is in the bag and then what the person was thinking with it. For me it is a very successful and exciting expansion. On the one hand, this is of course due to the interesting material sets. On the other hand, for personal reasons. We almost always play Christmas, and two years ago the game of the year was put on the table. Pictures and Christmas are already connected to each other for me and from now on also playful.
of course is Pictures XMAS a very thematic extension. So is it something that is only played around Christmas time? I don't think so and that's mostly due to the creative aspect of the game. So while Christmas material is used, you use it creatively to give clues and it only affects one or two people at a time. But I'm assuming that the greater variety, which will be added by the expansion, will also prevail outside of the Christmas season - maybe not exactly in midsummer with 30 degrees, but otherwise probably already.
Finally, here is a mini-picture. Can you find out which map I drew?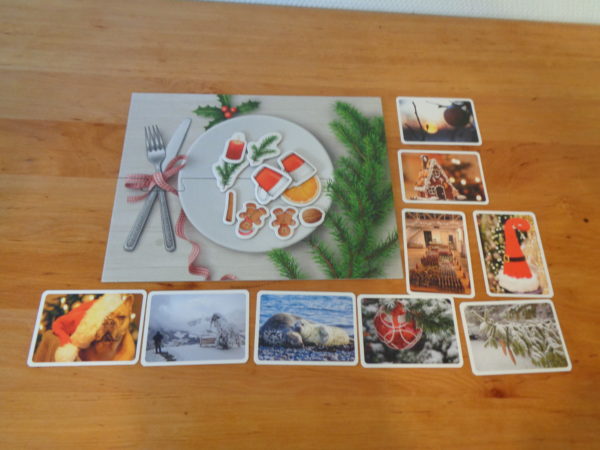 * = affiliate link. If you purchase via one of the links, we receive a portion of the purchase price as a commission. There are no additional costs for you, but you can support our portal by doing so. Last updated on September 1.12.2023, XNUMX / Affiliate links / Images from the Amazon Product Advertising API. Images from Amazon PA API.