Today, November 13th, Nintendo released a limited edition handheld console to celebrate Super Mario Bros. 35th Anniversary. With "Game & Watch: Super Mario Bros." a piece of gaming history becomes playable. The console goes into the pockets of its fans with three pre-installed game titles. It also features a digital clock with 35 different animations and an "Unlimited Mario Mode". Originally produced from 1980 to 1991, Game & Watch was sadly missed by gamers around the world.
---
Anyone who lived through the 80s couldn't ignore the electronic game box Game & Watch from Nintendo. The small, flat handheld consoles only offered their players one game at a time. Nintendo heroes like "Mario Bros." and "Donkey Kong Jr." were also part of the party. Starting today, November 13, all video game fans can relive or relive this piece of Nintendo history thanks to the comeback of Game & Watch: Super Mario Bros. The console comes with three preinstalled game titles: Super Mario Bros., Super Mario Bros.: The Lost Levels and the skill game Ball.
Game & Watch: Super Mario Bros. - A piece of history
The first Game & Watch were originally developed by Nintendo designer Gunpei Yokoi to offer interested gamers a console for on the go. After he observed a man on a train in Japan who was typing on a calculator out of sheer boredom. With his idea of ​​a handheld console, the resourceful designer not only brought video gamers a lot of fun, but also revolutionized the entire games industry.
The new edition comes in a gold-colored color scheme with a wine-red frame. In addition, the Game & Watch console has a modern LCD color screen, a battery and a USB-C charging option. The control pad should ensure precise playing. This means that pocket-sized fun has arrived in the 21st century. Another feature is an integrated digital clock, which is not only a practical clock, but also features guest appearances by Mario himself and his Nintendo friends. So it's worth keeping a close eye on them.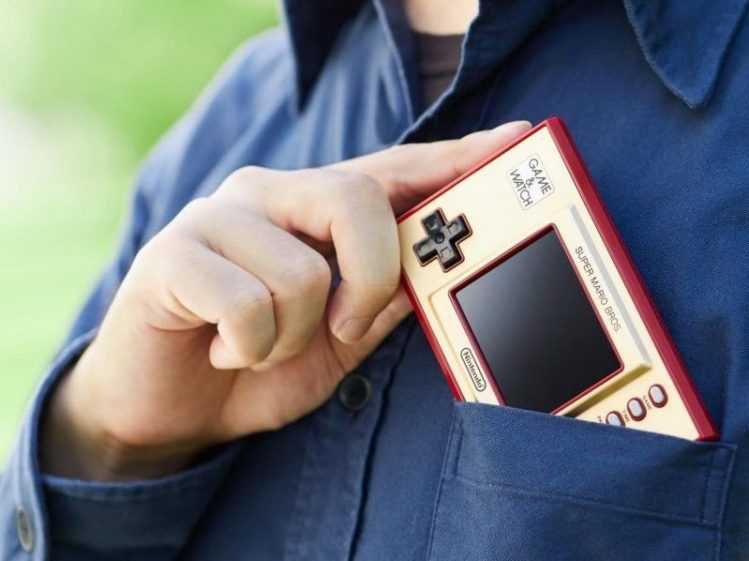 For players who want to adventure in the Super Mario Bros. world without pressure, the handheld console has the "Unlimited Mario Mode". This prevents the game over feared by video gamers, in that life points can no longer be lost. It becomes active as soon as the player starts Super Mario Bros. or Super Mario Bros.: The Lost Levels while holding down the A button. Players who want the riskier versions of the titles back can turn off Unlimited Mario Mode under Reset Game in the game menu.
If you now feel like the Game & Watch experience or want to get hold of a Christmas present, then you have to be quick. The pocket-sized console is only available in limited editions to mark the 35th anniversary of Super Mario Bros.
---
* = affiliate link. If you purchase via one of the links, we receive a portion of the purchase price as a commission. There are no additional costs for you, but you can support our portal by doing so. Last updated on September 29.09.2023, XNUMX / Affiliate links / Images from the Amazon Product Advertising API. Images from Amazon PA API.