The popular dice game Qwixx has come along without much notice Qwixx Double Two new game variants released. In addition, on the occasion of the tenth anniversary, a "10 year Qwixx" anniversary edition was announced in the fall.
Qwixx is a dice game by Steffen Benndorf (and partly also Reinhard Straupe) from Nürnberger-Spielkarten-Verlag. If you don't know the game yet, you'll find it here. the rules and an insight into the previous expansions. Here you can find other game variants.
Qwixx Double
Qwixx Double comes along two game blocks – this is how we know it from the game variants that have been released so far. Like the basic game (from which you need the dice) you can play it with 2-5 people aged 8 and over.
The game is officially scheduled to be released at the end of June 2022 and with both variants you can tick more and collect points than before. In variant A there is an additional field below the respective number fields 2-11 that can be ticked. This is also necessary, because this time you need 7 crosses per row instead of 5 to complete a row.
Variant B has fields with two numbers; Here too you can make more crosses and collect more points. With one throw you can even set two crosses directly.
According to the publisher, both variants can also be combined with each other and thus offer a new gaming experience.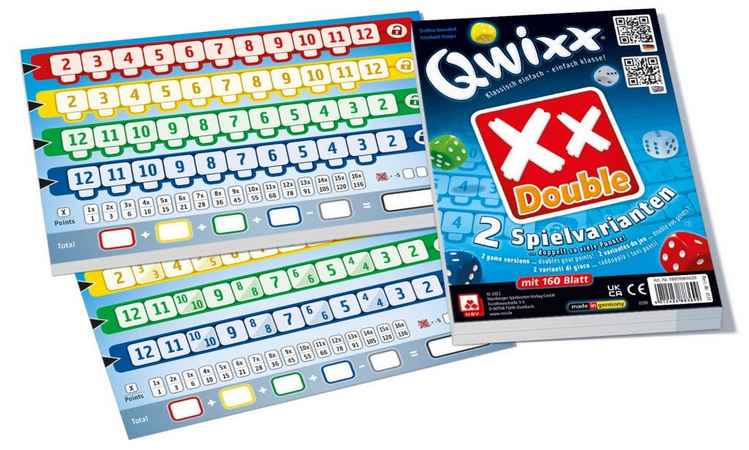 Qwixx anniversary edition
Qwixx has been sold more than 1 million times worldwide and is one of the classics from Nürnberger-Spielkarten-Verlag. A special edition "10 years of Qwixx" will be released in autumn. This contains the basic game, the variants "Bonus", "Gemixxt" and "Qwixx Longo". Instead of game sheets, you will receive wipeable game boards. Of course you also get erasable pens, the normal dice (D6) and the dice for Longo (D8). Similar to the deluxe edition, the game cover has a felt inlay and serves as a dice board.
Last updated on 5.10.2022/XNUMX/XNUMX / Affiliate Links / Images from the Amazon Product Advertising API. * = Affiliate links. Images from Amazon PA API