It's been a long time since Final Fantasy 7 was a role-playing game that found its place in the hearts of fans and should never let them go. The classic – now also in a new guise – is considered a milestone. Associated with this: many memories.
In this article, I'm going to relive my memories of Final Fantasy VII a little. I try to remain spoiler-free as much as possible - but the following applies: Spoiler warning!
Long time ago. I know, back then... as a little boy: I was visiting my grandma and my cousin, who lived one floor up, let me play different games on his Playstation 1. Rayman, Tomb Raider, Star Wars and many more. However, I only remembered one game: Final Fantasy VII. And yes, I actually only remembered that one game. It was not without reason that I went to my old rummage box and looked for old Playstation titles that my cousin gave me.
I kept starting it, but never finished it...
I played the game the whole time I was visiting. And the best came last. My cousin gave me his Playstation including several of his games as a goodbye present. Among other things, Final Fantasy VII. However, he kept his memory card with him and I arrived home without a memory card. I started the game over, played it, couldn't save it and started over again until my parents bought me a memory card at the flea market...
"Finally!" I thought to myself. "Finally, I can beat the game!" Today, a good 20 years later, I have to admit... I still haven't beat Final Fantasy VII. Still, it's probably the game I've played the most in my life. I own it on almost every platform I own or have ever owned. I played it on all platforms and still I never got past the tragic end of the first CD. I loved the game as a kid, but never had enough stamina to finish it. However, it kept pulling me back into its spell, so that I restarted the game over and over again with the aim of ending it at some point.
...the reason: the fights!
Still, I never made it. For me personally, the story of a video game is one of the most important elements. The Final Fantasy series has a large number of fantastic stories that I've enjoyed delving into, and Final Fantasy VII has one of the best. However, I was never able to follow through with the story in terms of gameplay, since once I got out of Midgar and entered the free world, I was interrupted by a random fight every few meters.
The Final Fantasy series uses the popular Active Time Battle (ATB) system in many of its games. This is also the case in Final Fantasy VII. A mix of classic turn-based battles supplemented by a time aspect. Briefly explained: The individual members of the current group each have an ATB bar that fills up over time. As soon as this is full, an action (attack/defense, magic, summons or items) can be carried out.
Do not get me wrong. The combat system itself is fun and is also very tactical in depth, but after many encounters with monsters it got on my nerves at some point. Especially when simple monsters appear, since it also takes a moment before a character is allowed to perform an action, you have attacked and the monster has been defeated. For this you were often only rewarded with a few Gil (the currency in FFVII).
Unfortunately, the combination of random battles and the combat system kept tearing me out of the great flow that this game creates with its beautiful locations, funny dialogues and meaningful moments...
Why Final Fantasy VII is so special
...and Final Fantasy VII has a lot of them. The beautiful gondola ride with Barret alone was an unforgettable experience.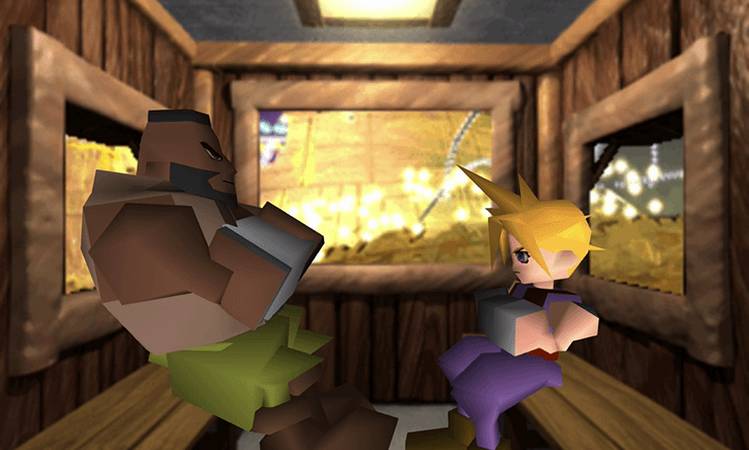 Every place, every conversation, even those with the most unimportant supporting characters, has delighted me and pulled me deeper and deeper into this world. I felt right at home when I entered Nibelheim, the home village of the main protagonist Cloud and other characters in the game.
All the memories of Cloud's past played a big part in that. Rarely have I felt so drawn into a game as I have into this one. The story about Cloud and his companions in a dystopian world led by the mega corporation Shin-Ra is told in an exciting way and I always wanted to learn more about the secrets of this world.
The Final Fantasy VII Remake
I was all the more pleased at E3 2015 when Sony announced a completely renewed remake of Final Fantasy VII. The first part of the remake trilogy came out in April 2020 and was probably one of the best gifts my girlfriend could give me for my birthday. A new combat system, no randomly generated fights and deeper insights into the story. I'm definitely in there!
I played through the game in one go and was positively impressed. A few novelties in the story left me confused, but I was thoroughly enthralled. My inner little child was awakened. Awakened by memories and locations that I knew from the original. Again and again I ran to my girlfriend and told her about memorable scenes, such as the beautiful visit to Don Corneo as a woman. It was wonderful.
So I'm all the more excited to see how the next part, called Final Fantasy VII: Rebirth, will continue, which is scheduled for release at the end of 2023. How will the story continue, especially with the new story content introduced in the first part?
Anyway, I'm excited and I'll probably try the original for the hundredth time now, because I love this game, even though I've never completed it. Maybe with a new save, maybe with an old save. The original game from 1997 is here and I can't wait to finish this game.
Last updated on 29.11.2022/XNUMX/XNUMX / Affiliate Links / Images from the Amazon Product Advertising API. * = Affiliate links. Images from Amazon PA API