Human Punishment: The Beginning is ambitiously crowdfunding on Kickstarter. The small publisher Godot Games is sending what the makers say is the hotly anticipated prequel to "Human Punishment - Social Deduction 2.0" into the race for success, fame - and cash. The start comes at the perfect time: Cyberpunk is more popular than ever before. Andreas Zieseniß, Stefan Bollenbeck, Marko Dorn - the "Godots" - collect advance praise for their new idea, which takes place in the same universe as the sequel, but otherwise does many things differently. The creative minds from Hanover told us in an interview why you should definitely support "The Beginning" as a fan of Human Punishment - and why the corona virus of all things helped to refine the social deduction element.
---
Waiting for Godot is currently popular in the board game scene. Actually rather: Waiting for the Godots, who are not called that at all, but are called that, and also call themselves that. Understood? It doesn't matter, the only important thing is that Human Punishment: The Beginning is a Kickstarter project that fans are waiting for. The game will be semi-cooperative, it sounds like a direct threat and could destroy friendships and break up regular game tables. But: It will probably also be a lot of fun. Whether that has to do with Cyberpunk 2077, what the corona virus and why Kickstarter as a platform is far from dead? Stefan "Godot", actually Bollenbeck, revealed it to us in an interview:
Human Punishment: The Beginning - A Universe Grows
Man nehme eine Schmuddel-Welt im Cyberpunk-Stil, füge etwas Terminator hinzu und stelle eine semi-kooperative Mechanik in den Mittelpunkt – und schon hat man Human Punishment: The Beginning. Ganz so einfach war es nicht für Godot Games, die sich in jahrelanger Arbeit ein Universum, und damit eine Marke, erschaffen haben und mit einem neuen Kickstarter-Projekt etwas mehr von der Story erzählen wollen, die hinter der erdachten Welt steckt.
Four different factions can be played in Human Punishment: The Beginning, there are six different characters with an asymmetrical design and everyone works together towards one goal. Well, almost all of them. We already know: someone is always the ass - and being the ass is usually the best role in semi-cooperative board games. Godot Games brings more tricks into play, social deduction of course, but also pick-and-deliver. The new offshoot is a stand-alone board game and a mix of mechanics. But Human Punishment: The Beginning can do more, the board game can also be combined with its predecessor - and at the same time story successor - Human Punishment: Social Deduction 2.0. So there is a comprehensive idea behind the project for three to six players, which should, however, also work as well in smaller game rounds as when fully occupied.
Human Punishment: The Beginning for Dummies: What Is It About? What do I have to do?
"It's about us as a team trying to prevent the machine revolution," explains Stefan from Godot Games. He is the designer of the board game. "It's just stupid that we've already been infiltrated. So you can't trust everyone even though we're a team. Since there are four playable teams, there are many ways the game can end as they all have different victory conditions... and since you don't know which teams are at the table, you always have to be on your guard". Targeted traps and false tracks can even fool players into believing that there is a team at the table, which is not the case at all. "It's very unique and conveys extreme tension," says Stefan Godot.
What are the reasons for supporting the Kickstarter for players who are new to Human Punishment?

"The universe is the same, but it's a completely standalone game. If you like semi-co-op, pick-up & deliver or even (social) deduction games, you get a very unique and epic hybrid with great cinematic twists here."

Humans are trying to protect the network, machines are secretly trying the opposite, but by the same method—only with viruses instead of firewalls. "This makes for high-quality moments, since secret goals sometimes don't fit your own team so well," says Stefan Godot happily, "and if someone bad does something good or someone good does something bad, then paranoia is certain!" predicts the designer .
Einsteiger, Kenner, Profis: Letztendlich richtet sich Human Punishment: The Beginning an mehrere Zielgruppen, auch wenn der durchschnittliche Kickstarter-Nutzer etwas mehr in den Fokus rückt. "Jemand, der vielleicht nur Catan kennt, hat es hier etwas schwerer als jemand, der regelmäßig Spiele auf dem Tisch hat", so Stefan Godot. "Trotzdem haben wir schon beide Typen am Tisch gehabt und eigentlich immer dabei immensen Spaß gehabt." Zielgruppe sei aber tatsächlich die Kickstarter-Zielgruppe, also meist Vielspieler.
Even if a board game with a playing time of between two and three hours is aimed more at connoisseurs: you don't need any previous knowledge of the human punishment universe, designer Stefan Godot clarifies: "Yes, it can be played without any problems. Nevertheless, you can say that you already know a lot if you have already visited the universe with Human Punishment: Social Deduction 2.0." Then you know the factions, the weapons, how programs work and of course the story, explains Godot. But you can also catch up on everything without difficulty.
"Unlike Cyberpunk, our deadline was set and will be kept."
Stephen Godot
Cyberpunk 2077 is omnipresent and has players for the setting sensitized: Was the publication timely to that Triple-A video game planned?
"They postponed it so often that it was zero percent predictable," says Stefan Godot. "In contrast to Cyberpunk, our date was set and will be kept... I think I thought two years ago that we would soon be playing Cyberpunk." The timing is still convenient for the board game manufacturer. "Unfortunately, some also think we're free riders, as if we had planned this for seven years and only wanted to build on the success of the other franchise," says the indignant chief designer. "It's always a shame, because we've been working on this project 24/7 for two and a half years and on the universe for much longer."
So a lot of work for the makers. With Godot Games, there is a trio behind the idea, but Stefan, Andreas and Marko were not the only ones involved in this project. Illustrations were by Tithi Luadthong, Sandra Süsser and Eddie Mendoza; Karsten Schulmann, the creator of the Movie Empire board game, was also the artistic director.
You are currently generating a lot of positive attention with the campaign: Isn't the success going to your head?
"I don't really think so," says Stefan from the Godots. "We are very small, we are known a lot more in Germany than in America and all we can do is put all our heart and soul into our work to get enough attention in the end". Sometimes it works more, sometimes less. But: "We are constantly learning and it feels like our level has improved significantly from campaign to campaign. We're trying to keep that up."
When Human Punishment: The Beginning starts crowdfunding, there are several advantages for fans. So why should players support the campaign? "The best price is on Kickstarter," says Stefan Godot, the main argument. And: "Our supporters will also receive their games first and some exclusive material." However, one thing is important above all: "The trust that is given to us here, we give back 100 percent as a thank you with a great complete package," says a happy the designer about the offer that fans probably can't refuse.
Corona was also an issue for Godot Games, but there is even a positive aspect that can be highlighted. "Thanks to Corona, we were able to play a lot of small rounds and were able to play the game particularly well with three and four players," explains Stefan Godot. This is exactly what is almost unthinkable in a game from the deduction genre. "That helped a lot." At the same time, there were still many restrictions in the pandemic times that Godot Games was confronted with: "We were unable to keep many of the planned appointments and a lot of things were canceled, which we were extremely looking forward to. Hopefully everything can be caught up on when the world looks a little better again."
So now it's clear that Human Punishment: The Beginning also works in smaller game rounds. "The biggest challenge was to make all player counts strong and to balance all teams perfectly," explains the chief design Godot. It took a long time, but we are now extremely satisfied with the result. Stefan Godot sums it up: "The teams all play differently, also with each character also always differently and you almost always have a photo finish between two or three teams.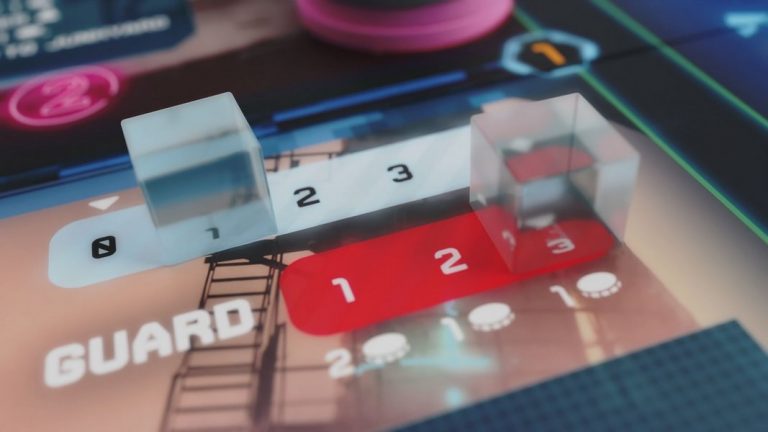 How did the idea of ​​developing board games of all things come about?
Stefan Godot reveals: "It came about when I was making an existing game where I didn't like the setting. New ideas came to me and over time it all turned into a completely independent game. Since I've always wanted to be an author - originally in the book segment - it came at just the right time." Beating up against the competition, especially against the big names in the industry, is anything but easy. Godot Games does not have a panacea either, however: "Nowadays you simply have to know the market, know what your target group plays and loves and what they could still be missing," says Godot. "It helps immensely to be in constant exchange and to think outside the box... you often find great ideas in genres that you don't really play yourself."
It is no coincidence that the makers, as a small publisher, resort to a crowdfunding platform like Kickstarter. However, there is currently criticism when it comes to "swarm financing". The three Godots also see the development:
"The fact that large companies regularly pick up their pre-orders here really misses the Kickstarter idea and is a pity. A lot of money is lost because players only have a limited budget to spend." However, there are always two sides to a coin. Stefan Godot explains: "Nevertheless, one must not forget that the big players also ensure that something is going on on Kickstarter. So it's a vicious circle. The prices are always great, it's difficult to stay attractive, especially with shipping... that's why we think our backers have to be 100 percent satisfied in the end."
According to Godot, satisfaction is based on three pillars: This is only possible through delivery to Backer, the best price and exclusive material. At Godot Games, the latter usually only refers to quality enhancements, but not to exclusive and later missing game elements.
Alternatives to Kickstarter gibt es inzwischen, auch wenn diese längst nicht den Einfluss haben, den grüne Riese hat: "Auf lange Sicht muss man sehen wie weit sich Gamefound nun durchsetzt und auch die Steuer- und Zollprobleme die die Backer langsam abbekommen und zahlen müssen. Es wird einem nie leicht gemacht und am Ende des Tages meckern viele über Shipping-Preise, während der Verlag schon draufzahlt damit selbst diese Preise überhaupt möglich sind. Aber gut, niemand kann meistens hinter die Fassade schauen.", so Stefan Godot
Kickstarter is a great platform, "it enables us to implement our dreams and ideas and brings them to our target group," says Stefan Godot. It is always important to see whether the campaign is justified. There is a reason for this: "Even a small idea costs a lot of money in the end in production and cannot be managed by everyone privately. As long as you support the right ones, the right spirit lives on!" the designer addresses the community.
It starts on January 25th Crowdfunding for Human Punishment: The Beginning on Kickstarter. The Pledge costs 55 or 90 euros ("All-in with poker chips", fans are probably screaming now). Given the positive attitude of the community towards the game, the campaign will be a success. So it's not about whether Godot Games reaches the crowdfunding goal, but how much the board game goes through the roof. And with a target of only 25.000 euros, one thing is already certain: the thing went fast! Supporters don't have to wait long after the campaign either. The semi-cooperative board game is scheduled to be delivered as early as September 2021.
---
* = affiliate link. If you purchase via one of the links, we receive a portion of the purchase price as a commission. There are no additional costs for you, but you can support our portal by doing so. Last updated on September 3.10.2023, XNUMX / Affiliate links / Images from the Amazon Product Advertising API. Images from Amazon PA API.