HeroQuest is being relaunched, Hasbro has now announced through its Avalon Hill brand. For about a week and a half, a "counter" had been displayed on a website specially set up for the board game, which counted down to the second – until now. Now it is clear that HeroQuest will get a reboot, provided there are enough supporters.
---
HeroQuest, the board game that popularized the dungeon crawler genre in the late 1980s, has made the leap into the modern age. For years, fans of the classic had hoped for a new edition or a completely redesigned remake of the board game, but Hasbro is now officially fulfilling their wish. Without a gray area, without disputes about licenses.
HeroQuest: US $ 1.000.000 required
Wie der US-amerikanische Spielwarenriese nun angekündigt hat, erhält HeroQuest eine Neuauflage, die Hasbro jedoch an eine Schwarmfinanzierung knüpfen wird. Demnach können Fans das Projekt über "Hasbro Pulse" unterstützen, die Preise liegen bei 99,99 US-Dollar für die Heroic-Version sowie 149,99 US-Dollar für die Mythic-Variante. Bestellungen sind möglich bis zum 6. November. Hasbro knüpft die Verwirklichung von HeroQuest damit tatsächlich an eine Crowdfunding-Kampagne. In den vergangenen Tagen gab es dazu bereits Gerüchte.
Unless the HeroQuest campaign reaches one million US dollars within 45 days, the amounts are debited from the fans, if the sum is lower, the project is considered to have failed, at least for the time being. There is one restriction, however: only fans from the United States and Canada can take part. Delivery of the board game is then scheduled for autumn 2021.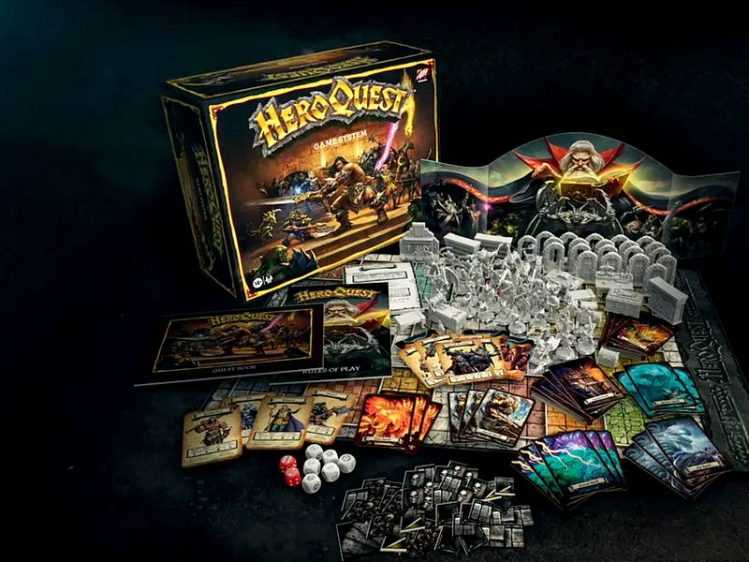 Mit einem Trailer läutet Hasbro das neue Zeitalter für HeroQuest ein, das sich von der nostalgischen Version eher optisch zu unterscheiden scheint: Die Miniaturen und Dungeon-Teile sind detaillierter und moderner, ansonsten sieht HeroQuest zumindest oberflächlich nach HeroQuest aus, Experimente scheint Hasbro nicht zu machen. Dennoch wird es einige "Quality of Life"-Verbesserungen geben, darunter vor allem am Spielbrett. Deutlich sichtbar sind die Anpassungen an dem Dungeon-Interieur, das im Originalspiel als Pappe bestand, nun aber durch 3D-Modell ersetzt worden ist.
The two versions differ in terms of their content: The Heroic version consists of the base game plus some goodies, while "Mythic" comes with two expansions and two special miniatures.
The brand manager of the game then gives a hint: He says that there will be content within the framework of Haslab crowdfunding that will only be available as part of the campaign. So maybe HeroQuest will find its way into the trade sooner or later, at least there is a chance.
The nostalgic charm has stuck to the fantasy role-playing game for decades. HeroQuest was released in 1989. The project was made possible by a cooperation between Milton Bradly, MB Spiele, and Games Workshop. Steven Baker's board game appeared in various languages, including in Europe and Australia. Around four years later, the production of HeroQuest was finally stopped.
What the Haslab team explains about HeroQuest can be seen in a video starting at 9:30 a.m.:
If it is successful, HeroQuest will be released via the Hasbro label Avalon Hill, once an independent American provider of strategic board games (including Diplomacy oder Civilization), der im Jahr 1998 aufgelöst wurde und nun unter Hasbro zumindest als Marke weiter existiert.
For further information, please visit heroquest.avalonhill.com/en-us.
---
* = affiliate link. If you purchase via one of the links, we receive a portion of the purchase price as a commission. There are no additional costs for you, but you can support our portal by doing so. Last updated on September 28.09.2023, XNUMX / Affiliate links / Images from the Amazon Product Advertising API. Images from Amazon PA API.