One more week and then the time has finally come: With Gamescom: Opening Night Live on the evening of August 23, Gamescom 2022 will finally officially start again on site in Cologne. Around 1.100 exhibitors from 53 countries will present themselves on an area of ​​around 220.000 square meters at Gamescom 2022. The foreign share is 75 percent. This makes Gamescom more international than ever. At the same time, the many areas of Gamescom and the Gamescom city festival offer a varied program.
Gerald Böse, CEO of Koelnmesse: "The valuable experience that we were able to draw from the purely digital Gamescom events will help ensure that this year's Gamescom should be a maximum success for everyone involved. Because with the digital components, we can now add what has fallen by the wayside in the last two years: the beloved festival feeling of Gamescom in Cologne. Now we are finally back in the exhibition halls and are merging on-site experience and digital offerings in the best possible way. Offers like our shows, Gamescom EPIX and the Gamescom biz community clearly show how hybrid Gamescom is this year."
Felix Falk, Managing Director of game - Association of the German Games Industry: "It's finally that time again: Gamescom starts online and again on site in Cologne. After more than two years, in which the community and the games industry were able to meet and exchange ideas almost exclusively online, Gamescom is bringing back the festival feeling that is so beloved. As one of the first international events of this size, Gamescom is once again an international beacon in these challenging times. We are looking forward to a week full of highlights, starting with the devcom developer conference, through our shows such as Gamescom: Opening Night Live to the varied program of the event arena or the largest indie area that has ever been at Gamescom. And thanks to Gamescom goes green, it's also more climate-friendly than ever before."
Gamescom program – online and on site
In any case, there should be a lot going on in Cologne: the private visitor tickets, both normal day and evening tickets, for Gamescom Saturday (27 August) are sold out. Tickets for the other private visitor days (Thursday, Friday and Sunday) and for trade visitors are still available online in the official Gamescom ticket shop.
The Gamescom program offers many highlights this year. These include the particularly popular shows such as Gamescom: Opening Night Live, where the global community is already looking forward to exciting announcements and news, or Gamescom: Awesome Indies with the most interesting new games from global indie studios.
These and all other Gamescom shows such as the Gamescom studio or the live streams from partners are shown on Gamescom now, the Gamescom content hub for all fans worldwide. This also includes the varied program of the event arena, in which, among other things, a heavy metal concert and a mobile esport tournament take place. In addition to the impressive stands of numerous exhibitors in the entertainment area, the various areas are also an integral part of Gamescom this year. Here visitors can be entertained and inspired according to their own preferences.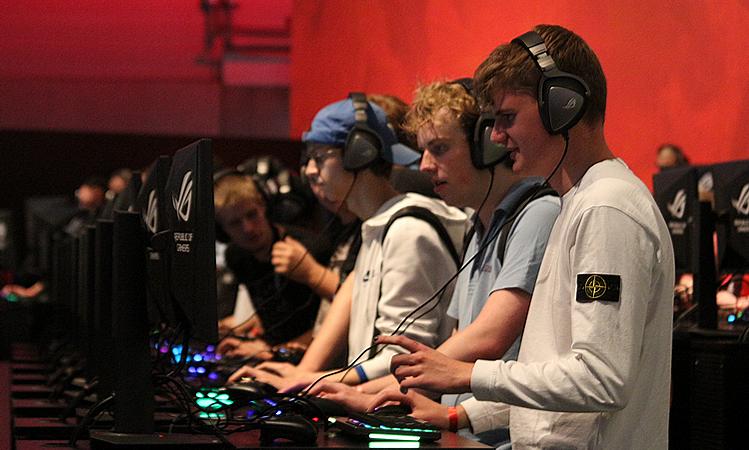 It will definitely be colorful and inspiring again this year in the cosplay village presented by YouTube Shorts. Four days of a unique program with workshops, panels and the opportunity for close exchange with artists and acts await. The highlight is the big cosplay contest powered by McDelivery, in which outstanding cosplays are awarded in four categories. This year's contest will be moderated by Aria Addams, known from the TV show "Queen of Drags" and her comedy baking show "OnlyCakes".
retro games? Journey through video game history
The retro area invites you to a journey through 50 years of video games. As part of this, a wide variety of consoles, pinball machines and other machines can be tried out. The stage program attracts with small tournaments, quiz rounds, films, lectures, interviews and live music by artists such as Endgegner, MULTIPLAYER and Vault Kid. Also guests are the legendary Studio Factor 5 ("Turrican"), the composer Chris Huelsbeck and the Commodore veteran Petro Tyshchenko.
The merchandise area powered by MINI will again offer everything a nerd heart desires in 2022. Here fans will find everything they could wish for in terms of fan articles, accessories and goodies for the most exciting new games and classics. Exhibitors here include: ak tronic, Blizzard Gear Store, EMP Merchandising, Konami Digital Entertainment, MINI and Square Enix.
In the indie area, more games from independent developers than ever before will be playable for visitors in 2022. At various group stands, for example the Indie Arena Booth, indie studios from all over the world present themselves and show their innovative and creative titles. Visitors who cannot be there are invited to discover the Indie Arena Booth Online as a mini-game live with their own avatar on Gamescom now.
The passion for games is something that all age groups share - the family & friends powered by LEGO area will also be a popular meeting place for all age groups in 2022 and a forum where visitors can discover and get to know new technologies in a playful way.
Interested parties can find out about career and training opportunities in the games industry on the Gamescom campus.
Numerous other offers indoors and outdoors complement the areas. In the Gamescom beach club powered by bigFM, visitors can not only relax, but also enjoy the culinary offerings of various food trucks and varied DJ interludes. Red Bull is once again opening the Gaming Ground in the outdoor area, where various games can be played. At the rc drift games powered by Embark Studios, visitors can expect exciting drift shows on a scale of 1:10.
Comprehensive information about the community offers can be found on the Gamescom website at https://www.gamescom.de/de/explore-Gamescom.
Gamescom City Festival in downtown Cologne
The Gamescom week traditionally ends with a Cologne highlight: the Gamescom city festival in downtown Cologne. And again this year, numerous music acts will ensure a festival feeling in the middle of Cologne from August 26th to 28th. National and international artists such as Zoe Wees, Schmyt and Elif perform on Rudolfplatz and Hohenzollernring. A varied culinary offer with a mixture of local and international specialties completes the offer.
EPIX!
The Gamescom EPIX community campaign involves fans even more before and during the event and increases anticipation for Gamescom. The campaign started on August 1st with many new features. Individual quests, leaderboards and profile personalization have already attracted tens of thousands of fans to interact with Gamescom content. During the event, Gamescom EPIX will also come into the halls, where quests can be solved by scanning hidden QR codes, among other things.
With Gamescom goes green more climate-friendly than ever
With the "Gamescom goes green" initiative, Gamescom 2022 is one of the first major events with a comprehensive climate protection concept worldwide. The core event with all areas for which Koelnmesse and the game association are responsible (including exhibition center infrastructure, themed areas, personnel and mobility) is already climate-neutral in cooperation with ClimatePartner. Exhibitors are also invited to make a contribution to climate protection for their Gamescom presence, which also benefits certified climate protection projects.
Finally, visitors can make a voluntary contribution to climate protection for the Gamescom forest near Bayreuth, which started in 2020 and has already grown to over 20.000m², by making a donation or buying a "green ticket". Thanks to a special donation of 10.000 euros from McDonald's Germany, the Gamescom forest is currently growing particularly strongly before the start of Gamescom. Numerous other measures such as free public transport tickets or more meat-free catering options complement the overall "Gamescom goes green" project.
* = affiliate link. If you purchase via one of the links, we receive a portion of the purchase price as a commission. There are no additional costs for you, but you can support our portal by doing so. Last updated on September 25.09.2023, XNUMX / Affiliate links / Images from the Amazon Product Advertising API. Images from Amazon PA API.