Blacklist Games has announced Dire Alliance: Horror, a new deck-building game that will be crowdfunded in October Kickstarter should be realized. In parallel to the board game, which can be played in two ways, the makers of titles like Street Masters or Contra are rolling out a series of miniatures.
---
Blacklist Games relies on Dire Alliance: Horror on classic horror themes with vampires, werewolves and Co. The makers behind board games such as Contra or Street Masters will release one on October 27th Kickstartercampaign for their new game with deck building mechanics. The board game comes from Trevor Benjamin and David Thompson (Undaunted) as well as Brady and Adam Sadler, who designed the aforementioned Street Masters and Altar Quest, among others.
Dire Alliance: Horror - Cooperative or Competitive?
The real highlight of Dire Alliance: Horror is not the setting, but the playful variance. The deck building game can be played either competitively in a classic duel mode between two opponents or cooperatively with one to four players in a raid mode. The duel variant relies on the well-known 1-on-1 situations in which the opposing leader has to be defeated. In the cooperative game variant, on the other hand, the players compete against the cardboard AI in order to defeat minions and achieve goals described in a scenario. In both game modes, fans use a deck of cards to move or attack their characters. The deck building mechanics bring playful variance to bear.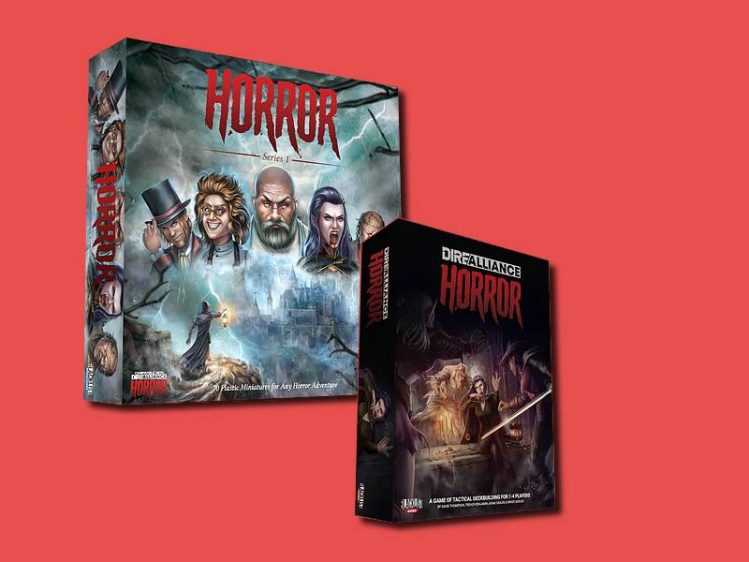 Another clever trick is the compatibility of the game, which is the start of the new series "Dire Alliance", the individual parts of which can be combined with one another. So players should be able to experience the game across multiple genres, according to Blacklist Games.
In Kickstarter-Dire Alliance: Horror campaign starts on Tuesday, October 27th in this country at 18 p.m. Blacklist Games then offers the well-known stretch goals as well as an optional set of compatible miniatures, which runs under the motto "Horror Series 1". The figures come to the players' homes already assembled and, according to Blacklist Games, are suitable for any type of game - between board games and RPGs.
---
* = affiliate link. If you purchase via one of the links, we receive a portion of the purchase price as a commission. There are no additional costs for you, but you can support our portal by doing so. Last updated on September 29.09.2023, XNUMX / Affiliate links / Images from the Amazon Product Advertising API. Images from Amazon PA API.