As Mixlore has announced, a board game based on Stanley Kubrick's horror classic "The Shining" will be released later this year. Behind the design is the Prospero Hall development team, who recently worked on board games like Jaws or Villainous.
---
No matter how much little Danny loves to play on the carpet: the board game based on the horror film "The Shining" is unlikely to be peaceful. In Stanley Kubrick's '80s horror classic, Jack Nicholson stars as writer Jack Torrance, who gradually falls insane at the Overlook Hotel.
Semi-cooperative: one is always the traitor
Prospero Hall, formerly responsible for licensed games such as Ravensburger "Jaws" or "Villainous" turns the film into a semi-cooperative board game. "The Shining" is aimed at 3 to 5 players, one of whom is the traitor.
The players explore the Overlook Hotel, idyllically situated in the Rocky Mountains, and try to escape the corrupting forces of the old walls. Because that can't work of course (it's a work by Stephen King), one of the players has long since fallen under the powers of madness. His job: lock up the players in the Overlook Hotel.
According to initial information, a game should last around 60 minutes. The concept of the board game for Shining is therefore probably aimed at casual gamers. Like other titles by Prospero Hall, however, ambitious players or fans of licensed titles should also like "The Shining".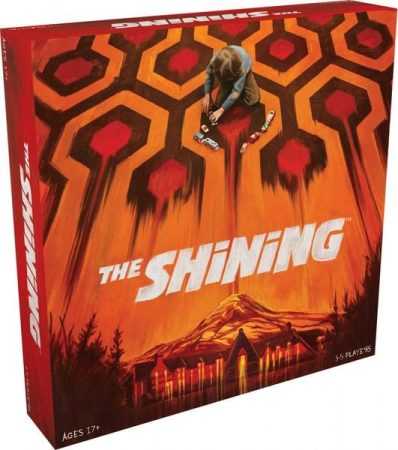 The game is mainly distributed in English-speaking countries. Exactly when the Shining board game will appear is just as uncertain as when it will be released in Germany. However, the publication of "The Shining" as a German-language board game does not seem entirely impossible. Titles based on licenses seem to be at least a small trend within the scene at the moment.
If you still don't want to do without a board game experience with the "Shining", you can download an old print-and-play game based on Stephen King's work for free. This "original version" of the Shining board game was created by Matthew Nadelhaft and was released shortly before the turn of the millennium. One player controls the powers of the Overlook Hotel, the other takes on the role of the Torrance family.
The files are there here as a download. Stephen King himself is said to have acted as a "beta tester" on this two-player version.
We publish the latest news from the areas of board and card games, literature and film, toys, video games and events. Send us an email with your press release.
---
Attention: We are looking for reinforcements for our editorial team: news authors, film and series fans.
Would you like to participate? then > here < apply.