To Shaolia, WILD: Serengeti and Life of the Amazonia The South Korean game publisher Bad Comet is releasing the fourth game with Wondrous Creatures Kickstarter crowdfunding platform finance. At the The campaign is scheduled for October 25th start. We received a prototype of the sweet looking game from Bad Comet. You can find out what to expect in this crowdfunding preview.
Info: We're covering the game's prototype here. The final product may therefore contain various changes.
Long ago, a merchant ship strayed into the sidelines of the vast ocean. Inside them they came across an extraordinary looking creature. It seemed to be a bird, for a bright beak lit up the endless darkness. The ship followed the bright beak to a mysterious island that had never been discovered before. The island was full of strange creatures, from cute little balls of fur to fearsome reptiles with huge fangs. All this news has led you, an animal lover, to board the first ship that wants to explore the mysterious island and its animals.
Set Collection with a new coat of paint
Our goal in Wondrous Creatures is to create the most harmonious reservoir. To do this, we move around the mysterious island with our crew, consisting of a captain and two animals, and collect various creatures and their eggs. It's important to look at which creatures we collect, because every single creature card comes with a unique effect that can give us bonuses for the game in a variety of ways. These range from instant effects to passive bonuses to point bonuses at the end of the game. On our turn we have four possible basic actions, one of which we must perform. We can either place our crew on the island, play creature cards, gain achievements or rest.
If we place our crew on the island, we either take resources or creatures from the adjacent habitats. Each creature lives in a specific habitat. If a creature is in the display (wild) and shows one of the adjacent habitats, we can put it into our hand. If we place our crew on spaces with an egg, we also receive the egg in addition to the resources and/or creatures.
If we decide to play a creature card we have acquired, we must first pay the required resources or food costs. The creature then joins our reservoir next to the game board and activates its effect. There are a total of five effect types that are activated at different times. The clever combination of effects is an important part of Wondrous Creatures and should not be underestimated in the fight for victory.
Gotta catch em all!
In this way, we gradually collect a wide variety of creatures and try to collect matching creature sets. If we manage to collect a certain number of creatures, we can receive an achievement. To do this, we place an achievement marker (on the left of the game board) on an achievement whose condition we fulfill. This is worth important victory points at the end of the game. In addition, when we place the achievement marker we receive the corresponding bonus and a trophy. The trophy is worth additional victory points at the end and determines when the game ends. Once all the trophies are gone, the game ends after everyone playing has made another move. This is where Wondrous Creatures becomes a race for achievements and therefore trophies. Once these are gone, no one else can obtain them.
If at some point we are no longer able or willing to carry out any of the actions described above, we need to rest. If we rest, we get our placed crew back and advance our time marker. Depending on what is on the timeline, we now add new eggs or improved habitats to the game board. This changes it a little and opens up new tactical options for us if necessary.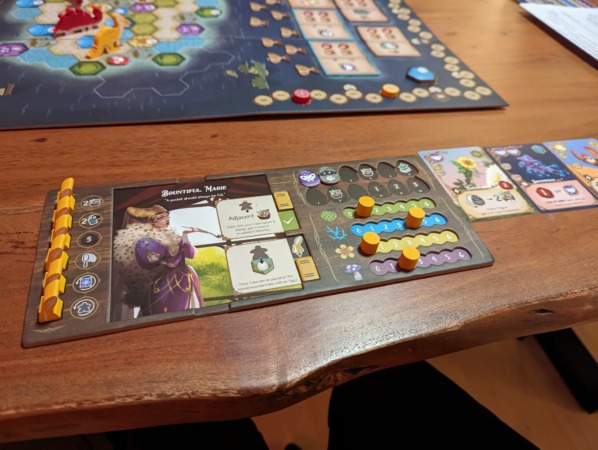 At the end of the game we ultimately receive victory points for our creatures in the reservoir. Some of the creatures have certain endpoint effects that, for example, give us victory points per creature of a type. In addition, almost every creature gives us victory points just for owning it. Whoever has the most victory points at the end wins.
Bad Comet impresses again
The beautiful illustrations and the cutely designed meeples are now typical for Bad Comet. Wondrous Creatures also scores highly with this. Each of the 112 creature cards has a unique design and is bursting with clever ideas. The meeples are also beautifully printed and some are even magnetic. After all, the captain has to be able to ride one of his animals.
The different captains also have different abilities that can be unlocked as the game progresses. Before the game, you choose one of them and place its card on your double-layered game board. This also houses space for the collected eggs and tracks the available resources using wooden markers.
It all feels incredibly round and sits well in the hand, even though we "only" have the prototype. We can well imagine that the final game will top this again.
Kickstarter campaign starts on October 25th
If you liked Bad Comet games just for their looks and components, you probably won't be able to ignore Wondrous Creatures. Here too, the South Korean publisher is completely convincing. But Bad Comet newcomers could also be impressed by Wondrous Creatures. In terms of gameplay, Wondrous Creatures takes a fairly simple approach as we only have to choose between four basic actions, but the game still offers a lot of depth. You can always have fun with the diverse effects of the individual creature cards, which can be combined wildly with each other. Thanks to this mix, Wondrous Creatures can be played well with frequent gamers and those who want to become one. Casual players will also quickly find their way into the game thanks to the clear text and simple rules.
Goes on October 25th Wondrous Creatures on Kickstarter at the start and can be financed for just $55 instead of $65 RRP. The deluxe components and the Gargatuan Beast expansion will cost a total of $86. For more information about the game you can visit the Bad Comet website as well as common ones Social media channels drop by.
Information about Wondrous Creatures
Number of players: 1 – 4
Age: from 14 years
Playing time: 60 - 120 minutes
Difficulty: expert game
Classification: Set Collection

Author: Yeom CW
Illustrations: Sophia Kang
Publisher: Bad Comet
Official Website: Link
Link to the campaign: Kickstarter
Campaign start: October 25, 2023
Cost: Standard version: 55 dollars / Deluxe version + expansion: 86 dollars
* = affiliate link. If you purchase via one of the links, we receive a portion of the purchase price as a commission. There are no additional costs for you, but you can support our portal by doing so. Last updated on September 30.11.2023, XNUMX / Affiliate links / Images from the Amazon Product Advertising API. Images from Amazon PA API.