Niko Partnes is forecasting a decline in sales for the Chinese games market this year. It was last around 20 years ago. However, not all areas of the industry are equally affected.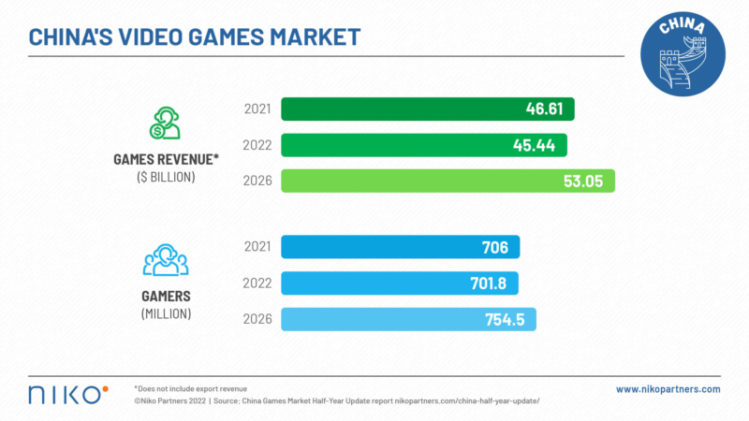 Chinese internet giants like Tencent have been shaping the global games market for years, especially in the area of ​​multiplayer online games, and have annual sales of billions.
According to the latest Market forecast by Niko Partners However, sales of games in China will fall by 2,5 percent this year compared to 2021. This would be an estimated turnover of the equivalent of 45,44 billion US dollars. However, the decline mainly relates to mobile games. This is offset by slight year-on-year growth in console and PC games of 2,1 percent. Of the 701,8 million gamers in China (as of the end of 2022), around 30 percent use PC games.
Reasons for the decline in sales are strict government regulations regarding the licensing of games, a drop in gamers of around 39 million and a lack of new innovative games and new licenses. "China's economy, the zero-Covid policy, the impact of child protection regulations and the lack of new ISBN licenses for games have all contributed to the negative changes in the domestic game market," said Lisa Hanson, President of Niko Partners. "While 2022 is a declining year for the mobile games market, we forecast a recovery and a compound annual growth rate (CAGR) of 2,6 percent from 2021 to 2026 based on the expectation of new games to complement the portfolio of older titles , and on adjustments by the industry players to the youth protection regulations. We are seeing dynamic development in business, e-sports, PC gaming and the excitement of more than 700 million gamers in China."