The accessories manufacturer Gamegenic also set up its showcases again at the gaming fair in Essen. There were many new products on show in the area of ​​practical boxes, mats and boxes - they are apparently becoming more and more popular.
The manufacturer Gamegenic has been around for four years. However, the studio is so well known among those in the know that you could almost think that the company with the "ingenious supplies" has been around for many decades. The recent trade fair appearance at SPIEL '23 in Essen: bright, modern, lots of glass, even more products. The portfolio of the Asmodee Group company is constantly growing.
Boxes, covers, cases – always innovative
Full. This is how you could describe Gamegenic's product catalog. Fans of board and card games will find accessories ranging from token boxes and dice mats to complete storage systems for trading cards. However, Gamegenic is not aiming for a pure flood of accessories. Minimum requirement for a new idea: It must have an innovative element. This could be a new type of locking mechanism, a case-in-case feature or a particularly practical solution for storing accessories.
An example of this are the Dice Trays from Gamegenic: Dice mats in themselves are not new, on the contrary, they are one of the classics of board game accessories. The modern version combines various useful elements: can be used on both sides and is available in two colors, can be snapped together quickly, but above all, the dice mats from Gamegenic can be stored perfectly in most board game boxes - mostly in the usual standard format boxes - and also serve as a protective shield too violently rumbling material. It's the details that make Gamegenic items so attractive. The innovations are usually only noticeable at second glance.
The manufacturer had a lot of new accessories at the gaming fair in Essen. Above all, a pre-release version of a new deck box for the popular and extensive Arkham Horror card game. The "Investigator Deck Tome" not only looks stylish and is well made, but also offers comfort. You can insert the deck's investigator card so that you can see it without opening the deck cover. Card separators are also included and then in a matching color. Because: Gamegenic has designed the investigator box in different colors, each one for the individual investigators in the card game.
And if you're a Gamegenic fan and have an extensive Arkham Horror card collection, you can store the "Investigator Deck Tome" in one of three premium gaming boxes. One of the compatible all-round, worry-free collection containers: the Dungeon 1100+ Convertible, which the "Tolarian Community College" – the YouTube channel of the world's most popular magic professor – says is an "A+" on the quality scale.
"Premium doesn't mean expensive"
All accessories from Gamegenic are basically like this, because with some little gimmick they always create an aha effect. This is not a coincidence, as Gamegenic boss Adrian Alonso confirms. The CEO has around two decades of industry experience, enjoys gaming himself and is an expert when it comes to design and product development. "Every product must be an innovation," explains Alonso. It has to be sophisticated and of the best quality. So premium. At the same time: "Premium does not mean expensive," explains the Gamegenic CEO. Basically it's about "simple products with the best quality". In this case, simple does not mean simple, but practical. Every accessory must fulfill its purpose, and above all it must be able to be used on the gaming table without being a nuisance. "Players should actually be able to use the products," said Alonso.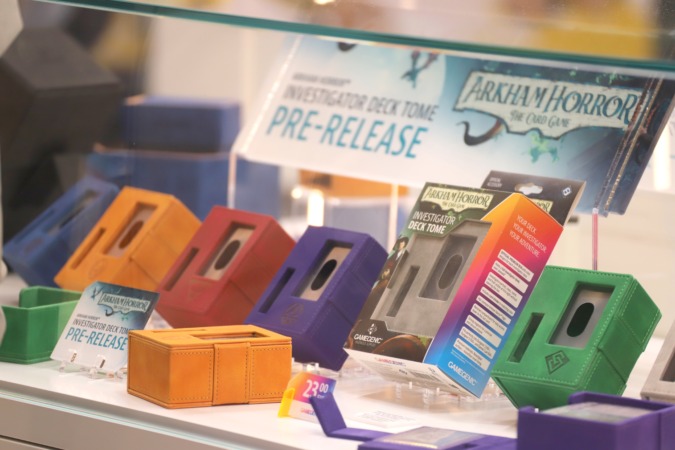 What Adrian Alonso means is familiar from many token boxes: The tightly welded lids are annoying; If they can be removed, you have to put them somewhere. Gamegenics' idea was as simple as it was ingenious: with the token silo with modular compartments, you simply snap the lid onto the bottom after removing it. This means you have the entire accessory product together, but it doesn't require any more space, even when in use.
Details like these are the common threads that Gamegenic uses in product development. The ideas for new products usually come from an idea from everyday life, explains Adrian Alonso. "Many players use what they have on hand for their material." These can be small boxes from the general store or nail boxes from the hardware store. Many of these "wishes" are ultimately taken care of in a professional manner at Gamegenic in order to develop real accessories. Sometimes this is achieved within a few months, sometimes such a process takes longer, sometimes a year and a half.
Accessories for Star Wars Unlimited: Reach for the Stars
The studio from the Asmodee Group has been gaining momentum since it was founded. The accessories are becoming more and more popular. At the exhibition stand at the GAME in Essen you could see how great the interest is. Game fans sneak around the illuminated display cases, examine mats, boxes and cases, and get detailed explanations of what you can do with the products. The constant new developments also show that Gamegenic is obviously hitting a nerve with its high-quality and sometimes individualized accessory solutions.
The creative minds want to really let it rip with the launch of the new trading card game Star Wars Unlimited from Fantasy Flight Games, which will be released next March. The product line for the launch is already available - and fans were also able to take a close look at these accessories at the trade fair: There are inexpensive deck boxes that are also known from other manufacturers with a similar shape, but which are an "innovation" at Gamegenic. were expanded. In this case, this is a practical token box that finds its place in the deck holder. At the same time, the manufacturer offers plastic tokens Star Wars-Design. The individual chips are labeled in the fantasy language Aurebesh - fans of George Lucas' epic will celebrate such a detail.
At the start of Star Wars Unlimited there will also be two deck boxes in the premium segment - one for a single deck, another as a two-player station. Both products contain practical features: the lid can be attached to the bottom to save space, the leader cards are visible in UV-protective sliding sleeves, which can also be removed to play with them directly. And there is also a token drawer in the boxes, because without the small chips nothing will work in Fantasy Flight Games' new trading card game. And there will also be matching card sleeves, as an artistic design version with Luke Skywalker, Darth Vader or two different Unlimited styles on the back. There are also sleeves with which the art sleeves can be protected. Theoretically, the cards that are already doubly protected could also be "triple sleeved" with the Gamgenic protective sleeves, explains Adrian Alonso. The madness has a system at Gamegenic – in a positive sense.
The cooperation between the two Asmodee subsidiaries serves a common goal: they should make the trading card game even more popular and ultimately raise the experience for fans with trading card game accessories to a new level.
| Preview | Products | Rating | Price | |
| --- | --- | --- | --- | --- |
| | Gamegenic, Dungeon 1100+ XL - Black, Accessory * | | 53,02 EUR | Buy |
| | Gamegenic Sidekick 100+ Convertible, White * | | 20,43 EUR | Buy |
* = affiliate link. If you purchase via one of the links, we receive a portion of the purchase price as a commission. There are no additional costs for you, but you can support our portal by doing so. Last updated on September 27.11.2023, XNUMX / Affiliate links / Images from the Amazon Product Advertising API. Images from Amazon PA API.