When you are deeply immersed in the board game hobby, you quickly forget that we are only a small group, especially when it comes to connoisseur and expert games. The majority play something occasionally and then more titles from the family game segment. "Influencer!" is tailored precisely to the group of infrequent and occasional gamers. #fame #shame #game." With simple rules, a variable number of people and a good dose of humor, the game appeals to this target group. We ventured into the world of influencers and had to endure one or two shitstorms along the way.
A well-chosen and implemented theme can give a board game the decisive advantage over other games. If the topic is exceptional, even more so. The Cologne publishing house Ornament Games brings us closer to the world of influencers in a playful and satirical way. The players rush from one place to the next in order to be able to write the best posts.
Thematically, the game is a bit "higher" than the game mechanics would suggest. The humor, which I found to be very successful, and the game world designed with great attention to detail probably do not yet develop their full potential with children aged 8 and over. Therefore, the humor of the game is also recommended for ages 12 and up. The game never goes below the belt, but manages the difficult balancing act between being child-friendly and entertaining for adults.
Easy to learn
The rules of the game are easier to understand than any social media algorithm.
Each turn consists of two parts. At the beginning an event card is drawn. This is put into your hand face down unless it shows an immediate action. Anything can happen, from a hacker attack to an energy drink to a secret love affair.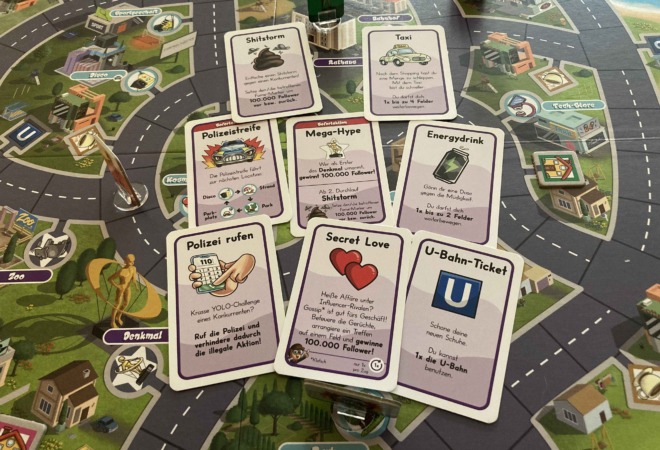 In the second part of the turn you can move your own pawn up to four spaces. In most cases, the aim of the movements is to complete challenges that bring you new followers.
The challenge cards show two locations that you have to visit in the order listed.
A special form of challenge is the YOLO challenge. These are illegal actions that can only be carried out if the police are not currently on site or if one of the other players is attacked by playing an event card. Once you have completed a challenge, you choose a new one from two drawn challenges. So you always have three challenges.
The café is a special location. There are café cards here that allow different actions. You can also recover from a shitstorm with a relaxed cup of coffee (digital detox).
This moves through event or cafe cards or can be removed through Digtal Detox. If you receive it, you will temporarily lose 100.000 followers and receive 50.000 fewer followers than stated for each completed challenge.
Whoever gets 1 million followers first wins the game.
Information about influencers! #fame #shame #game
Number of people: 2-6 people
Age: from 8 years
Playing time: 25-70 minutes
Difficulty: Family game
Long-term motivation: quite good
Classification: Pick up and Deliver, Take That
Game idea: Stefan Scheidtweiler and Christian Schäfer-Scheidtweiler
Illustrations: Aleksandr Khomutovskyi, Oscar Toons, Daniel Wilwers
Publisher: Ornament Games
Official Website: Link
Year of publication: 2022
Language: German
Cost: 30 Euro
Conclusion
A game must always be measured against its own standards and the expectations of the players that derive from them. In the case of Influencers! #fame #shame #game this claim is clear. It wants to be a family game that everyone can understand and play in just a few minutes. It does exactly that brilliantly. For expert players, this may probably not offer enough in terms of game mechanics, but the very well implemented theme comes into play here.
Because very few people talk to you every day Anachrony, Underwater Cities or On March At the gaming table, it's great if you also have games from the family game category. Here can Influencers! #fame #shame #game stand out with its special topic.
Humor, especially when it is present not only in the instructions but also in the game, does not always work for everyone. The satirical way in which the topic of "influencers" was implemented here works great for me. The humor is exactly what I think helps the game work so well for different levels of board gaming experience.
The short trains mean that the downtime remains low. Nevertheless, for us the game played best with three to five people. There's just too little going on and with six and sometimes even five people it takes a little too long.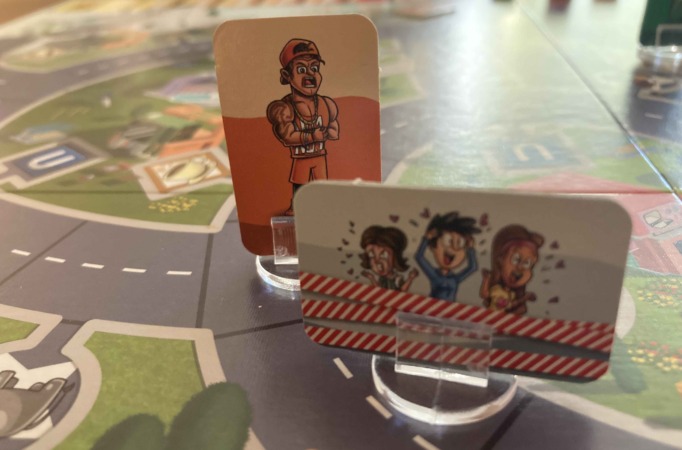 The board game "Made in Germany" comes with good material that there is nothing wrong with. Here, too, you can tell that thought was put into making the game suitable for the intended target group. The material is "simple" without appearing cheap and is therefore well within the price range for occasional players. The extra thin box is particularly practical, thanks to which the game can easily be stored in the games cupboard.
If you're a frequent player and don't mind lighter fare, can handle Take That elements and just want to play a fun and relaxed game, you can join us Influencers! #fame #shame #game You can't really go wrong, especially when finding a game for casual players has always been difficult.
However, purely in terms of game mechanics, this game is best suited to families with children. It can also be used as a little food for thought, even if you never point at things with a raised index finger.
* = affiliate link. If you purchase via one of the links, we receive a portion of the purchase price as a commission. There are no additional costs for you, but you can support our portal by doing so. Last updated on September 30.11.2023, XNUMX / Affiliate links / Images from the Amazon Product Advertising API. Images from Amazon PA API.