Scythe from Stonemaier Games was released in 2016 and impressed many players with its setting and varied gameplay. With a current rating of 8.2 and a regular place in the top 100 of the best games on BoardGameGeek, the game is still impressive even today. No wonder they want to build on this success and release Expeditions, a new game in the universe of the popular board game. How good is the latest title penned by Jamey Stegmaier beats, you will find out in this review.
The reign of Rasputin and Fenri is over, bringing a time of relative peace to Europe. As the exploits of ancient times fade into legend, the eyes of the world now turn to Siberia, where a massive meteorite crashed near the Tunguska River, awakening ancient corruption. Under the direction of Dr. Tarkovsky sets off on an expedition into the taiga to find out more about the meteorite and its effects. Months passed without a report. Rumors say that the members of the expedition have been infected by strange parasites. Now the thirst for adventure has gripped the heroes of the old war. Privately financed, they conduct their own expeditions and hope to find artifacts, overcome challenges and thus regain their fame.
Expeditions is a completely new game
First of all: Expeditions is a game in the Scythe universe and takes place historically after the events in Scythe. In terms of gameplay, however, Expeditions has nothing in common with Scythe. Expeditions is a kind of card-driven engine builder in which we explore the region around the Tunguska River, collect cards and use their effects to achieve various achievements. Once a person has achieved 4 achievements and bragged about them, the game ends. The person who was able to collect the most coins wins.
We always start our turn by moving our action marker. Here we can decide to carry out actions or to rest. Let's take actions, we move the marker to one of the three action spaces Move, Play or Collect. We can then carry out the actions that are now visible in any order. This means: If we move our action marker to the Play field, this action is hidden and we can carry out the Move and Collect actions. If we carry out actions again on our next turn, we have to move the action marker to one of the free action spaces and thus block a new action.
The action To move lets us move our mech to another free location within 1 - 3 locations. If we land on a face-down location, we receive the map marker on it, then reveal the location and draw corruption markers from a bag until their total is equal to or higher than the specified number on the location. Corruption markers block stronger location actions that can only be used after these markers are removed.
With sammeln we activate the actions of the location where our mech is currently located. Depending on the location, we collect the resources cunning and strength, coins, workers in different colors, as well as cards in the form of artifacts, meteorites and orders. These cards can be tied to our game board with stronger actions to achieve achievements and receive instant or permanent bonuses. Once we have achieved an achievement and a location with the Brag action has been unlocked, we can brag about our success there. For this we receive a star, which gives us bonuses and victory points and brings us closer to the end of the game.
The action Play is the heart of Expeditions. We use this to play our leader cards, as well as acquired artifact, meteorite and order cards. If we play a card, we first receive the associated resource. We can then decide to place a worker of the same color as the card itself on the card that has just been played in order to activate the card's special effect. With these effects we can, for example, remove corruption from locations, get more workers, cards or resources, and much more.
With these three actions in hand, we travel from place to place, activate location actions and play cards to activate their effects. Since cards that have been played remain face up, we run out of options over time, so at some point we have to decide to rest.
Rested and moving forward at full speed
rest us, we move the action marker onto the rest space. All played cards are then returned to the "hand" and all workers are placed on their own board. On our next turn we can carry out all three actions, i.e. moving, collecting and playing, in any order. In addition, we get all of our cards back into our hand and the used workers are put back on the game board. This means that all tactical options are open to us again and we can once again work with full force towards our successes.
There are a total of 8 types of success. Three of them tell us that we place four cards of one type (order, meteorites & artifacts) on our game board. We do this with the help of location actions or card effects and can be very useful because we can not only gain achievements with them, but also receive special bonuses depending on the type of card. For example, to complete an order, we must pay the costs indicated on the right edge of the card and receive the associated bonus. We then move the order under our tableau. For each completed mission, our victory points increase per success we have bragged about (or per star placed). However, if we fuse meteorites, we receive instant point bonuses that depend on the number of cards. With each newly fused meteorite, we receive the bonuses of all fused meteorites again. When an artifact card is equipped, we activate its permanent effect and do not have to play this card again and again for it to be active.
Information about expeditions
Number of players: 1 – 5
Age: from 14 years
Playing time: 60 - 90 minutes
Difficulty: expert game
Long-term motivation: high
Classification: Engine Builder, Area Movement

Author: Jamey Stegmaier
Illustrations: Jakub Rozalski
Publisher: Tierra del Fuego games, Stonemaier Games
Official Website: Link
Year of publication: 2023
Language: German
Cost: 79,99 Euro
Conclusion
As a big fan of Scythe, I was of course really excited when Stonemaier Games announced Expeditions. Well, after playing the game several times, I'm quite happy with what Jamey Stegmaier offers us here. Expeditions has become a thoroughly successful game. The action selection mechanism is fun and always forces us to think hard about our future moves, because we are always missing an action. At the same time, we always have to keep an eye on the playing field. Which cards are on display? Can we take advantage of this somehow? It's all a nice little puzzle that we're working our way towards victory.
But even though Expeditions is a standalone game, the theme and strong focus on the Scythe universe mean you simply can't avoid comparing it with the main game. Expeditions is much simpler than Scythe and doesn't offer the same depth. It doesn't want to, but as a fan of Scythe you can still be disappointed by it. Overall, Expeditions is not as good as the successful title from Stonemaier Games. The game drags on over time because you basically just do the same thing throughout and not much changes over the course of the game. You play with the same pool of cards over and over again, which can become very monotonous as the game goes on. Scythe simply offered a lot more variety, just in terms of gameplay.
In addition, Expeditions is too overproduced. Smaller cards, smaller landscape tiles, smaller miniatures - just a little less of everything would have been enough here. So the box and the game in general could have been kept a little smaller and the price of around 80 euros could possibly have been reduced. In our opinion, this is a bit too expensive for expeditions. There are simply many games here that have significantly more to offer and cost less or just as much. For example, Scythe himself.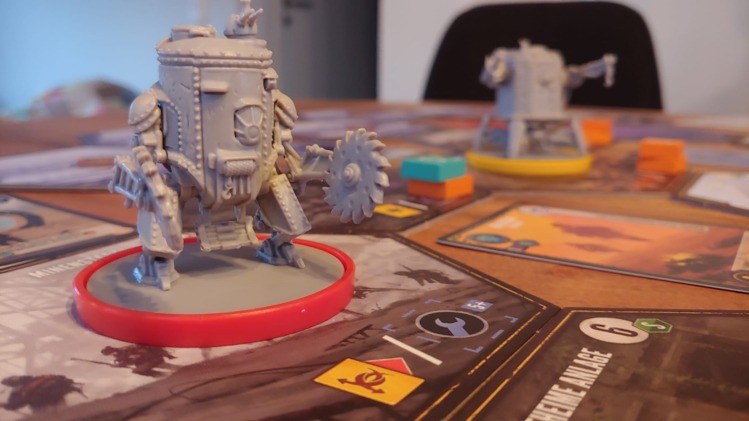 In the end, I'm personally a bit conflicted. Expeditions is definitely not a bad game. It's a lot of fun and is a great game even for players who don't know anything about Scythe. But somehow this connection to Scythe is disturbing. Expeditions should have had its own theme and been produced in a less pompous manner. Then the game would certainly have felt a little more rounded. In this form, everything about Expeditions feels a bit forced.
* = affiliate link. If you purchase via one of the links, we receive a portion of the purchase price as a commission. There are no additional costs for you, but you can support our portal by doing so. Last updated on September 30.11.2023, XNUMX / Affiliate links / Images from the Amazon Product Advertising API. Images from Amazon PA API.