If you not only play but also collect, you will also have to think about shelves for your board games. There are now many options for storing your treasures, some at comparatively reasonable prices.
Who knows the following situation: The parcel delivery person rings the bell, warns: "Warning, heavy!", then with difficulty pushes a gigantic box from the dead end onto the hallway floor. Their content: board games. Sometimes many, sometimes one Kickstarter with countless expansions and goodies. You quickly realize that board games not only cost money, but also space - and depending on your living space, that is pretty tight.
Matching board game shelves for expensive treasures
You can simply store your board games somewhere in your apartment, but ambitious fans don't do that. For good reason, because many boxes are not just boxes with materials, but small works of art that you like to display. The treasures are usually best kept on board game shelves - and for good reason: they can be built from floor to ceiling and across the entire wall. A suitable shelf clears up a lot, several dozen board games fit on the floors.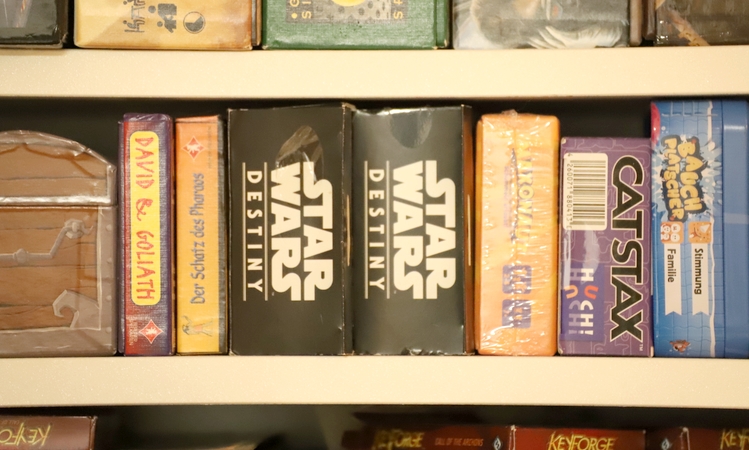 The larger your collection becomes, the larger the space required ultimately becomes. Before you buy your first board game shelf, you should think about whether and how you can expand the model if you need even more storage space. The thought saves you frustration, because nothing looks worse later than a hodgepodge of different shelf models in which the board games always have to be stored differently. In many YouTube videos you can see the bulging shelves, usually neatly sorted for the camera. Of course you can do this at home too.
Which material to choose for board game shelves?
Before you buy, assemble and fill a board game shelf, you should think about the material. Basically there is wood, glass and metal - if you also consider cheap cargo racks from the hardware store, plastic is an alternative. However, the latter is usually more of an emergency solution for use in living rooms for reasons of appearance.
In principle, you should also pay attention to the room humidity. This is usually not a problem in living rooms, but if you have your games room in the basement or attic, for example, you should take this into account.
Important to know against this background, among other things: There are two types of wood. Solid wood and so-called wood-based materials, including MDF panels, i.e. panels made of wood fibers that are painted or covered with a decorative film. Pressed wood with decor is cheaper than solid wood, but is more difficult or impossible to reprocess in the event of damage. For example, solid wood can be sanded down and resealed, which is ultimately more sustainable, but is usually significantly more expensive.
Glass shelves are more sensitive, but are sometimes visually superior to plain wooden shelves. However, glass shelves are often only used for lightweight board games or display cases. They are easy to care for, but at the same time susceptible to fingerprints and dust.
Metal shelves are always a trend. There are now models that fit well into homely environments. Above all, they offer a high load capacity. In addition, metal shelves can often be easily combined and used to create space-saving room designs.
Ultimately, appearance, budget and intended use decide which material is best suited for a board game shelf at home. Often the end choice will be a wooden shelf, possibly paired with glass or metal accents. Basically, however, you can hardly go wrong with a wooden shelf model that can be expanded and supplemented within a model series.
| # | Preview | Products | Rating | Price | |
| --- | --- | --- | --- | --- | --- |
| 1 | | Tierra del Fuego GamesTotal Regal * | | 35,57 EUR | Buy |
| 2 | | JIUYOTREE 5 Tier Closet Organizer with Fabric Cloth on the... * | | 26,99 EUR | Buy |
| 3 | | Schmidt Spiele 49430 Café del Gatto, family game, party and... * | | 21,99 EUR | Buy |
| 4 | | Record Holder, Vinyl Record Holder, 2 Tier... * | | 62,68 EUR | Buy |
| 5 | | HOOBRO bookcase, standing shelf with 9 levels, wooden DVD shelf, in... * | | 45,89 EUR | Buy |
Board game shelves from the furniture store
A first central question: Should you buy the board game shelf from the carpenter around the corner or from the furniture store? In principle, both are possible, but the price also decides. The good news: You can buy suitable board game shelves even on a tight budget - and some comparatively inexpensive models are even ideal. Basically, pressed wood is significantly cheaper than real wood. This is particularly advantageous when purchasing, but in the long term you will notice signs of fatigue, as the boxes of board games sometimes weigh several kilograms. The intermediate floors are therefore subjected to a lot of stress and bend over time. You can counteract this with struts, or simply with a clever storage system in which you place the boxes precisely in the compartments so that you can use them as supports.
Basically, you should put heavy games at the bottom of the shelf and lighter games at the top. This gives the shelf additional stability. Also relevant: Particularly heavy chunks of a board game shelf should not lie on the flexible intermediate shelves, but also on the plates that support the shelf itself.
Two of the classics among the good board game shelves can be found in the Swedish furniture store: the Kallax and Billy series - the latter is available in two sizes - can be perfectly combined, don't cost much, can withstand a lot and offer plenty of space. The Billy system in particular, which can be set up from floor to ceiling and around corners, can be used in a variety of ways when it comes to storing board games on the shelf. Flexibility is therefore the big advantage of Billy shelves, but compromises have to be made when it comes to the load-bearing capacity of the shelves.
Kallax, on the other hand, shines with its symmetrical structure. All compartments on this board game shelf are the same size. Especially for common standard boxes like those from Ravensburger, Pegasus Spiele, Asmodee or Kosmos knows this Ikea series well suited. Kallax shelves can also be easily set up and combined in living rooms. Several Kallax shelves can be stacked, and the different sizes available mean you can make good use of the space in your home planned for shelves.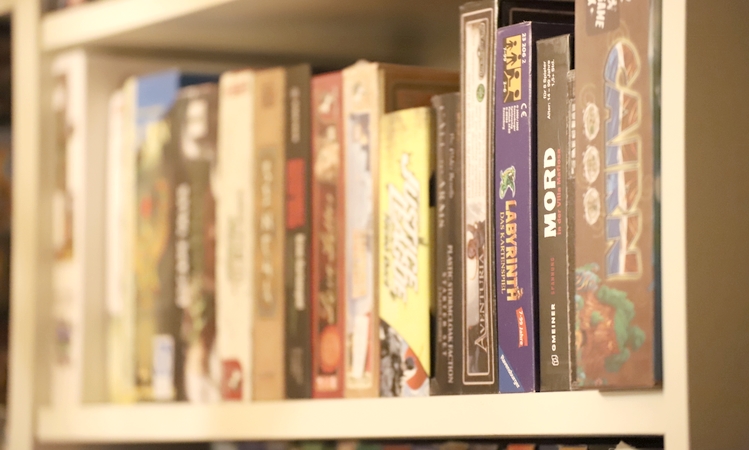 If you like something more visually appealing, you can now also find other solutions at Ikea that can be used as board game shelves - alone or in combination, for example to create visual accents. "Laiva" is cheap, pretty and durable - you can present your favorite games in an open way. The same applies to "Fjällbo" (not quite as cheap), "Eket" or "Ivar". The "Gnedby" CD shelf can also prove to be practical, for example for card games or miniature packs.
The "Hemnes" series is also visually successful. This Ikea classic is simple but quite elegant, even in combination with other shelves from the series. The price alone is comparatively high at just under 230 euros per standard shelf. Many board game shelves can also be found in Swedish furniture stores, but ultimately it depends on how much money you want to spend.
It also depends heavily on your personal collection: If you have a lot of standard boxes, you'll do well with shelves from the furniture store. If you mainly have special formats at home or only collect particularly thick chunks, you should think even more carefully about the dimensions. The shelving system should fit in width, height and depth and, ideally, they should be able to be flexibly adjusted.
If you just need storage space and don't care about the look: metal shelves can be bought cheaply in furniture stores or hardware stores. The storage shelves can withstand a lot, but are only partially suitable for cozy living spaces.
Basically, if you look around the scene, it's Billy, Hemnes and Kallax that are particularly popular and often recommended. Basically, it can be said that many furniture stores now offer similar shelf series. Browsing on sites like Wayfair or Jysk (formerly Dänisches Bettenlager) can be worthwhile.
Board game shelves from the specialist
A completely different caliber are custom-made products from specialists or real board game shelves, which can now be purchased from various craft companies. The well-known board game table manufacturers in particular have long been offering shelves. An example of this is the Manufacturer Kapplex from Mistelbach, which describes itself as a provider of "board game furniture". In addition to tables and some accessories, there are also various board game shelves.
However, you have to dig deep into your pockets for the models: they start at around 700 euros; the top model currently costs around 1.200 euros. Such a system is well thought out: compartments of different sizes are supplemented with closed slots; and the whole thing is available in different colors and sizes. Several such shelves can be combined, just like the inexpensive board game shelves from the furniture store.
The biggest hurdle remains the price: If you rely on shelves from specialists and perhaps add a special board game table to the room, you often pay a sum that could be used to buy dozens of expensive games - or a small car. However, many providers are now competing on the market, some from overseas. They initially offer their board game furniture primarily through crowdfunding on Kickstarter, and some of the ideas are quite innovative. So had Boxthrone came up with a system, which is not based on shelves but works with metal struts. The gaps can therefore be flexibly adjusted; the appearance alone is a matter of taste. Core of the idea: Boxes can all be stacked on "floors" so they don't burden each other due to their weight. This protects the packaging, especially of expensive games, which can now cost several hundred euros. Damage is particularly annoying here.
Tried something similar "Work box", a system from Werkhaus Design from Bad Bodenteich, which consists of shelf modules that can be put together flexibly. We also offer well thought-out system solutions, for example Just or Emperor
In any case, specialists focus primarily on keeping storage marks as low as possible or avoiding them entirely. With a view to the future, this is smart, because it is not uncommon for sought-after board games to be traded like collector's items. That means: Every scratch, no matter how small, costs money.
Those who can afford it are usually best off with an individual solution. This can be perfectly adapted to your own space conditions, but also costs significantly more than off-the-shelf furniture. If you're handy, you might even be able to build your own board game shelf. There are corresponding instructions and how-to videos on the Internet.
If you don't want to build a shelf completely yourself, you can also rely on upcycling: old shelves can be made into new ones in just a few simple steps: this can be achieved with a little craftsmanship when preparing them and giving them a new coat of paint. Here it is above all the individuality that is the focus of this idea. This is an advantage and a disadvantage at the same time. Because: A unique shelf can look pretty, but it usually stands alone in terms of design.
| # | Preview | Products | Rating | Price | |
| --- | --- | --- | --- | --- | --- |
| 1 | | ROMBOL Solitaire, the entertaining classic made of fine wood with... * | | 16,90 EUR | Buy |
| 2 | | SPILBRÆT Kluster (Nordic) (SBDK2560), 14 years and older * | | 24,99 EUR | Buy |
| 3 | | Byhoo, fantasy set with DND metal coins and leather case, the... * | | 19,99 EUR | Buy |
| 4 | | LudoXL 50 bronze metal coins - value 1 * | | 14,95 EUR | Buy |
| 5 | | Stonemaier Games, Scythe: Metal Coins Upgrade Pack, Board Game, 1... * | | 29,70 EUR | Buy |
* = affiliate link. If you purchase via one of the links, we receive a portion of the purchase price as a commission. There are no additional costs for you, but you can support our portal by doing so. Last updated on September 30.11.2023, XNUMX / Affiliate links / Images from the Amazon Product Advertising API. Images from Amazon PA API.