This week, too, new crowdfunding board games are running again at Kickstarter, others are still running and still others are already about to close their campaigns. The ideas that publishers and authors realize via the online platform range from small indie projects to top titles want. We regularly introduce you to current projects from Spieleschmiede and Kickstarter - always on a weekly basis.
---
Crowd financing is becoming more and more important in the board game industry. Authors or small publishers who have long since ceased to be too independent use the opportunity to have their fans "pre-finance" their game titles. Money is not the only reason to launch a Kickstarter. Well-known publishers in particular can quickly determine how well ideas are received by fans and what players are willing to pay for their favorites. From the small indie platform of yore has long been a big business model become.
On Kickstarter, the most supported project with almost 220.000 supporters is the card game Exploding Kittens. Under the five mostly funded projects find yourself with Frosthaven and Kingdom Death Monster two board game projects. Due to the many projects (currently 304) on Kickstarter, we cannot present all games in detail, so we give you an overview of some selected titles:
Cascadia
Cascadia is the second campaign by Flatout Games. Just like their first project Calico the game is a puzzle game for one to four players with hex tiles. Thematically this time it goes into the wilderness.
Our task is to build an ecosystem that is as harmonious as possible. Among other things, we combine rivers, forests and mountains to give the wild animals a habitat. In our turn we choose a combination of area tiles and wild animal tokens and place them on the tiles that have already been placed. At the end of the game we evaluate the habitats and the animal population.
The campaign will run for another 30 days and has already achieved its funding goal. In addition, several stretch goals such as improved material have already been financed. a copy of Cascadia costs $ 29 plus shipping. Delivery is planned for August 2021.
Flourish
Starling Games, the publisher behind Everdell, has Flourish started a new project. It is a matter of Card game for one to seven people, ages eight and up. A game in which the players build a garden should last 20 minutes.
The game can be played competitively, cooperatively and solo. In addition to almost 100 cards, the game also contains 3D cardboard walls. The Kickstarter Edition includes additional maps and more 3D cardboard buildings. In Flourish we play simultaneously. We play a card in our garden, pass cards on to our neighbors and then draw a new card from the draw pile. After twelve cards are placed, our gardens are scored.
You still have ten days to support Flourish. One copy costs $ 39 plus shipping. The project has already been financed and should reach the supporters in March 2021.
In Too Deep
In Too Deep should be a story crime game for one to four players. The new project from Burnt Island Games, including "In the Hall of the Mountain King" and "Endeavor", takes place in a cyberpunk setting in which the players have to make moral decisions.
Futuristic technologies allow us to penetrate the minds of criminals and manipulate them. So we have to collect information and cooperatively fight against corruption in the gloomy city. The Retail Edition of In Too Deep includes standees, while the Kickstarter version includes miniatures and matching bases. The campaign, which has already been financed, will continue to run for 17 days. The retail edition costs around 43 euros and the Kickstarter edition around 52 euros. The game is slated to ship in September 2021.
Monsters on board
Monsters on board is a dice drafting board game with custom dice, 3D cardboard cars and colorful monster miniatures. The game is suitable for one to four players, ages twelve and up, and should last 30 to 60 minutes. Behind the project are Final Frontier Games, which have already published Coloma, Robin Hood and the Merry Men and Rise of Nobility on Kickstarter.
Over six rounds we draft cubes from the 3D cars and place them on our game boards. Just like with In Too Deep, with Monsters on Board you have the choice between a standard version with standees and a deluxe version with colorful miniatures. The project has already been funded and is still running for nine days. You can get the standard version for US $ 54 and the deluxe version of Monsters on Board for US $ 69. Delivery is planned for June 2021.
Type 7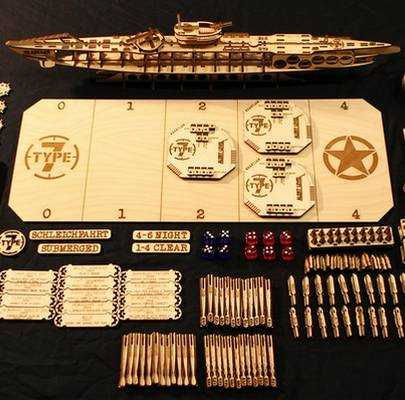 The last project presented is an extraordinary co-op and solo game. In Type 7 the players take on the role of the crew of a German Type 7 submarine. Instead of cardboard tiles or a miniature, the game contains a 63 centimeter submarine made of wooden parts.
Most of the rest of the materials and the game's box are also made of wood. The game aims to make the atmosphere in a submarine tangible. The crew tries to complete various missions, to stay alive and, if possible, to do secret missions.
The campaign is still running for 13 days and has already been funded. For 99 euros you can get the full game. There are some extras for 159 euros. If you only want the submarine, you can order it from 39 euros. Delivery is planned for March 2021.
More board games on Kickstarter:
That was a small overview of the current projects at Kickstarter. Which games are you interested in and which ones have you already got into?
---