Board games are popular, and demand in the Corona year has doubled compared to 2019. That also means: Giving board games for Christmas is a popular alternative to anonymous vouchers. This year, too, many donors are making use of it and so various classics, but also selected board games from previous years, end up under the Christmas tree. By the way: The first place does not go to Monopoly!
---
The cold season offers almost perfect conditions for game evenings. Although the corona situation throws the meeting in a thick line, families still like to play a lot. Because new titles are at best on the gaming table at Christmas, the idea of ​​giving away board or card games is omnipresent. Many donors rely on classics from the past few decades, while others are more creative this year and are reaching for bestsellers from recent years.
Popular games: trend analysis confirms boom
First of all, you have to somehow find out which board games are particularly popular this Christmas. The most direct way is to use customer behavior as a guide. In a The comparison platform Idealo has trend analysis This year's hottest gifts from the board and card game segment are summarized.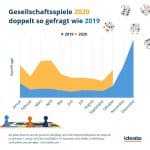 This year's benefit for the gift givers is that neither man, don't be annoyed nor Monopoly are in first place. Drop it has taken the top spot this year! from the publisher Kosmos done. The game has been available since 2018 and has become a bestseller. The board game is based on the well-known principle of "four in a row", but modifies the concept: instead of a row of four round stones, it is about different shapes and colors – and therefore about skill and strategy. The classic duel mode is also a thing of the past if desired. Up to four players at the same time can take part in a game of Drop it! participate. The game is suitable for children aged eight and over.
The silver medal goes to Monopoly in the classic version. The board game, which costs around 22 euros, lands under the fir tree particularly often at this year's Christmas party. Does that also mean that this board game is requested particularly often? Even Idealo's trend analysis does not reveal this; the users' interest in buying is evaluated, and it is precisely these who are clearly more interested in parlor games than in the previous year.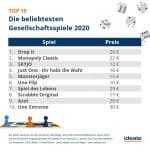 According to Idealo, demand is about twice as high as in 2019, which can already be seen. The increase of around 100 percent is not least due to the corona pandemic, which in many cases forced people to spend more time at home. Board and card games became an alternative to the TV and console. Exciting: Thematic preferences were also linked to "Corona". At Idealo, for example, there was a temporary increase in interest in the board game "Pandemic", which made it into the top 10 for a short time.
This should now also become noticeable in the Christmas season - and the top list of the most popular board games has now changed again. Behind Drop it! and Monopoly Classic lands on the podium with Skyjo by Magilano, a card game that is reminiscent of Uno or Phase 10. Up to eight players can take part in the short games of around 30 minutes.
The users are at least proving their taste: The award-winning board games land in the other places in Idealos Trend Analysis Just one and Azul, Children are likely to enjoy monster hunters. The other four places among the top 10 board and card games are shared by different classics or variants of classics: Uno Flip, Game of Life, Scrabble and Uno Extreme. In the Corona year, too, it becomes more than clear: there is significantly more play, but the preferences have changed much less significantly overall.
---
* = affiliate link. If you purchase via one of the links, we receive a portion of the purchase price as a commission. There are no additional costs for you, but you can support our portal by doing so. Last updated on September 23.09.2023, XNUMX / Affiliate links / Images from the Amazon Product Advertising API. Images from Amazon PA API.