At the beginning of the year, the traditional Stuttgart publisher presented Kosmos their latest game series. Two spin-offs have now been announced under the name "Noobs". The first tests our capabilities in space. You can find out in this review how much we enjoyed our trip into the endless expanses.
It is the year 2928 Zordonian calendar. What was considered science fiction back then is now the norm. As fresh graduates of the Fleet Academy, we are going into space, because exploring it is essential for progress. However, we didn't exactly get through the Fleet Academy with flying colours. According to the motto "Four is passed, passed is good, two is good and that's not very far from 1", we made it through the exams...
A race against time
"Noobs in Space" doesn't come with a real rulebook, but sends us into the game with the so-called "final exam". This replaces the rulebook and lets us start the game straight away.
As 3 - 5 noobs or rather beginners, real tasks in space await us after we have just passed our exam. So we first have to launch the rocket and prove ourselves in the great expanses. We don't want to reveal too much, because the unknown is precisely what makes "Noobs in Space" so appealing.
In each of the 8 different levels, all noobs (players) are dealt cards. These contain tasks, as well as objects, symbols, etc. to master them. At the beginning we do not know what will happen to us. A noob reads the task on one of his cards, which must then be solved. Once this is completed, the next task begins. Good communication counts here, because if you are just a little too imprecise, everything can end in chaos. To solve the tasks we have to lay out the right cards, sometimes in the right order. Once we lay down a card, it cannot be picked up again.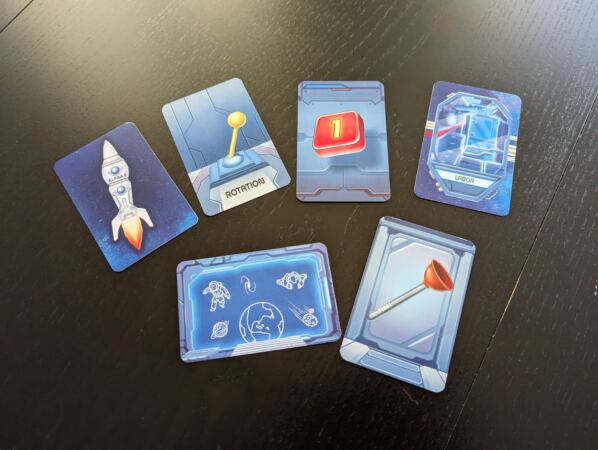 All of this happens under time pressure, because when all the tasks have been solved, our performance is measured by time. Depending on the level, there are different time requirements to reach 1,2, 3, 4 or 3 stars. These are each connected to a nice story about the skills of our chaos squad. We get a time penalty of XNUMX minutes for each wrong task, which can have a strong impact on our rating.
Information about noobs in space

Number of players: 3 – 5
Age: from 10 years
Playing time: 8 x 15 minutes
Difficulty: easy
Long-term motivation: low
Classification: Cooperative game

Author: Johannes Krenner, Markus Slawitscheck
Illustrations: Flore GmbH
Publisher: Franckh-Kosmos Verlags-GmbH & Co. KG
Official Website: Link
Year of publication: 2023
Language: German
Cost: 14,99 Euro
Summary
We cannot or do not want to write much about "Noobs in Space". Because every little piece of information could cause spoilers and spoil the fun of the game. What we can definitely say is: We were very skeptical at first... At its core, we are simply given tasks, talk to each other and lay down cards. Not more. Can this really be fun?
And how! We laughed a lot and even when we completed tasks with flying colours, we always felt like real noobs. "Noobs in Space" simply manages to capture the topic well and doesn't take itself too seriously.
It's also nice that, unlike Kosmos' exit games, we don't have to destroy any material. So the game can be given away or sold after playing through, because there is not a high replay appeal here either. Once you've played through "Noobs in Space", you've seen everything and know the solution. It is also positive that color-blind people have been thought of. Cards where colors play an important role are marked accordingly so that they are not distributed to color blind people.
However, people with dyslexia could have severe problems with the game. The tasks require a comparatively large amount of text to be read and some tasks require a code of letters and numbers to be solved. Of course, you could pass these cards on to the next person, but this is strictly forbidden and could therefore defeat the purpose of the game.
Overall, however, it can be said that "Noobs in Space" is an entertaining, but thoroughly successful adventure that can definitely stand up to the exit games.
* = affiliate link. If you purchase via one of the links, we receive a portion of the purchase price as a commission. There are no additional costs for you, but you can support our portal by doing so. Last updated on September 24.09.2023, XNUMX / Affiliate links / Images from the Amazon Product Advertising API. Images from Amazon PA API.