Super Kawaii Pets, a quick card game for 1 – 4 players ages 8 and up, was recently released. What particularly stands out here is the cute theme in combination with the cute illustrations, because our goal is to make sad animals happy. However, you will find out in this review whether the game can do more than just be kawaii or cute.
Short overview
Super Kawaii Pets is a set collection game where our goal is to make animals happy and collect the most happiness points. On our turn we take 2 animal or auxiliary cards from the display or from the stack. We can then play animals in any order, make them happy and give them a home.
If we play an animal, we have to play it on the sad side. This may trigger bonus effects that allow us to draw additional cards. The animal can then be made happy to generate happiness points. To do this, the required auxiliary cards must be discarded. The animal card is then turned over so that the happy side of the animal appears. If we have managed to make the animals that are shown on one of the location cards happy, we can take it and assign it to the animals. Your new home brings us additional luck points at the end of the game. In addition, some of them have a one-time bonus effect that allows us to draw additional cards.
The game ends as soon as one person has a total of 10 lucky animals and locations. After the round has ended, you add up all the happiness points from the happy animals and places and deduct one happiness point for each sad animal in your hand or in front of you. The person with the most luck points wins the game. Optionally, a majority rating can be added for each of the 3 background colors (pink, blue, green). Here the person who has the most cards of a color receives 3 luck points.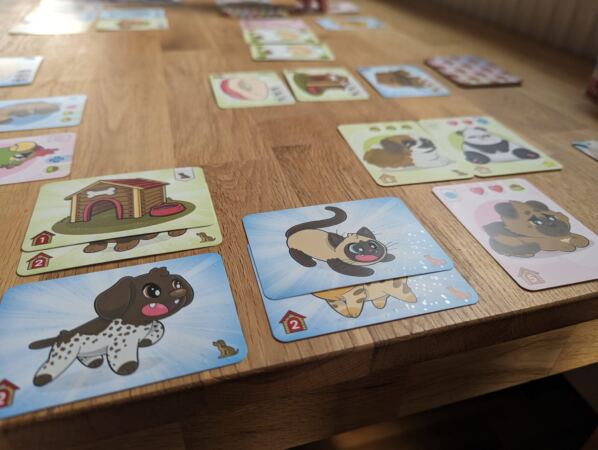 Information about Super Kawaii Pets

Number of players: 1 – 4
Age: from 8 years
Playing time: 20 minutes
Difficulty: Children's & family game
Long-term motivation: medium
Classification: Set Collection
Author

William Cavaglieri


Illustrations: Pit Baldriz
Publisher: HeidelBär Games, Studio Supernova
Official Website: Link
Year of publication: 2023
Language: German
Cost: 17,95 Euro
Conclusion
Super Kawaii Pets is a quick to learn and play set collection game. A round usually lasts 15 – 30 minutes. However, Super Kawaii Pets is not innovative. You collect resources, spend them to complete tasks and receive victory points. If you manage to collect a set of cards that is currently in demand, you can generate additional victory points. All of this has already been seen in many other games. However, this doesn't make Super Kawaii Pets a bad game. The game feels well rounded and is also a lot of fun. The topic in particular is a big part of the fun here. We were always happy when we managed to make one of our animals happy because it then smiled at us in a cuddly, happy way. If we even managed to give them a home, then we would be very happy. And the game is also particularly appealing for children. The children of a family friend were excited about the game when they saw it and had great joy in seeing the sad animals in their happy form.
Purely in terms of game material, Super Kawaii Pets is very high quality. All cards have a shimmer effect that makes the cute illustrations stand out even more. The game is also completely language neutral and the symbols are clear and clearly visible. This means that the game can also be played quickly and easily with children and people who have reading difficulties. A nice bonus is that you can also play the game solo. Here you try to make a certain number of animals happy in a limited time and crack your high score. Nothing special either, but very suitable for short laps in which you don't want to think too much.
Overall, you can't go wrong with Super Kawaii Pets. For €17,95 you get a rock-solid game that there's always room for every now and then - no matter who you play it with, because the artwork alone will definitely keep you excited.
* = affiliate link. If you purchase via one of the links, we receive a portion of the purchase price as a commission. There are no additional costs for you, but you can support our portal by doing so. Last updated on September 1.12.2023, XNUMX / Affiliate links / Images from the Amazon Product Advertising API. Images from Amazon PA API.