In March of this year, Dungeons & Dragons: Honor Among Thieves was released, a fantasy film that was positively received by fans and critics and took us into the world of the popular role-playing game of the same name from the US trading card and pen & paper game manufacturer Wizards of the Coast immersed. In keeping with this, the board game Dungeons & Dragons: The Yawning Portal was released by the parent company at the same time Hasbro. We were allowed to pay a visit to the role-playing game's well-known tavern. You can find out how we liked it in the following review.
On the Sword Coast in the Land of Forgotten Empires lies the glittering city of Waterdeep. The metropolis is especially known for one inn... The Gaping Portal. After their great deeds, adventurers from all over the world come to the venerable inn and want to satisfy their hunger. As the innkeeper of the Gaping Portal, it's our job to seat our guests, fulfill their orders, and collect payment for them. We should always be one step ahead of our colleagues, because they tip as if it were their last meal...
Feed exhausted heroes
The goal in Dungeons & Dragons: The Yawning Portal (hereinafter D&D:YP for short) is to collect as many gems as possible by fulfilling orders, while making sure that at the end of the game there are enough heroes sitting at the table who are satisfied meet their own needs for precious stones. Why? There are 4 standard gemstone types: blue sapphires, red rubies, green emeralds and yellow topaz. Each of these types of gems has a corresponding hero deck. If we manage to fulfill a hero's order, we not only receive a reward in gems and other bonuses, but the hero is also turned over and the hero's respective gem type is revealed. At the end of a game, the number of gems you own is multiplied by the gems of the saturated heroes at the table for victory points. Additional victory points are obtained by completing objective cards, collecting the most gems of a type, or by collecting the most gem sets.
So far so good. But how do you serve the heroes their delicious food? Quite simply: In the middle of the table there are a wide variety of dishes. On the heroes' cards, dishes are shown in various constellations. When we play a hero card, we receive gems of the appropriate color for each symbol on the hero card that corresponds to a dish on the table. Means, if we manage to put a green dish on the map in the same row with a green dish on the table, we get a green emerald. If we manage to ensure that all dishes on the menu match those on the table, we receive a so-called direct hit bonus (usually gemstones or action bonuses) and the hero can be turned to his saturated gemstone side. When playing a hero card, the hero's effect is also activated. Here we can, for example, send other heroes away from the table (also well-fed heroes), move food on the table to subsequently collect a hit bonus and much more.
Interesting mechanism
The trains in D&D:YP are quite simple. Each end of the game has 4 action tiles in the respective gemstone colors. In our turn we have to choose an action tile to carry out the action. After we have resolved our action, the action tile must be flipped over to reveal new action options. For example, the red action tile lets us place a red dish on one side, remove a card from the table and play a new card from our hand. On the other hand, we can play a card from our hand and remove a dish from the table.
So we try to create an optimal starting position at the table move by move in order to be able to play hero cards as appropriately as possible and to get as many direct hit bonuses as possible and as many gems as possible. The fact that the action tiles offer us completely different actions on the other side leads to really interesting considerations. You have to plan exactly how you plan your next moves, because if you don't do this, you may have to perform an action that you really don't want to do in order to get to an action on the other side of the tile. As a result, you can end up wasting a move for nothing if you're not careful. But it is precisely this jigsaw puzzle of his next moves that is really fun and created a feeling for us that we have never experienced before.
Atmospheric solo mode

D&D:YP comes with a solo mode, which in itself is really just a pure point hunt. Basically, you try to crack your own high score game by game, which we just find boring in many games. However, D&D:YP does one thing really well in the solo games and really keeps us engaged. Because in contrast to the multiplayer games, here we actually have the feeling that we are in the inn and serve customers for customers.
This is made possible by a small but subtle change. This time we don't have any hero cards in hand that we can play when the opportunity arises, instead all hero cards are shuffled and formed into a guest pile. From this heroes are gradually laid out, forming a kind of queue in front of the inn. We bring hero after hero to the table, take their orders and, if possible, fulfill them. This is all an interesting puzzle, because we have to plan our moves well in advance in order to be able to place the heroes in the best possible way and to be able to fulfill their wishes in subsequent moves.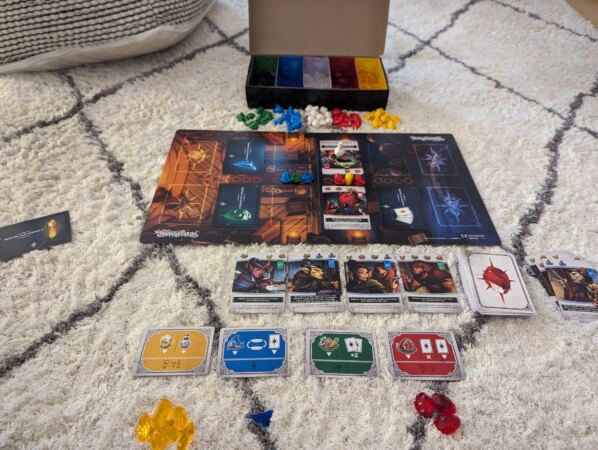 With this little trick you really have the feeling that as an innkeeper you are serving the heroes. The destination cards add an additional stress factor. Each objective card has an X on the card that marks a place for a food item. As soon as a food is placed on this slot, the goal can no longer be fulfilled. This puts extra pressure on us when fulfilling our orders, as valuable points can be lost here.
Quality at its finest
We were particularly impressed by the high quality of the game materials during our test games. The cards have a noble linen structure, which makes the cards easier to grip. In addition, the gemstones are nice and heavy in the hand. The inlay also has to be highly praised. It's made entirely of cardboard and is nicely textured so nothing can fly through the box. There is an extra box for the gems in the game that can be removed and placed next to the game board. This speeds up the setup immensely and we think it's a nice idea.
The outer packaging of all materials and the box also did not contain any plastic. The box came with a chic outer packaging. This was a nice change.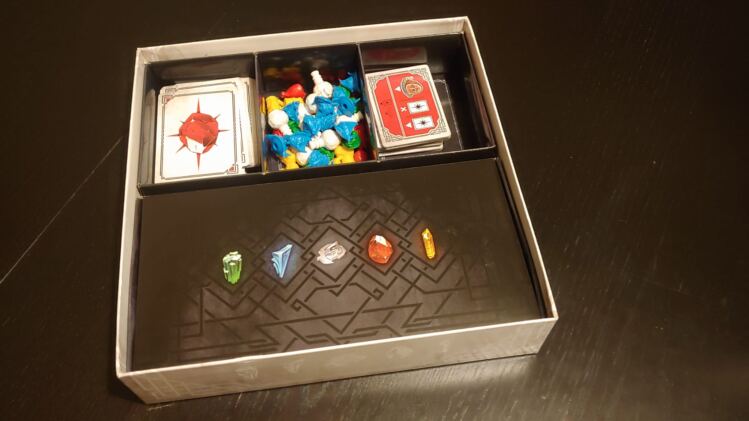 About Dungeons & Dragons: The Yawning Portal

Number of players: 1 – 4
Age: from 12 years
Playing time: 40 - 60 minutes
Difficulty: higher family game
Long-term motivation: medium
Classification: card game

Author: Kristian Karlberg, Kenny Zetterberg
Illustrations: –
Publisher: Hasbro, Avalon Hill, Wizards of the Coast
Official Website: Link
Year of publication: 2023
Language: German
Cost: 54,99 Euro
Conclusion
Dungeons & Dragons: The Yawning Portal was able to convince us in the tests. The game creates a gaming experience that we have not experienced in any other game. We had a lot of fun during the games, but the game shows major weaknesses in terms of final scoring. We found scoring by multiplying the number of gems from fed heroes that you own to be cumbersome and uninteresting. Of course, getting hits or removing heroes played a crucial role, but we always ended up feeling a little dissatisfied with the overall situation. The whole rating just felt out of round. It might have been nicer here to concentrate completely on different goals. The end of the actually really good solo mode is also quite unsatisfactory. Yeah... You have X points... That's it... That's all really a shame, because Dungeons & Dragons: The Yawning Portal is a really good game in our eyes. Still, we're sure that fans of the role-playing game, as well as gamers who have nothing to do with the D&D universe, will have a great time in the gaping portal.
* = affiliate link. If you purchase via one of the links, we receive a portion of the purchase price as a commission. There are no additional costs for you, but you can support our portal by doing so. Last updated on September 6.12.2023, XNUMX / Affiliate links / Images from the Amazon Product Advertising API. Images from Amazon PA API.