Last year, the penless flip and write game The Guild of Merchant Explorers was released by the American publisher Alderac Entertainment Group and received many praises. With a strong BoardGameGeek rating of 7.8, thanks to Skellig Games, the game is now also available for the German market under the name Die Gilde der Fahrende Händler. Check out this review to see if the game lived up to expectations.
The kingdom is thriving, but its maps haven't been updated for a long time and the major cities have lost contact with each other. The queen therefore sends the guild of traveling merchants on a voyage of discovery to all corners of the kingdom of Tigomé. Along the way, they travel across rough waters, majestic mountains, vast deserts and lush grasslands, establishing trade routes between cities, visiting the tall discovery towers and discovering new villages that have formed.
Classic Flip & Write
One notices that the guild of traveling traders is not exactly convincing with its exciting story, but it still creates a certain sense of discovery. The goal is to earn more coins than your opponent by exploring the map in front of you over the course of 4 eras. This is done in the classic Flip & Write manner. You draw a card from the exploration deck, which consists of exploration cards and era cards. Exploration cards dictate an exploration action, while Era cards provide special actions. You then carry out the respective actions as profitably as possible on your world map. The write aspect of the game does not rely on pen and paper, but on small wooden cubes that represent the route that the traveling traders have taken.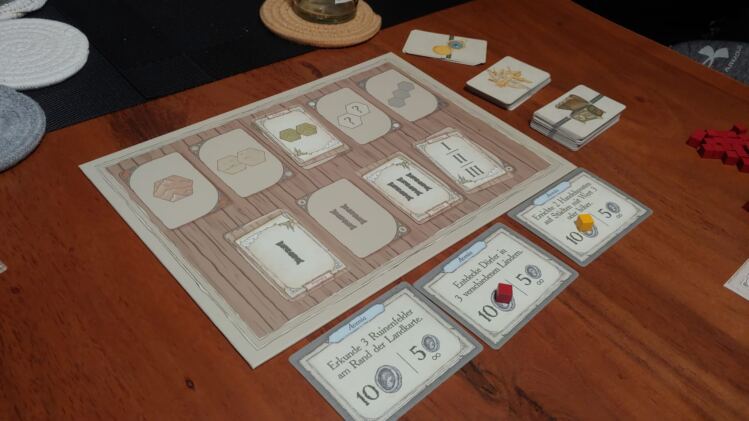 Actions are printed on the 5 exploration cards, with which you can explore fields of the four types of landscape – grassland, desert, mountains and water – or any two adjacent fields. One era card is added to the exploration deck for each era. When an Era card is revealed for the first time, each player draws 2 exploration cards, chooses one of them, and performs that card's action. If the same era card is revealed in a later era, the action of the chosen exploration card is performed again. Exploration cards contain particularly powerful exploration actions and allow you to customize your gameplay style.
When all cards in the exploration deck have been revealed, the current era ends. All dice are removed from the card and the current era card is added to the exploration deck, along with cards from past eras. Then the deck is shuffled and you start discovering again.
Coins for exploring
We get coins, in addition to occupying coin fields on the map, for example by discovering villages, building trade routes, exploring old ruins and visiting the discovery towers. Villages are discovered when a contiguous area has been fully explored within an era. If you manage to do this, a village is placed on any free space (without any symbols) in the explored area. Then you get 1 – 4 points depending on the era. Villages also have the advantage that they are not removed at the end of an era. So you can continue your exploration tour from there in later eras.
Trade routes are created by connecting two cities within an era. Cities each have different coin denominations that are multiplied together once connected. For example, if you connect a city with a value of 3 to another city with a value of 2, you get 2 x 3 = 6 coins for building the trade route. Then you have to block one of the two cities for future eras. Although these may be explored again, they are no longer counted as trade routes.
If you cover a ruin field with your die, this field is explored and you receive a treasure map. These either have instant effects or give certain coin bonuses at the end of the game. If you cover a discovery tower, you place a tower on this space and receive more coins depending on the number of towers you have already visited.
Last but not least, you get coins for completing predetermined goals. At the beginning of a game, 3 out of 6 destination cards are laid out. If you manage to be the first to fulfill a target card, you receive 10 coins. Subsequent players only get 5 coins each for achieving the same goal.
Maps and solo mode for variety
There are four maps in the base game, each using the same core rules but with additional opportunities for exploration or coin collection. The six available destinations also change depending on the map. However, the game doesn't feel much different. Of course you have to do something a little differently on each map, because the circumstances are simply different, but the game plays largely the same. Only the Cnidaria card brings a little more variety into the game with its Sonulux crystals. If we explore such a crystal field, we receive coins equal to the value of the field plus all other crystal fields that we have already discovered in the current and previous eras. This gives us a few more ways to think about how we want to design our routes.
Like many Flip & Write games, the guild of traveling merchants can also be played solo. The trick of the solo games lies in the target cards. Here you have to complete all three objectives within the four eras and reach a certain score. However, you only get coins for the goal if you have completed the respective goal up to a certain point. This is represented by so-called solo era markers, which are pushed from right to left as soon as an era card is revealed for the first time and thus cover the coin reward. If both fields of a goal card are covered, the goal card can be fulfilled, but no coins are awarded. Solo mode can be challenging, especially on hard difficulty, but doesn't add much value. Because even if there is a nice trick here, the solo games feel like a pure hunt for points.
Information about The Guild of Traveling Merchants

Number of players: 1 – 4
Age: from 14 years
Playing time: 45 minutes
Difficulty: easy - medium
Long-term motivation: medium
Classification: Flip & Write

Author: Matthew Dunstan, Brett J Gilbert
Illustrations: Gerralt Landman
Publisher: Skellig Games, Alderac Entertainment Group
Official Website: Link
Year of publication: 2023
Language: German
Cost: 44,90 Euro
Summary
The guild of traveling merchants is a classic representative of the Flip & Write games, which, however, creates a slightly different playing experience than is usual in the genre due to its penless design. Simply placing the dice instead of drawing or setting crosses makes a much higher quality impression both haptically and visually. The idea of ​​individualizing your own playing style using the era and exploration cards is also nice. This allows a little more tactical possibilities in the games.
But even if the game is haptically as well as visually beautiful, removing the dice when ending an era can be an annoying fiddling job. Especially if there are already several tiles on the map. In addition, the replay appeal is not particularly high. The four maps are played quickly and other games wear out over time. Solo mode is a nice addition, but nothing more. It should also be mentioned that the illustrations of the treasure cards in the rulebook do not match those of the cards from the game. This is very confusing, especially when playing the first few games, and should be revised for future editions.
Overall, however, The Guild of Traveling Merchants is a rock-solid game that fans of the genre in particular should take a look at. But critics could also find joy in the game, since the haptic design makes a lot of sense of the game.
* = affiliate link. If you purchase via one of the links, we receive a portion of the purchase price as a commission. There are no additional costs for you, but you can support our portal by doing so. Last updated on September 24.09.2023, XNUMX / Affiliate links / Images from the Amazon Product Advertising API. Images from Amazon PA API.