After Aetherya from the French publisher Nostromo Éditions at HUCH! appeared, the latest game by the game designer François Bachelart was released by the German game publisher. In Rivality, 1-4 magicians fight for control of an area around a colorful mana source by skillfully placing terrain tiles. You can find out how much we liked the mix of placement game and area control in this review.
The colorful mana spring is the sanctuary for mages to gather and draw new strength. But with such power often comes great greed. The once-peaceful forest is now disturbed by mages and their armies of golems fighting for control of the mana well. For the magician who controls Source controls all magic in the land.
Place and cast
In Rivality, our goal is to have the most points at the end of the game using controlled terrain tiles. To do this, we play one of two terrain tiles from our hand in our turn, place our magician and a golem on this tile and activate all magic spells that are on the tile.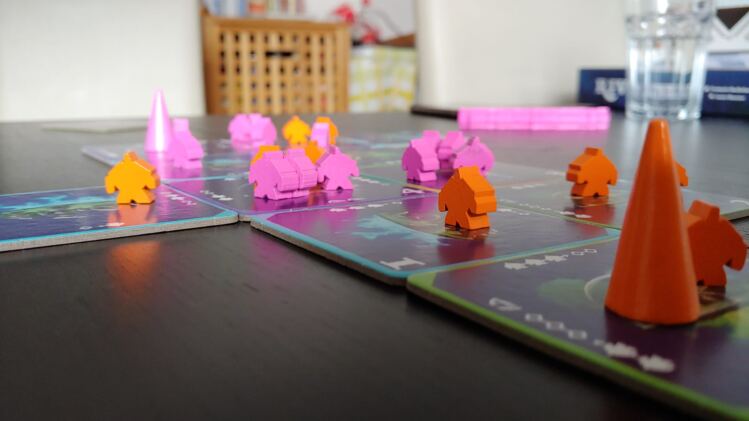 While our magician protects our just placed terrain tile for one turn, we can use the magic spells to send a certain number of golems to further terrain tiles that are 1-3 spaces away from the placed tile. Depending on where and how we placed our terrain tile, we cast the spells on different terrain tiles accordingly. So we send new golems into the battle for supremacy step by step and try to consolidate our position on tiles with the highest possible number of points.
The game ends immediately as soon as all players have played all their terrain tiles or one player has used all his golems.
Tactical specifics
Some terrain tiles have shields that, depending on the number of shield symbols, block a golem when placed. For example, if a tile has 1 shield, you need at least 2 golems to attack that tile. The player who controls such a tile automatically activates the shield and is better protected against attacks from opponents.
In addition, only 5 golems may stand on a terrain tile. If you send golems to a tile that already has 5 golems, then as many golems of the opposing player are removed until the maximum has been reached again. If a tile has 5 golems belonging to a single player, it is considered "entrenched". Entrenched tiles gain an additional shield.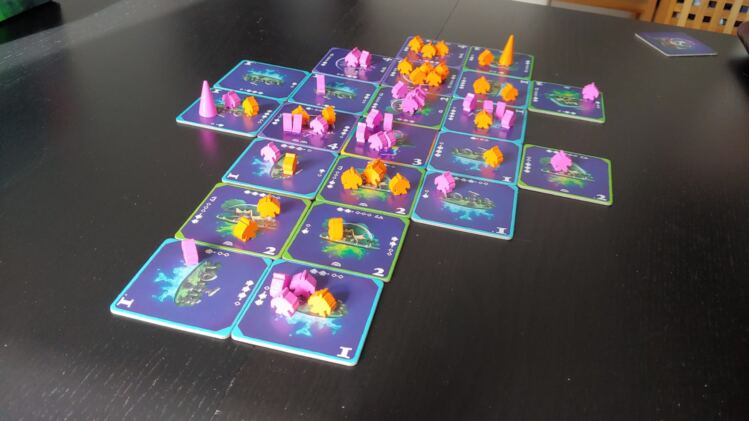 With these two small but fine features, you can see move by move which of the two tiles in your hand can be used to cause the most damage to your opponents. If, at the end of the game, a field has the same number of golems from different players (e.g. 1 orange and 1 purple), the person who has gained dominance over the starting tile, the mana fountain, wins.
A completely different gaming experience
A completely different gaming experience awaits us in solo mode. Here we face off against the evil sorcerer Suramun and his golems in a head-to-head duel. Instead of a placement game, we move our own magician across 2 randomly arranged 3×4 squares of terrain tiles. One field belongs to us, the other to Suramun. While our side's terrain tiles are face up, we don't have any information about the terrain tiles on the Suramun side.
Depending on where we move our magician, Suramun copies our movement like a mirror image and activates the corresponding terrain tile opposite. For example, if we move to the right tile in the last row, Suramun places himself directly opposite us, also on the tile in his last row. If we move forward, he comes at us exactly the same number of tiles. If necessary, we may also move to squares with face-down tiles on the Suramun side. Accordingly, Suramun moves to our side.
After we have placed our wizard and Suramun along with the golems, the spells will be cast as in the standard game, starting with Suramun. If after casting Suramun's spells we still have control of the area where our caster is standing (in solo mode the caster does not protect us from attacks), we can now activate our spells.
This combination turns the game into an interesting puzzle. Since we are only allowed to enter tiles without golems with our magician, we try to find the optimal way to control as many good tiles as possible at the end of the game. This puzzle works surprisingly well and is a lot of fun.
Number of players: 1 – 4
Age: from 10 years
Playing time: 20 minutes
Difficulty: easy
Long-term motivation: medium
Classification: Area Control, placement game

Author: Francois Bachelart
Illustrations: IdéeSens Studio, Lucie Mercier
Publisher: Nostromo Editions, HUCH!
Official Website: Link
Year of publication: 2023
Language: German, English, French
Cost: 35 euros RRP
Summary
Rivality particularly impressed us with its simplicity and its short duration of around 10-15 minutes. You definitely have the most fun here alone or in pairs. The three or even four player games just feel forced. You can tell that the game was actually designed for two players and they just wanted to stretch the player count to make it more accessible to the market. A particular example of this is the Solo mode, which offers a completely different gameplay. Instead of a placement game, you have a puzzle here that you have to solve skillfully. However, in contrast to the three or four person games, this one is really successful.
* = affiliate link. If you purchase via one of the links, we receive a portion of the purchase price as a commission. There are no additional costs for you, but you can support our portal by doing so. Last updated on September 24.09.2023, XNUMX / Affiliate links / Images from the Amazon Product Advertising API. Images from Amazon PA API.