For me, one of the best game systems of all time are the tough business games from the genre of the 18xx series. In one of my favorite offshoots - 18BL from the small one-man publisher Marflow Games from Meerbusch - they combine my love for the history of the railroad, my homeland and my love for board games. 18xx games are war, they are blood, sweat and tears. They are timeless and fascinating. 18BL has a special charm because of my ties to my homeland in the Bergisches Land. I'm Markus, and I'll take you on a trip to Germany's first stock-managed railway company ... and I write to you more often now.
---
It is a cold Wednesday evening when I arrive at the platform of the small suburban train station in Velbert, Neviges. It's gotten dark, the digital display shows the station display at 18.38:9 p.m. and I'm freezing a little. This station, approached by the local train S18 of Deutsche Bahn, at 47:18 p.m., 54:19 p.m. and 07:XNUMX p.m. in all directions, has one platform, two tracks and the associated connections to the nearby cities of Essen and Wuppertal. Once in the Ruhr area - Bergisches Land, there and back. Velbert, this is where I live, right in the middle. But this inconspicuous train stop houses much more than just inconspicuous trains in inconspicuous red - standard colors of the DB local transport lines or (sometimes) in squeaky green. A new design of the passenger transportation machines shows important landmarks and building silhouettes of the surrounding cities. History is present in the cities and communities along the Rhine, Ruhr and Wupper rivers. You drive the tracks along former coal mines, old bunkers and the numerous industrial monuments in the region.
And once even pure history drove along these tracks. Today's S9 railway line is still following in the footsteps of the former Prince Wilhelm Railway Company in 2019: the first share-managed railway company on German soil. What does all this have to do with board games? You will find out ... follow me, our train is about to leave ...
Let's all openly admit it: Our favorite hobby, board games, are "nerdy" to the point of no longer working. Let's tell outsiders, friends outside of our romanticized board game-Facebook-Twitter-Instagram-blogosphere-filter-bubble, of this fact that week after week, month after month and year after year we invest our hard-earned money in board games, which often remain untouched in the board games for just as long When cupboards are left lying around, we get unbelievable looks: month after month and year after year. We don't have enough time for too many games with more and more new products. In addition, our own interests and subject preferences often shift and the trends in the games industry change over time. What is processed in board games today was unthinkable in the past. Technical progress does not stop at the board game sector any more than it does in other areas.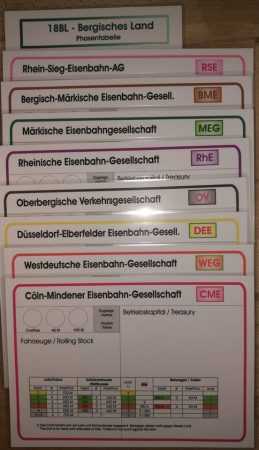 In addition, the demands of the public are increasing, spoiled end customers are often no longer satisfied with anything that does not contain bombastic quality, high-quality plastic miniatures and artistically worked out illustrations. Today things are possible that didn't exist in the past - and earlier games are perceived as out of date despite their ingenuity and innovations. And their players possibly also as old-fashioned, antiquated and even within the really extreme nerd corner as doubly "nerdy". One of these niche games are the so-called 18xx games, a type of board game that has barely noticeably changed since its creation, but it is neither necessary nor planned. The clientele would go to the barricades. A current representative of this genre, which is located in the area of ​​many hours of expert games, is 18BL - Bergisch Land, an 18xx game, set in my home country, on the trail of the former Prince Wilhelm Railway Company.
Wikipedia defines this game idea as a whole series of railroad business simulations that have appeared as board games. The respective games try to simulate the origins of the respective railway networks more or less precisely on the national maps. What reads here like driest theory and work hides one of the most confrontational, wildest and strongest gaming experiences there is. In a nutshell: 18Xx games are business games whose main focus is on two different levels: On the one hand, we act as private individuals and use our private money to purchase shares in various railway companies, trade with them and also sell less profitable blocks of shares quickly and painlessly - To the best of their knowledge, to tie an ailing company on the face of one of the minority shareholders.
Planning is the be-all and end-all here. At the other level of these games, we act as the aforementioned railway companies. As long as we are the main shareholders of a company, we are responsible for it, operate on its behalf and for its well-being and try to control its fate as profitably as possible - and above all more successfully than the others. The goal is clearly defined: to have more money than everyone else at the end of the game. The game ends if a player goes bankrupt or if the bank becomes insolvent. In many variants from the 18xx range after approx. 6 - 8 hours of playing time. 8 hours of stock trading, railroad building and simulation? Yes, it can be done without boredom and without looking monotonous.
Games like 18BL and around 100 other related genre representatives go back to "1974", developed in 1829 by the Englishman Francis G. Tresham - at the time conceived as a building game whose main focus was on building lucrative rail connections in northern England and building railroad lines. The US wargame publisher Avalon Hill adapted this idea 12 years later in collaboration with the author and published "1830 - Railroads & Robber Barons". At first glance, a business game in a hardcore Wargame publisher may seem strange. And yet it hits the nail on the head.
The idea of ​​implementing a multi-dimensional stock market into the game through which the order of games, profit distributions and the value of stock corporations in general can be manipulated by buying and selling is nothing more than a non-lethal, psychological war that the players are waging here. Frustration tolerance would be an advantage for every teammate. War is war, whether with weapons or just with the power of the psyche.
What the mentioned Wikipedia article means with keywords such as simulation, national maps and the history of the origins of its railway networks impressively showed me last year one of the newest offshoots of the genre of 18xx games: 18BL - Bergisches Land by Hans-Peter Heep appeared in the small one Mann-Verlag Marflow Games and is dedicated to the railway traffic in the Bergisches Land as well as the already mentioned Prince Wilhelm Railway Company - do we remember our small provincial train station Velbert-Neviges? This is also approached on the simplified hex field map by trains of the local railway companies.
It was a busy up and down in turbulent economic times when the railways were mainly used to transport the coal mined in the Ruhr area to the Rhineland, but due to modern technology only a few financiers dared to invest in the stock corporations. In 18BL we dare to do this on a playful basis, acquire shares in a wide variety of companies and drive the technical progress of rail transport between cities such as Wuppertal, Remscheid, Solingen but also to the neighboring cities such as Düsseldorf and Cologne.
The numerous offshoots of the 18xx games include a wide variety of variations to this day. Although these basically all have their common features, they differ significantly in terms of national or regional peculiarities as well as the stock market and its interaction. Sometimes some titles can take a long time (8 hours +), others can be played easily in three to four hours - almost normal, full-length board game length.
Since the above-mentioned 1830 has the world's largest circulation due to its multiple reproduced editions (Avalon Hill, Mayfare Games, Lookout Games are the most famous publishers in our area), it is usually worthwhile to get to know and learn its instructions. Future games could thus be explained by the differences alone. 18BL is also largely based on 1830. The game begins with an auction of usage rights from various companies. The players bid on this with their private money and thus secure a regular income.
These private companies represent, among other things, characteristic industries of the region - and thus, for example, the rights to the construction of the famous Müngstener Bridge, the highest railway bridge in Germany. In the course of a game, engineering does not stop at progress any more than in reality. The routes are developing, connecting cities with each other and the towing vehicles of the mighty steam steeds are getting stronger - the ranges of these monsters make distances possible that were unthinkable until recently and ensure ever higher income. In addition to more powerful locomotives, a special feature of both the Bergisches Land and the game as such, rail buses and trailers come into play in very limited numbers over time. Cheap to buy, but an important service factor with guaranteed sales for its owners and important for the developing passenger traffic. And an important building block in the success story of simply being richer, colder and more calculating than your teammates.
It's a love-hate relationship that has developed in me over the past few years. 18xx games are war, these games consist of wiping out one another until they cry. 18xx games are emotional blood, sweat and tear games, a 4, 8 or 12 hour orgy of violence from which there is no escape and which can proceed without mercy, in which agreements are broken and which hardly forgive mistakes. War games without weapons, without blood. They are a world of their own, and there are probably better alternatives for friendly, leisurely gaming. But they are timeless and fascinating. Because of my close ties to my homeland in the Bergisches Land, 18BL in particular exerts this special charm.
As an introduction every reader is probably recommended to play with someone who has a certain experience in game systems of this kind, who can explain what he does, why and how and what the consequences are. Otherwise 18xx games quickly develop into a huge sandbox that runs for many, many hours without anyone really understanding what is happening. The title by Hans-Peter Heep can be ordered from Marflow Games - Wolfram Janich handcrafts the games from paper and cardboard, laminates them and sends them on their way. This is certainly not the usual standard of board gamers, but whoever is ready to plunge into this new world will at some point also notice that optics is not everything. Because most of these games take place in the head.