In February 2021, Amazon Prime Video will provide its viewers with an exciting program. The streaming service provides series and film highlights, such as the first season of the series about Morl and ethics "Soulmates", but also with the series on the biographical book "Wir Kinder vom Bahnhof Zoo"., for exciting entertainment in front of the television at home. This is a welcome change for young and old, especially at the time of the Corona lockdown. In our Amazon Prime Calendar you will find all the films and series that February 2021 has in store for you.

---
The Amazon Prime program in February 2021 once again has exciting highlights and innovations in the luggage for the subscribers of the streaming provider. With our clear calendar you can easily find out when your favorite films and series are showing. We have already selected a few highlights and exciting trailers for you and your entire family.
Amazon Prime Calendar in February: Home cinema for the whole family
True to the motto: "New month, new popcorn program.", Amazon Prime Video is also offering you new films and series for streaming in February. There is guaranteed to be something for everyone.

Amazon Prime series in February 2021
08 February 2021
Highlight for science fans: Soulmates | 1st season (Drama / SciFi) 2020
Soulmates plays 15 years in the future. Science is able to determine the very own soul mate for every human being. The anthology series not only illuminates the relationships between the matched soul mates, questions of morality and ethics also arise.
12 February 2021
The Family Man | 2nd season (drama)
17 February 2021
DC's Legends of Tomorrow | 5th season (action)
19 February 2021
El Internado | 1st season (drama) 2021
Highlight for lovers of biographies: We children from Bahnhof Zoo | 1st season (drama) 2021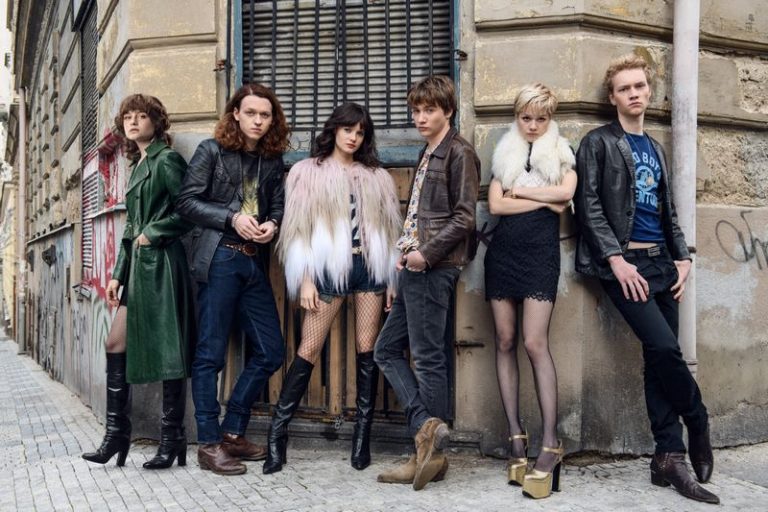 We children from Bahnhof Zoo is a German-language retelling of the biography of the young Christiane F., adapted to modern events, and at the same time of the bestseller of the same name. The focus is on six young people who dream of a better life. Trapped in a world of drugs and drug-related crime.
24 February 2021
Shameless | Season 10 (Comedy) 2021
28 February 2021
The Flash | 6th season (action)
Amazon Prime: New films in February 2021
February is also a time of lockdown. This is the perfect moment for cozy hours in front of the TV. Amazon Prime has a mix of genres ready for the whole family in February, offering its subscribers a great opportunity to enjoy the cool temperatures with family, popcorn and home cinema:
01 February 2021
Dreamgirls | Drama / musical
My blind date with life | Dramedy
Spider Man 3 | actions
03 February 2021
Home - A smectacular trip | Animation/Kids
05 February 2021
Bliss | Romance / SciFi - 2021
Greg's life is completely out of control. Woman, job, everything seems lost. When he tries to flee from his misfortune, he meets Isabel. A homeless person who seems convinced that the world is a computer simulation. What at first seems crazy soon becomes reality: After ingesting a yellow crystal, Greg develops supernatural abilities and his own worldview is completely out of joint.
The Department Store Cop 2 | Action / comedy
06 February 2021
Coyote Ugly | dramedy
Both of us | Drama / romance
08 February 2021
In the web of violence | Action / Crime - 2020
Monuments Men - Unusual Heroes | Dramedy
Too far away | Family movie - 2020
09 February 2021
Saving Private Ryan | War Movie
Ma | horror
10 February 2021
Grease | musical
Johnny English - Especially now | Action / comedy
11 February 2021
Battleship | Action / SciFi
12 February 2021
Highlight with a current topic: Songbird | Thriller - 2020
Two years after defeating the Corona pandemic, "Covid-23", a new mutant virus, appears on the scene. A hard lockdown should avoid worse. The lovers Nico and Sara are no longer allowed to meet, although delivery man Nico is one of the rare people who can show immunity to the virus. He walks alone Job as a bike messenger in the still Los Angeles and tries to find a way to get close to Sara's. But when her neighbor is infected and taken to a virus reception center and a little later her mother falls ill, Sara's life is in danger.
The Map of Tiny Perfect Things | Fantasy - 2020
Transformers | actions
Transformers - Revenge | Action
Transformers 3 - Dark of the Moon | Action
Transformers: Age of Extinction | Action
14 February 2021
Robert The Bruce - King of Scotland | Historical film
End maker | comedy
15 February 2021
A Billion Stars - You are not alone in the universe | Sci Fi
Jack Reacher | actions
16 February 2021
Mina and the dream magicians | Animation/Kids - 2020
18 February 2021
19 February 2021
Christiane F. - We children from Bahnhof Zoo | biography
Christiane F and the children from Bahnhof Zoo | documentation
T2 Trainspotting | drama
21 February 2021
The SpongeBob SquarePants Movie | Animation/Kids
SpongeBob SquarePants: Sponge out of the water | Animation/Kids
22 February 2021
Code Ava - Trained To Kill | Action / Drama - 2020
The big trip - Wild | biography
23 February 2021
Highlight for family home evening: The star wanderer | Family movie
Der Sternwanderer is a film adaptation of the 1998 novel by Neil Gaiman: The young and courageous Tristan promises his beloved Victoria, as a token of his love, to salvage a star for her that fell behind the walls of the realm of fairies, witches and wizards . But on his journey there he encounters magical moments, dangers, and all kinds of adventures and then the star turns out to be a beautiful girl with an injured leg. Together with Yvaine, Tristan goes home to England. But even here the team expects many dangerous creatures.
24 February 2021
Little | romance
The Dead Don't Die | Horror / comedy
Shaun the Sheep: The Movie | Animation/Kids
25 February 2021
26 February 2021
28 February 2021
Enemy Lines: code name Firebird | War Movie - 2020
The 2nd - In the crosshairs of the mercenaries | Action - 2020
The Kid | Western film
We wish you a lot of fun with your Amazon Prime Video program in the new year! Do you want more popcorn movies? Here you get to our calendar for Netflix as well as Disney Plus - with all series and films in February 2021.
---
* = affiliate link. If you purchase via one of the links, we receive a portion of the purchase price as a commission. There are no additional costs for you, but you can support our portal by doing so. Last updated on September 28.09.2023, XNUMX / Affiliate links / Images from the Amazon Product Advertising API. Images from Amazon PA API.