Vegetables are boring? Are you kidding me? Are you serious when you say that! Even family members who prefer to avoid the colorful vitamin bombs can bring salad points to the kitchen table with the card game. Then it's time to mix the salad and hunt for points. Whether the game originally published by Alderac Entertainment Group as Point Salad, which was published as a German-language localization by the publisher Pegasus Spiele came out, can convince even the biggest vegetable fan? Read it yourself.
---
Games have been an integral part of everyday life for many families, and not just since the pandemic. Simple board and card games with a short duration and a good mood design are particularly popular, the rules of which anyone can quickly understand and which can be brought to the table spontaneously at any occasion. Point salad definitely meets these requirements.
And there had to be some special magic in the little box, that was clear before the first round of play - after all, the title was already on the recommendation list of Spiel des Jahr eV and had therefore already convinced those in the know in the scene. In addition to games like Biss 20, Switch & signal or chakra you could place yourself. That at least suggests it's fun to play - and you shouldn't be disappointed with a salad of points. The card game is accessible: you don't need a lot of preparation time to get started. This is ideal as a starter or nightcap title and is particularly appealing to beginners, but without under-challenging those in the know.
Point salad: Colorful salad mixing
If you take a closer look at the 108 playing cards, you can see their high-quality workmanship. Their structure is rough, which prevents them from slipping in your hand or sticking together, and their stability provides some protection against dog-ears. This is particularly beneficial for young and older players. The cards were printed on both sides. On the one hand you can see one of six types of vegetables as a picture and lettering, carrot, bell pepper, tomato, lettuce, onion and cabbage, on the other hand you can see the scoring conditions that are necessary to collect points. But be careful! Sometimes scoring cards lead to minus points under certain conditions. Thanks to their clarity and the self-explanatory illustrations, children who are already experienced players can probably find fun with point salad before the recommended minimum age of eight.
The structure and sequence of points salad is internalized as quickly as it is played: Depending on the number of players, a certain amount of cards is shuffled. Two to six clever salad mixers can take part. Then the cards are divided into three equally sized stacks, with the scoring side facing up, in the middle of the table. Two cards are now taken from the stacks of scoring cards, which, laid out with the vegetables side up, form a market. Now you can start!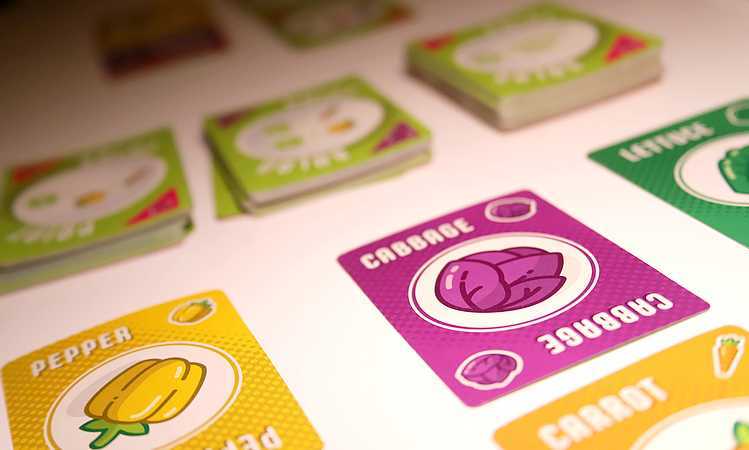 What happens on the table is always understandable, even for beginners. The sequence consists, in turn, of one of two possible steps and an additional optional action: (1) Visit the market and take a vegetable or (2) select a scoring card and optionally (3) you can use a scoring card from your own once per turn Hand being turned into a vegetable. The other way around, a vegetable card may never be converted. If the choice has been made on one of the possible card types, the player places his card in front of him. The vegetables can be lined up overlapping, the scoring cards should be open to all players. At the end of the train, the market place is filled again. The end of the game is heralded with a point salad when all of the three card stacks and those of the market have been used up.
Ultimately, the game plots are not particularly complex, but Punktsalat shows strengths when it succeeds in using those synergies that are inherent in the concept of the title. It's roughly reminiscent of Sushi Go, but at the same time it's significantly better. This is mainly due to the strategic component around bonuses and penalties. "Easy to learn, hard to master" - this principle could definitely be awarded points salad.
The luck factor is not necessarily to be seen as a weakness. Whether you like games with a predominantly controllable environment or see imponderables as a source of fun, is a matter of taste. In any case, the annoyance factor provides entertainment.
Perhaps the greatest strength of points salad is the variability of the gameplay. One could almost understand this as a protective mechanism: There is not one winning strategy that players can pursue in order to achieve certain success. Rather, you have to adjust to the situation with each new game. That supports the replayability enormously.
Vegetable hunting for families, but also for connoisseurs
So, above all, there is fun when the evaluation phase begins: Each vegetable can be mixed into the salad several times. This means that the vegetable cards can be combined several times for the scoring cards. If there are enough matching cards to fulfill a condition of the scoring cards more than once, the points apply to each of the combinations.
A scoring card always clearly shows what types of vegetables are needed to score points. For example, a card can earn three points for a carrot, but if the player also has an onion in hand at the same time, two of the points are deducted. The player who scooped the most points is the best salad mixer and wins the round of salads. Sounds easy? It is. But only at first glance. If you play the game with a round of adult players or at the end of a practiced round of players, you can sometimes tactically plan ahead. If you look not only at your scoring cards and plan to fulfill them, but also at those of your fellow players, you can prevent them from reaching their goal by picking up the required cards.
Because it is currently through a trending topic: The play box is handy, there is a lot of fun in a small pack. It fits in every backpack, which is ideal for a quick game on the go and the word fast really applies here, because the playful mixing of the salad takes no more than half an hour. Point salad fits unpacked in the hand of an adult who wants to store it in a small handbag, who simply takes it out of its outer packaging, puts it in a card box or in a reusable cover and off you go. The fact that the artwork is as colorful as the printed vegetables themselves will delight children in particular.
Infobox
Number of players: 2 to 6
Age: from 8 years
Playing time: 15 to 30 minutes
Difficulty: easy
Long-term motivation: high
Genre: card game
Sub-genre: family card game
Core Mechanisms: Card Drafting, Set Collection
Authors: Molly Johnson, Robert Melvin, Shawn Stankewich
Illustrations: Dylan Mangini
Publisher: AEG / Pegasus Spiele
Official Website: Link
Year of publication: 2019/2020
Language: German
Cost: 13 Euro

Summary
Scots salad could not only convert one or the other vegetable grouch, it also brings a lot of fun to the table. The players shouldn't expect a lot of playful depth, but the family game doesn't want to offer that at all. Punkt Salat impresses with its extremely light set of rules, its brightly colored presentation, high-quality workmanship and its handy size. The topic is interchangeable.
Whether you collect cute animals or socks is unimportant for the course of the game, but the basic theme has been chosen appropriately for children in particular. The fun at the gaming table could soon be transferred to the kitchen table and suddenly the salad tastes good! Die-hard expert players can also enjoy the jagged salad mixing. Not as the main game of the evening, but as a casual introduction, as a fun nightcap or for on the go. After all, who doesn't have fun with the funny teasing of their teammates by stealing required cards?
The title can be played equally well with two or up to six players, as there is only little downtime. You don't have to ponder long with a point salad, because the tactical possibilities are extremely limited. But that doesn't detract from the fun if you take the quick card game for what it is: a simple game for the whole family. Previous experience is not required for this, just a few minutes of standard study and structure. In summary, points salad can be played without a lot of preparation and offers a lot of fun for different group constellations - if you get involved in a funny salad mixing with drafting and set collection mechanism, without placing too high demands on a card game.
---
* = affiliate link. If you purchase via one of the links, we receive a portion of the purchase price as a commission. There are no additional costs for you, but you can support our portal by doing so. Last updated on September 28.09.2023, XNUMX / Affiliate links / Images from the Amazon Product Advertising API. Images from Amazon PA API.