Escape games and escape rooms continue to boom. While escape rooms used to be a rarity, they are now found in every major city. 2017 won Exit the title Kennerspiel des Jahres and since then there have been numerous successors as well as many games from other publishers that have taken up the game principle. With the start of the corona pandemic two years ago, the escape experience had become somewhat difficult. Video meetings and working from home determined the lives of many people. Necessity quickly became a virtue and attempts were made to make escape rooms and escape games playable online. From the on-site escape room to playing together at the table, to online escape. Is this step successful? What is to be considered? And how do the online escape rooms from 4 Walls Escape? You can find out here.
What is needed?
Actually not much. You need an access code, an internet-enabled device, ideally a computer or laptop - in principle it should also work with a tablet, but I haven't tested that, a pen and a piece of paper - that's it. The games do not require an app or installation, but can be played entirely in the browser. In order for you to be able to puzzle with each other, you still need a way to communicate with each other, e.g. Skype, zoom, Discord, ... everyone has their own favorite tool by now.
How is it played?
The escape games are quasi Point & Click Adventures. You have a picture and can usually click on different things to get puzzles, hints or other information. Sometimes you can move back and forth in several rooms. Of course, you are limited in your options and I was a little skeptical at first about how well the game feeling can be experienced on the computer. After 3 escape games now (a fourth is already planned), I have to say that I am completely satisfied. Throughout the game you will be told a story (to read and have it read to you) and come across various puzzles. Each game offers its own puzzles that fit the story and whose solution will advance you in the game.
Of course, as you would expect with a game like this, you play together. But you can decide for yourself whether you discuss all the clues or whether each person makes their own attempts. You can even choose whether you want to solve each puzzle yourself, or skip the puzzle as soon as someone has solved it.
What may sound trivial, I find very important for the online game. Everyone may be familiar with the situation of sitting together on a riddle that is then suddenly solved by one person, but the rest of the people don't even know how it was solved or would like to solve it themselves. When a puzzle is solved in 4Walls Escape, I can simply say that I want to solve it myself before the story continues. Of course, the others will have to wait a little longer, but in my opinion the team feeling increases enormously.
In this way, the person who has solved the riddle can also give small hints to make it easier for the other people to solve the puzzle.
Of course, I want as few spoilers as possible here, you want to experience the story yourself and solve the puzzles yourself. That's why I'll show you a few pictures here and use them to explain how the game works. Hopefully this will give you a good impression.
Project Legacy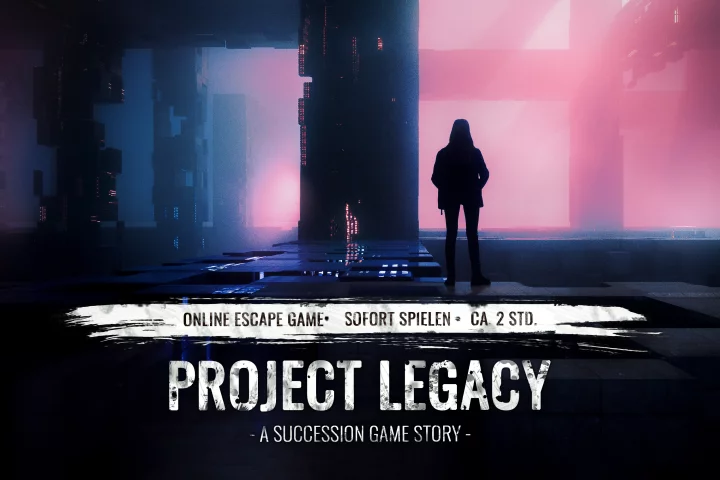 At the beginning we get a short introduction to the setting of the game. We can read the text or have it read out via an audio track.
The puzzles are always somewhat hidden. Here we are looking at a tablet, for example, and have several apps that we can click on. On the new page we will then find, for example, clues or other puzzles. When we think we've found the solution, we can write it in the solution box below. If the answer is correct, we can continue in the story. If you play in a group, everyone will get a message that the solution has been found and can then decide whether they want to jump straight to the solution or try the puzzle themselves.
Here the online format even has an advantage over analogue games. Because each person can solve the same puzzle at the same time. If a person looks at the clues in detail, I can't do it. Here we can all go to the same pages and solve puzzles together. Since I can continue to puzzle even if someone has already solved the puzzle, each person can also get the "I solved it" feeling for themselves.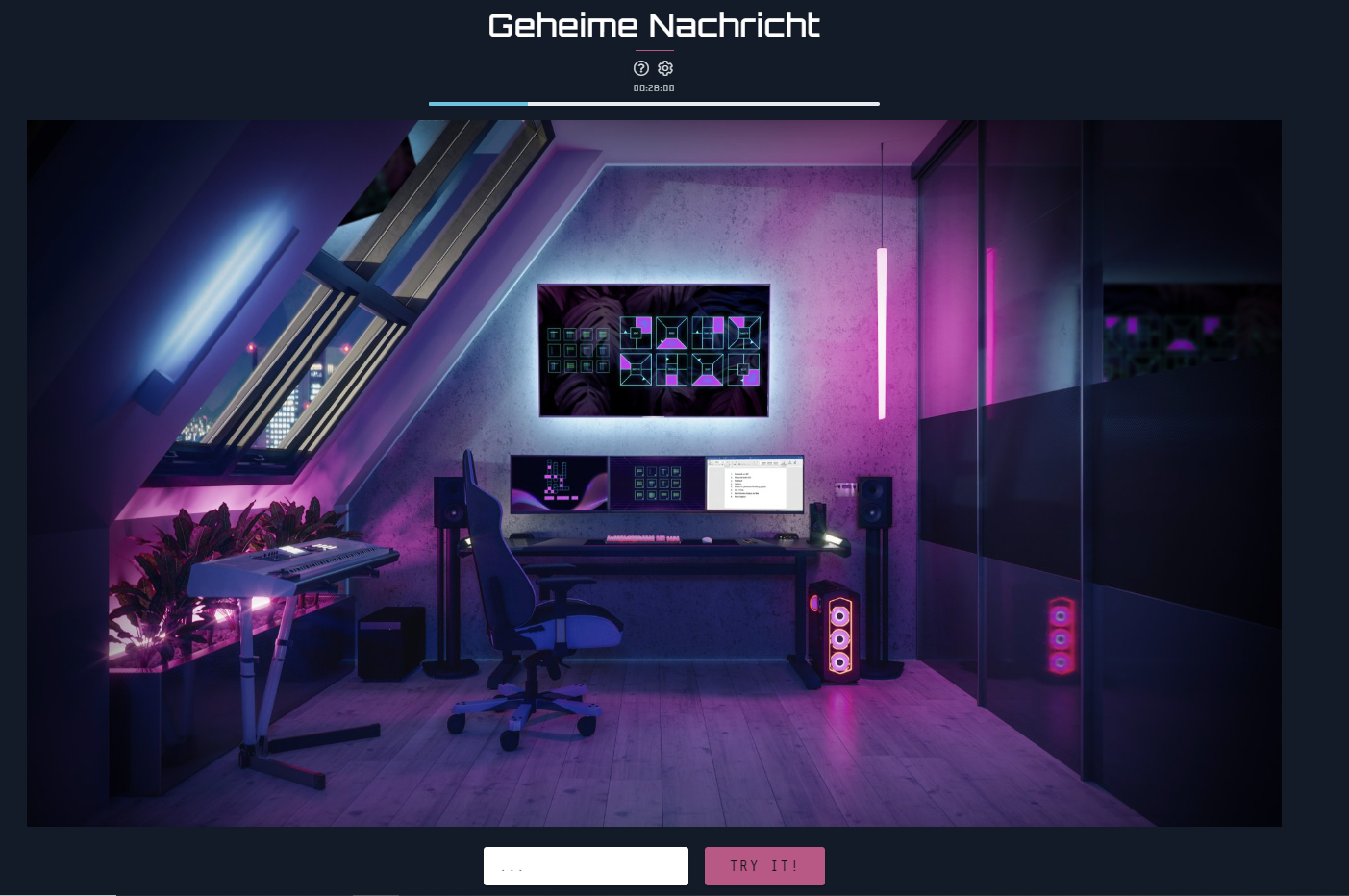 Project Legacy, Photo: 4Walls escape
My played escape games
There are now five different escape games with difficulty levels 3/5 and 4/5. So you should bring a certain joy of puzzles with you. The puzzles were always fair and solvable in the games I played. Should you still get stuck, you can fall back on hints. The games have a playing time of 1,5 to 2,5 hours - which of course also depends on your performance. With us, the approximate time has always been approximate.
I've played the following titles so far:
Mask requirement: To the game
The first online game that, as the name suggests, was developed during the Corona pandemic and is also set in a similar setting.
A new virus is spreading uncontrollably. Public life is gradually coming to a standstill. The world is in an unprecedented state of emergency. In order to slow down the spread, the government is taking new measures and rules. Each individual has to face the situation and the new challenges. What that means? Experience it yourself and embark on a varied mission with tricky puzzles. We count on your puzzle skills!
Traces in the sand: To the game
A mysterious burglary at your parents' house: everything was vandalized and searched, but apparently nothing was stolen! Or does it? What starts as a "harmless" burglary turns out to be something much bigger! A hidden family secret that will leave you intrigued to uncover. So deep that you even get on the plane and continue the mysterious journey of discovery to another continent. Solve a series of exciting puzzles, but always be on the lookout - you're not the only ones looking for them... Hopefully the tracks don't literally get lost in the sand...
Do you dare to search for clues and can you unravel the secret that has been kept for decades?
Project Legacy: To the game
The game I played last. That was also the first title where I have a point of criticism, but in a way I brought it on myself. The game points out that the title represents a prequel that is continued in the book "Succession Game". While I knew what I was getting myself into, I found it somewhat unsatisfying that the game ended midway through the story.
2053: In the climate emergency, material luxury is rare. Instead, the augmented and virtual reality industry is booming. As an agent for government intelligence, you become involved in a dangerous dual mission involving the pharmaceutical research project "LEGACY", which may be related to the popular escape room game SUCCESSION GAME. Can you secure the sensitive data before it's too late? What shady connection do they have to the game? Hope you don't put yourself in great danger with your research...
Here you come to the page of 4Walls escape.
Good luck with the puzzle!
* = affiliate link. If you purchase via one of the links, we receive a portion of the purchase price as a commission. There are no additional costs for you, but you can support our portal by doing so. Last updated on September 1.12.2023, XNUMX / Affiliate links / Images from the Amazon Product Advertising API. Images from Amazon PA API.